We Sell Restaurants Franchise Partner Dave Duce showcased the Restaurant Brokerage brand at the Third Annual Texas Bar and Nightclub Convention in Austin Texas.
The two-day event was open to those in the industry serving drinks as well as brands like We Sell Restaurants who service the thriving hospitality business. This was the third year of the event hosted by the Texas Bar and Nightclub Alliance. The Annual conference was held at the new Brazas Hall in Austin Texas. Brazos Hall is a turn-of-the-century warehouse building at the corner of 4th and Brazos, now converted to Austin's premier event space. With its restored long-leaf pine floors, brick walls and wood rafters, Brazos Hall is a venue unlike any other in the heart of downtown. In addition to the 10,000 square feet in the Main Hall, Brazos Hall offers a 3,500 square foot Rooftop Deck with downtown views.
The We Sell Restaurants booth featured a good look at the nation's most sophisticated website for the purchase and sale of restaurants and bars, wesellrestaurants.com along with brochures and information about the firm's specialized services.
In addition to display of product and services, the event featured speakers such as: RNDC's Corporate Mixologist Sly Cosmopoulos, and National Account Mixologist Rich Allison. Held on August 7th and 8th, the event was a concentrated gathering of industry professionals looking for the freshest approach to the bar business including ways to increase margin, improve drink pricing and drive more sales.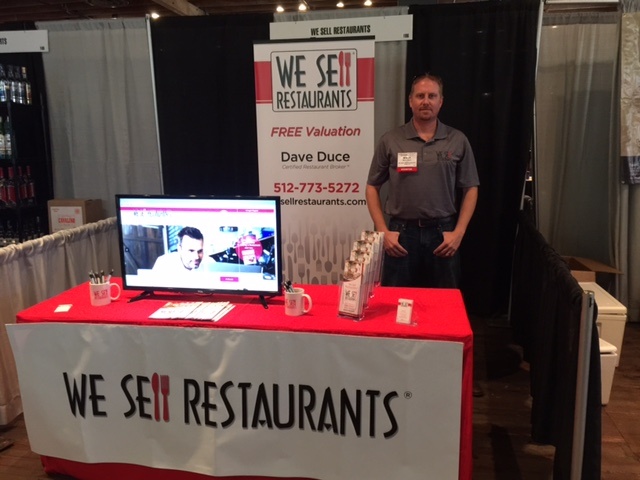 Franchise Partner and Certified Restaurant Broker Dave Duce said of the event, "This was a great opportunity to connect with those in the hospitality industry. Our booth was super busy as folks approached us to learn more about restaurants for sale and opportunities to buy for expansion or launch of their new concept."
The Texas Bar and Nightclub Alliance is a community of Texas bar and nightclub owners protecting its members by providing a platform for all relevant political and legal information. According to their website, "Bars and nightclubs comprise a major portion of revenue and employment in the state of Texas making them an important sector in the state's economy."
We Sell Restaurants is the nation's largest restaurant brokerage firm serving more than 32 states nationwide. Their listings can be found online at www.wesellrestaurants.com