The Restaurant Brokers at We Sell Restaurants announce the sale of the Rising Roll Franchise Sandwich shop located at 1140 Hammond Drive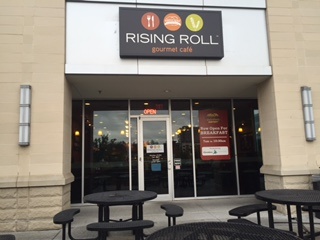 in the thriving Perimeter corridor. This unit joins a long list of franchise restaurants sold by the restaurant brokers this quarter. This store located in the Perimeter Center area is a neighborhood and major edge city in Metro Atlanta. It is one of the area's largest business districts and one of the largest edge cities in the United States, with over 29 million feet of office space and six million square feet of retail space along with 40,000 residents
Robin Gagnon Certified Restaurant Broker and co-founder of We Sell Restaurants represented the buyers in the transaction. The buyers are Ken Greer and Deb Snyder. They are the newest franchisees of the Rising Roll brand. Both have strong backgrounds in leadership. Ken has over 20 years of experience in Sales, Marketing, Business Development and General Management. Ken who said of the transaction, "Robin made the process of buying a restaurant go smooth. She was a pleasure to work with."
The sellers, Jason and Joann Chang are relocating to their native land of China after the sale. They were represented by Dominique Maddox, Certified Restaurant Broker with We Sell Restaurants in the transaction.
The Rising Roll concept is based in Atlanta Georgia and led by Mike Lassiter. The brand opened in 1999 under the name "Uptown Gourmet." The focus was on quality and variety, serving only lunch and lunch catering. It has expanded its franchise in a number of state and nontraditional locations. USA Today has ranked Rising Roll Gourmet Café as the "nations best for a sandwich."
"Franchise restaurants for sale produce intense interest from restaurant buyers" says Restaurant Broker Robin Gagnon of We Sell Restaurants. "We find that franchise restaurants sell, on average, at three times the rate of independent concepts. We measure the turnover based on the number of days on market and count of signed confidentiality agreements executed before a deal goes into contract."
Why are so many individuals interested in franchise concepts over independents? The IFA or International Franchise Association says on their website that ""Owning a franchise allows you to go into business for yourself, but not by yourself." That's a great quote and very applicable to the fast casual business where the restaurant brokers specialize. Those in the market for a simple concept, great training and an established business model are aided by the methods, practices, known brand name and marketing of a franchise brand.
Many buyers that are seeking a job outside of corporate America are most comfortable with franchises for those reasons. They are used to the consistency and big business environment and want to see similar practices.
Many buyers focusing on franchise resales or open and operating units are attracted because of the strength of the financial reports. The books and records often have to be submitted to the franchise annually so they are up to date. In addition, it is very rare to find a brand that does not have a POS system feeding sales in real time to the Franchisors. That creates a better set of materials to gauge the financial performance by than an independent restaurant that may not have as sophisticated a setup for bookkeeping and tracking.
One final reason that franchises are attractive to buyers are the ability to get loans. Our SBA lenders approve most franchise deals within 48-72 hours of submission. For that reason, buyers only need to bring 20% down and they can leverage their funds and amortize a payment schedule over ten years.
All of these reasons contribute to why franchise resales like the Rising Roll in Dunwoody are booming. For a complete look at franchises for sale currently, visit our listings online at wesellrestaurants.com.