Third-party food delivery services have created a billion-dollar industry that restaurants need to consider adding to their businesses. The movers and shakers in the food service delivery business include UberEATS, Postmates and Grub Hub.* These third-party delivery services are an innovative way of bringing restaurant food to customers. If a restaurant is looking to expand their current business and find new ways to generate revenue, these delivery services could be beneficial.
There are positives and negatives to using these delivery services. If you are buying or selling a restaurant, you should be aware of these. Benefits include increased sales, absence of delivery liability, labor costs, and free advertising for the restaurant. Disadvantages include high costs and the loss of control of your product. Ultimately, a restaurant must decide if the positive aspects of third-party delivery services outweigh the negative aspects.
Third-party delivery services have shown major growth. Third-party delivery services generated over 3 billion in sales in 2017 (Business Insider). According to CNet, there are over 100,000 restaurants partnering with UberEATS and that number is increasing daily. Wired reports that UberEATS had a seven-fold increase in sales from 2016 to 2017, with hundreds of thousands of receipts processed through expense service Concur.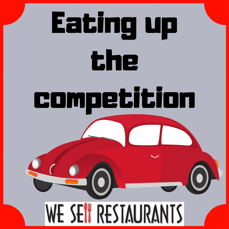 When buying a restaurant, consider what these societal changes will mean to the business you are acquiring. If you are selling a restaurant, you may consider adding on this volume to make the business more attractive while it is in the sales cycle.
When restaurants use third-party delivery services, they avoid liability and the labor costs of a hired delivery driver. The average commercial insurance cost per delivery vehicle can cost between $750 to $1,200 per year (How Much). By utilizing these different delivery services, a restaurant can avoid these fees. If a business has a delivery driver, they will be paying the driver by the hour, regardless of the number of orders they deliver. By using these applications, the restaurant will avoid any unneeded expenses.
UberEATS, Door Dash, Grub Hub, and the other food delivery systems have created a large marketing platform in their communities. Customers are drawn to these applications because of the large diversity of restaurants and the appeal of trying new restaurants they may not have had time to try. By being a part of these delivery applications, restaurants will receive name recognition. Once trying the restaurants through delivery, it could entice consumers to go into the restaurants in person after a positive delivery experience.
While there are many positive aspects of utilizing third-party delivery services, it is important to remember the drawbacks. Something that concerns all restaurant owners is the loss of margin. According to the New York Post, the service companies will take between 12 to 30 percent cut of the gross from each order. That does not include the $5 delivery fee to customers. Before committing to a service, a restaurant must know exactly how much the delivery service company will charge. Then, review their Profit and Loss statement and analyze the impact it will have on their restaurant. It might be worth the service charge to add incremental sales that do not raise labor costs. If these sales come with increased labor cost it might not be worth it. Each situation must be analyzed individually.
A qualified restaurant broker will look at the impact of delivery on your profit and loss statement when working with you on buying or selling a restaurant. Will the future margins be lowered by the impact of delivery sales? Will the net sales increase and if so, at what cost?
Another consideration for restaurant owners is related to quality control. Once a delivery driver picks up the food, the restaurant loses control of what happens. A common fear is being the first pickup and the last delivery. This can lead customers to think poorly on the food and give a bad reflection to the restaurant. Additionally, although the delivery drivers were not hired by the restaurant, they represent the restaurant to the guest.
In my opinion, each restaurant should analyze their own operations and determine if third-party delivery services would be beneficial. While these services are free, they do come at a price.
Interested in looking at restaurants for sale featuring delivery models? Visit our full inventory online at this link.

*Dependent on the region your restaurant is located