The We Sell Restaurants franchisees are headed home from Hammock Beach Resort, the location of this year's franchise conference. The theme, "Step Up Your Game" resonated among the enthusiastic and well-trained group. As a growing and unique franchise brand, there was a mix of many new faces, along with veterans of the industry. Here are highlights from this year's convention.
The core values of the We Sell Restaurants brand were a strong focus of discussions. Each day kicked off with a review of the values including:
We know Every Day is Game Day – We ACT Accordingly
We treat each other, customers and internal customers by the Golden Rule
We act with Integrity and only make agreements we are willing and able to keep
We are the Brand and are passionate about sales results.
We Create a Customer Service Experience Worth Sharing
Recognition of all the new franchisees occurred on day one including Jeff and Tawnie Marcus from Northern Colorado, Dave Whitcomb from Lee and Collier Counties, Florida, Michael Kelly from Long Island New York and Justin Scotto from Charlotte North Carolina and Rock Hill South Carolina.
The top producers for We Sell Restaurants were honored in both the million dollar and multi-million-dollar categories.
Million Dollar club awards went to Bob Steinberger and Chris Gordon from the Denver Colorado office. Dave Duce, Franchise Partner from Austin Texas was also a million-dollar award winner.
Multi-Million Dollar awards went to Steve Weinbaum, a corporate broker and Ken Eisenband, Franchise Partner for Palm Beach and Broward County Florida.
The collaboration between the earlier franchisees and newest Certified Restaurant Brokers led to a great experience for all. Conference attendees were exposed to role playing and communication on "Closing the Deal from Start to Finish" by partners of Atlanta Law Group; Patrick Norris and Ben Stidham.
Results from the We Sell Restaurants marketing programs and promotions took center stage on the first day along with Mystery Shopping results for both our own brokers and competing brands nationwide.
A team building event modeled after Iron Chef was held outdoors at the beachside resort with teams divided into Team Knife, Team Fork and Team Spoon. The winning team, Team Knife, took home bragging rights plus special advertising upgrades on a national website. The Restaurant Brokers demonstrated their cooking chops with amazing dishes that had to include the special ingredient, octopus. The finished products were not only beautiful but tasty and chef Ben from Vessel in Flagler Beach Florida and his wife Hailey were judges for the event.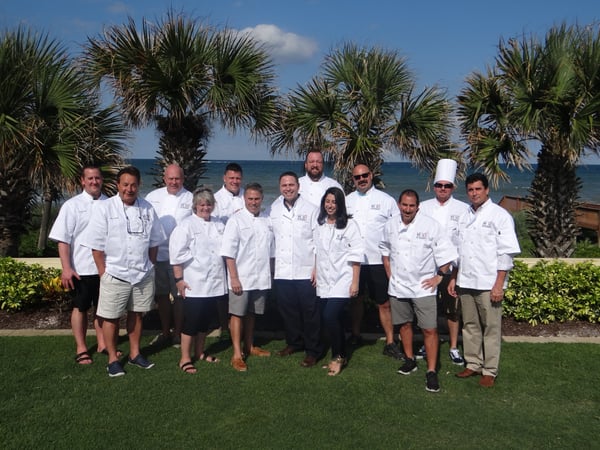 The We Sell Restaurants new national referral program was in the spotlight on day two along with training on leases and E-2 visas. Jessi1ca Weiss, attorney at law, shed light on the E-2 visa clients she represents and the potential to expand the national brokerage practice with additional visa clients. How many employees must a restaurant have to qualify for an E-2 visa? What is a substantial investment? We Sell Restaurants is up to date on all the answers.
Jonathan Neville, partner at Arnall Golden Gregory Attorneys at Law in Atlanta, Georgia presented the aspects of the lease critical to business brokers. His discussion focused on the elements of the lease that could pull down the value of the restaurant. He gave pointers on items ranging from release of tenant and entity to the transaction to negotiating deal points when it comes to relocation, acceleration or forced removal clauses.
The We Sell Restaurants conference would not be complete without a full download of all the improvements to the proprietary platform, the B.O.S.S. or Broker's Operations and Sales System. Key improvements for the year were reviewed as well as discussion for new improvements for the future.
Overall, between the Iron Chef Event, impressive guest speakers and top producer awards, the franchisees left energized, excited and ready to Step Up their Game.
Sponsors for this year's convention included: AmTrust Financial, Bloom Insurance and Atlanta Law Group. For more information about the We Sell Restaurants franchise, visit wsrfranchise.com online