Eric and Robin Gagnon, co-founders of We Sell Restaurants, recently appeared on the Commercial Real Estate Show with Michael Bull.
The conversation ranged from tips for landlords to the biggest disruptors in the industry. What did these experts share with the host?
"Delivery is far and away the largest disruptor to the restaurant industry we have seen in years," says Robin Gagnon of We Sell Restaurants. How is this affecting space needs for restaurant tenants? They are shrinking according to these experts, especially in fast casual, as services like EZ Cater, GrubHub, Uber Eats and more starting to move share out of restaurant seats and into delivery.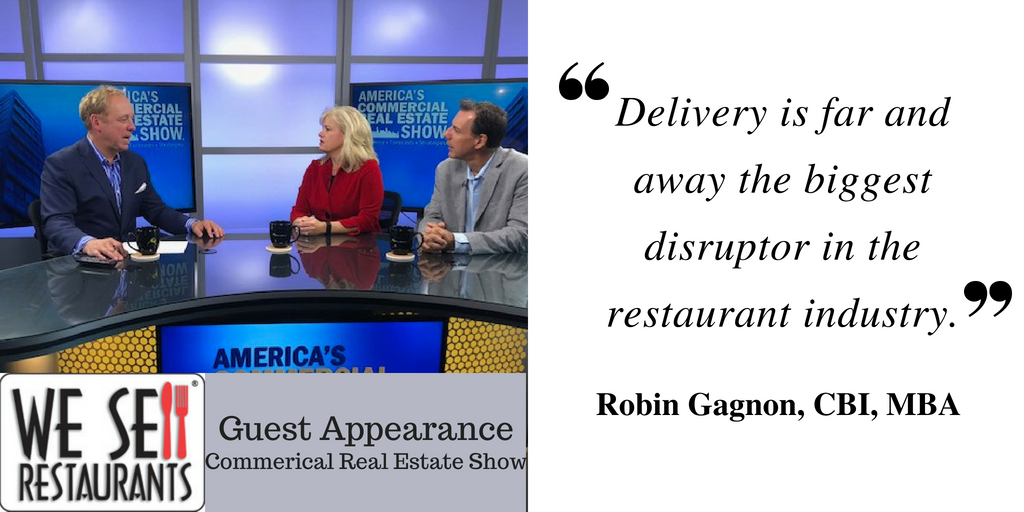 The duo remarked that some brands are planning for up to 30% of their volume this year to switch into a delivery model. That means they require less front of the house space, reducing occupancy costs. The only problem? Many brands have not yet designed for stores that are shrinking from 3,000 square feet to 2,000 square feet and even if they have, long term leases in place are for oversized units.
That puts pressure on brands to adapt quickly to less space and work creatively with landlords to downsize their existing footprint.
Eric Gagnon told Michael that landlords should no longer seek just the best operators as that's a model from the past. Instead, they should look at those with sales and marketing experience. The restaurant industry is facing tough competitors so good operations is a given. What landlords should focus on is the talent of the potential tenant to sell business and create a buzz about their restaurant outside the four walls.
Tips for landlords from these restaurant brokers included structure of rent in new and creative ways, participating in the business and putting eyes on the business rather than relying on Yelp reviews to know what's going on.
The full show can be heard at this audio link. Tune in to hear Michael Bull with guests Eric and Robin Gagnon. They discuss the current state and future of the restaurant business as well as the impact on the commercial real estate industry including tips for landlords, restauranteurs, lenders and their advisors
America's Commercial Real Estate Show™ is a weekly video and podcast show about commercial real estate related topics. The show which began airing in 2010 is known for high-quality content delivered in a professional enlightening style. The show provides current, actionable and valuable business intelligence.
Watch videos, listen to podcasts, or read blogs on YouTube, twelve podcast sites including iTunes, and on the show website www.CREshow.com
We Sell Restaurants is a national restaurant brokerage firm specializing in the sale of restaurants nationwide. They work in 45 states and are franchising their brand nationwide. More information about the brand can be found online at wesellrestaurants.com