As the nation's leading
restaurant brokerage firm
, we are providing advice and solutions for the industry as we face unprecedented challenges. Here are tips from We Sell Restaurants for buyers and sellers who are wondering how to adapt to the current conditions.

Buyers –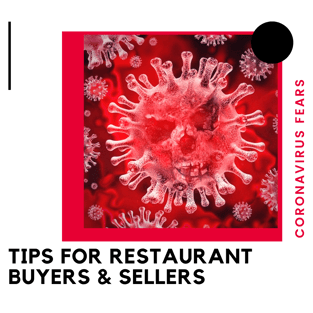 Remain in contract and extend due diligence or the closing date if needed. That's better than terminating and losing a great restaurant opportunity when life returns to normal.
Approach your SBA lender and re-negotiate your deal terms. Add working capital if needed to your loan and ask for a lower interest rate. They will never be more flexible than they are today.
Request a payment deferral from the bank or seller so that payments start later rather than 30 days after closing. The bank on any SBA loan has the authority to defer payments for up to 90 days.
Do not panic. We are the greatest business operators in the world with the strongest economy. This too shall pass.
There are silver linings to be found in this event. Why? People can only eat so much at home. They are requesting delivery and take out that is making up for dine-in business at breathtaking rates. While only the bad news seems to be reported, there are definitely some bright signs in the industry, especially for fast casual, strong delivery concept. All those "telecommuting" individuals aren't eating at home alone. They are taking breaks from their homes to pick up food. A couple of data points:
Subway reported sales yesterday (Monday 3/16) that were UP from last year. They have also announced that they are cutting royalties from 8% to 4% and suspending 4.5% advertising contributions. There's the potential to make MORE money in the downturn.
One of our sellers just told us he had the single largest delivery day in the history of his store. People are eating at restaurants and the headlines of restaurant closures are misleading. The dining rooms are closed. Customers are getting food delivered or to go.
Sellers –
Communicate that you are OPEN FOR BUSINESS! That means more than a dining room. You have take-out and delivery. Take advantage of the opportunity to deliver more. Get online and do Facebook postings that you are still serving via a delivery model. Our fast casual customers are seeing take-out and delivery absorb the impact of the loss of the dining room business. Case in point - Subway, already mentioned, who reported sales were up yesterday (Monday 3/16). People are eating, they are simply picking it up or having it delivered.
If you don't have a GrubHub account, get one NOW! They announced Friday (3/13/2020) that they are temporarily suspending commission for impacted independent restaurants. UberEATS promptly followed suit.
Carefully manage your food and labor costs. Contain your cash where possible.
Invest in digital ads on Facebook and Instagram. This can be an easy way to get a quick return on investment.
Approach your landlord for a rent abatement or reduction for a period of time. Be prepared with the numbers and a plan to reduce rent by 50% for 90 days or defer it in total for 90 days. This works in the short term even if it's added back to the end of your lease.
Public utilities are subsidized by the government. Ask if they can defer payments on utilities in the wake of the crisis. If you don't ask, you won't get anything. If the utilities are owned by the city, all the better. Many cities are leading the way on the closures, ask them to give something back.
For restaurants with SBA loans: Contact your bank and request a deferment. Your bank has unilateral authority to provide temporary relief in the form of a deferment. With unilateral authority your bank can act without SBA approval. Banks can defer your loan for up to three or six months. [A max deferment of three months if the bank has sold the guaranteed portion of your loan; a maximum of six months if the bank has retained the loan.]
If you are in contract with a buyer and doing owner financing, it's time to step up. Defer YOUR payments for 90 days and get to the closing table.
On cash deals, offer to do a seller hold back of 20% and defer that payment for 120 days. This shows good will on your part and helps the buyer have adequate reserves for the short term.
If you have considered selling and haven't pulled the trigger, do it now. There will be fall out and restaurants that don't make it through this crisis. They will be priced at rock bottom prices to move. Get your inventory listed early at a fair price and in contract BEFORE the market is flooded with lots of low price listings.
Remember that TIME IS YOUR ENEMY. Deals get cold by the day and with this virus, they get colder and more frightened by the minute. If your Restaurant Broker at We Sell Restaurants requests information, a meeting or documents; make it happen. No delays.
Remember to be open with your Restaurant Broker. We have been in the industry for nearly twenty years. Like you, we have seen our share of change, struggle and triumph. Rely on us to keep you posted as we respond to the current challenges. Keep faith in yourselves, this industry and your loyal clients.
Customers –
Don't forget your local operators. That includes franchise brands. They are not mega corporations. These are your neighbors who have put everything they have on the line for their business. They have the right to operate under a brand, but they are independently owned and operated.
Order from them. Pick up deliveries from them. Postpone or delay catering events; don't cancel them altogether. Buy gift cards. Above all, let them know you appreciate their efforts as we all go through this together.
Keep the faith in each other, this incredible industry and the remarkable resilience of the American people. Though times look troubled, this too shall pass.