Interested in knowing which restaurant franchises are inking new deals and expanding across the country? We are too! We Sell Restaurants goes through all the online announcements and press releases to bring you the latest restaurant franchises expanding nationwide. We're tracking it all from units ranging from one to one hundred. Here's what we saw in the latest press releases and announcements.
Despite what we restaurant brokers believe is a tenuous business model, health food concepts continue to expand. Each month we see new juice concepts and health food concepts adding units. The newest deal announced is with former NBA player Kris Humphries., He is building six units as the latest multi-unit owner developer for the healthy food franchise, Crisp & Green. He's expected to put six restaurants under this brand in the Minnesota Minneapolis Twin Cities market. The first one is already under construction.
In the totally not healthy food category, the Brass Tap, a craft beer bar franchise, is expanding by five units in California. The developer is Rick Sousa, a principle of Dust Bowl Brewing Company. He's a veteran of the industry and plans to open his Modesto store by December of 2019.
Pizza was the single category to post comp store increases last year so it's not surprising to see restaurant franchises adding units to the mix. Mountain Mike's Pizza has inked a deal for more than 40 new units in Southern California. Between these two deals, Southern California has beer and pizza covered. A current franchisee, Robby Basati, with five existing stores will be developing 40 new Mountain Mikes Pizza restaurant franchises.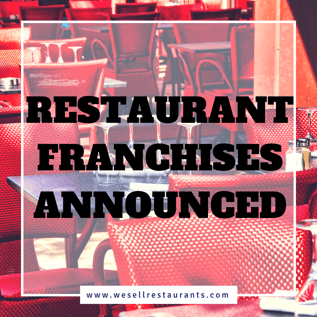 Not to be left out of the mix, Hungry Howie's another pizza chain, has five new restaurant franchises in development with Deem Investments. These stores will open in Arkansas. Hungry Howie's is currently operating in 22 states nationwide but have been juicing up development nationwide. They appear to be working hard to expand their footprint.
California has been a tough state to deal with in development of new restaurant franchises, but it looks like that's beginning to change. Perhaps the demand for new concepts is now at the tipping point to outweigh the difficulties to develop stores in this market. Those issues include: onerous regulations, extreme impact fees and high rents that far outpace the nation. These barriers to entry are not stopping new restaurant franchises from diving in at new levels. Between the Mountain Mike's 40 store deal, five for Brass Tacks and the newest from Yang's Braised Chicken, California development is dominating this list with nearly 50 units on the table.
Many brands develop in the U.S. first for strong proof of concept and then expand internationally. In an approach that turns this model inside out, Yang's Braised Chicken has over 6,000 units around the world and is now turning their development to the U.S. They opened their first unit in this country in 2017 and just announced a multi-unit deal with Xiang Wang for three units in Orange County California. Again, California makes the list!
Also, on the West Coast, Café Yumm announced a three-store deal with franchisee Rebecca Blewett. The chain, headquartered in Oregon has 20 locations currently.
Turning from the West Coast to the southeast, Louisiana-based The Lost Cajun is heading to the western North Carolina area. A new deal has been announced to develop six additional restaurants in the traditionally mountainous part of the state over the next four years. Another veteran operator is launching in that market. Steve Galloway owns five Dunkin' Donuts and has been a developer for concepts including: Taco Bell, KFC, Pizza Hut and Subway.
Overall, we're seeing trending in sales, leasing and franchise restaurants that agree with the economic trends nationwide. There is an increased level of risk taking and launch in new concepts. This is fueled by a strong economy, a more business friendly regulator climate and lenders with plenty of money to fund new deals.
Want to see the restaurant franchises in our inventory? Check out our listings online.