The restaurants brokers from We Sell Restaurants and their franchisees attended the world's largest Restaurant Show this week in Chicago. The sights, sounds and innovation on display remind us why we love this industry!

Here are some of the highlights and personal favorites.
45 Square Foot Kitchen of the Future.
One vendor had on display an entire kitchen outfitted with convection ovens, prep station, fryer, flat top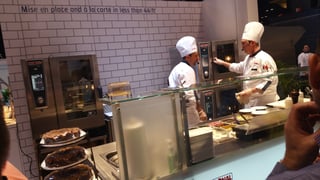 and refrigeration that fit into a 4 and 1/2 foot by 10 foot space! They were turning out food as varied as duck sliders and pasta so the menu was not limited by the space. As rents continue to rise in all markets, a supersize kitchen is no longer a luxury any restaurant owner can afford. Getting your kitchen footprint smaller should be the goal of any restaurant and in the restaurant broker's opinion, any franchise that doesn't have a team focused on this mission is missing the boat.
Our Pick of Cool Products
Oil Handling Safety Chute.
We saw a great product to move grease from the fryers to the grease trap with no risk of splash. The portable box was lowered to the ground to capture the grease and then tilted, wheeled and upended to its new location completely hands free. Most worker's comp claims in the industry revolve around hot oil so any improvements for its handling is welcome.
Indestructible "Glass" ware
One vendor had a line at his booth to put on a helmet and take a swing at his plastic products that look just as great as glass but with the added bonus that it will not break! Those taking a swing and hoping to shatter his product failed time and again as the blows bounced off.
Turbo Pots
Special grooves in the pots concentrate the heat toward the pot removing loss of heat and cooking foods more quickly.
Delivery Trucks with Cold and Hot spaces running On Solar and Electric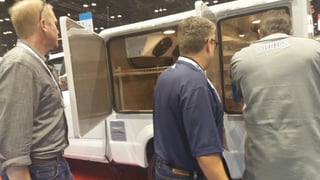 The delivery truck of the future was on full display with plenty of openings to deliver your food hot or cold. The added bonus to these trucks were that they were solar or electric powered.
Ice Cream that Doesn't Melt
One vendor has a new product for dishing out ice cream at outdoor venues and fairs that gives you an amazing 8 hours of ice cold holding temperature. Think "Yetti" except this is insulated ice cream drums, serving stations for gelato and more.
Other Notable trends.
Too Much of…
In the category of 'we've seen enough already,' the recycled carton industry was on over display with every form of food carrier put forward by multiple vendors. How many brown cartons do we need?
Bigger is better...
Hobart mixers as tall as the shortest restaurant broker (that would be me at just over 5'3") prove this brand just gets bigger and better to meet demand.
What's this doing at the Food Show?
We saw more than one company selling a "Body Shaper" that supposedly allows you stand on it for 10 minutes while it jiggles and wiggles your fat away and delivers the same benefit as running on a treadmill for one hour. Still confused as to why this is at the food show but the view of this device in action was hysterical.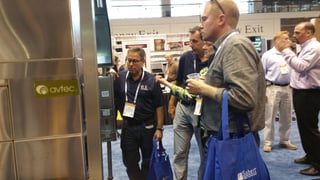 All in all, the Restaurant Show is a must for anyone in this industry. The Restaurant Brokers logged over 12,000 steps, 200 samples, countless demonstrations and lots of good times in only one day on the floor. We tweeted some of our favorite moments that can be found on our Twitter account at this link and we've included lots of photos.