We Sell Restaurants founders Eric and Robin Gagnon, the nation's Restaurant Brokers are guests on this week's Commerical Real Estate Show hosted by Michael Bull and airing coast to coast. The April 5 show focused on the restaurant sector, including performance, forecasts, and strategies.

America's Commercial Real Estate Show™ has been in production for more than six years. It has been covered by most major medi

a sources and has a loyal following on both iTunes and the show website. Show host Michael Bull is a respected industry expert with an affable style always knowing what the audience wants next. He hand picks respected guests who join him to share market intelligence, forecasts and strategies related to chosen weekly topics.
Topics ranged from the size of the industry ($799 billion in restaurant sales) along with the more than 1 million Restaurant locations in the United States.
Bull asked his guests to provide their insight on the growth of the industry and some of its challenges. Some of those challenges, according to the Restuarant Brokers, include regulatory hurdles and minimum wage increases which affect restaurants disproportionately. On the flip side, the duo reveals that small business optimism has never been higher and for that reason, they see continued growth in the industry.Bull asked the Broker's for one sentence to describe the outlook for 2017 sales, "With people settling into the new administration the consumer confidence is going to lag what is happening in the stock market and we are looking forward to it being huge."
Want to listen to the entire show? Click the graphic below or click this link to listen to the show for the latest insights on industry trends.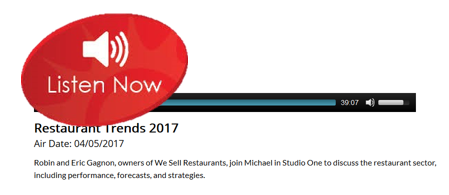 The Gagnons are a dynamic duo and husband and wife team. The nation's leading restaurant brokers, they founded We Sell Restaurants, the nation's largest restaurant firm focused on selling restaurants. For a number of years, they hosted their own syndicated radio show, "We Sell Restaurants." They are national speakers on both the restaurant and business brokerage industry and have appeared at the national conferences for the International Franchise Association, the International Business Brokers Association as well as othe rgroups. Their book, Appetite for Acquisition was named Best of 2012 by Small Business Book Awards and has a five-star rating on Amazon.
The two have trademarked their brand, "We Sell Restaurants" and are franchising nationwide. They share their knowledge through one of the most extensive training programs available to the industry. Their multi-platform training program leads to the nation's only Certified Restaurant Broker designation.