What are the latest franchise deals we're seeing announced in the restaurant industry? It looks like everything from legacy brands like Taco Bell expanding with 400 units overseas to newer concepts like Go! Go! Curry who signed their first deal are all hitting the gas on growth in an economy fueled by consumer confidence, small business confidence and the tax cuts.
---
We Sell Restaurants tracks growth of new restaurant franchise units from industry press releases and resources like Franchise Times. If you know of other multi-unit deals in the pipeline, let us know! Here's where we see new franchise restaurant deals expanding by concept around the country.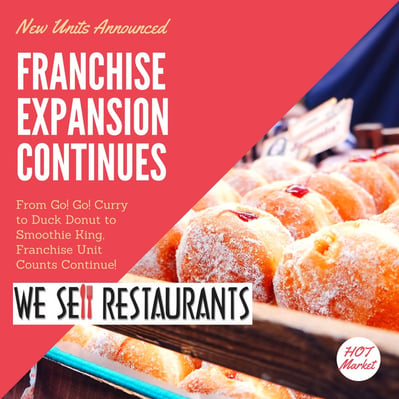 Pizza remains a favorite and in particular, the create your own segment. Fast-casual pizza concept My Pie signed a new development agreement to bring the emerging brand into the Alabama market. Rebecca Roland and Richard Meadows will open their first My Pie in Dothan, Alabama later this year. The couple owns and operates five fast-casual restaurants in Alabama, with Roland managing day-to-day operations for each business. Based in Scottsdale, Arizona, My Pie has nine locations open in four states.
John Clancy and his team at Smoothie King Midwest have signed an agreement to develop a stunning 60 locations, starting in Indianapolis and Palm Beach County, Florida. Clancy is a longtime Planet Fitness franchisee with 27 gyms in Ohio and Florida, and he also opened three Smoothie King locations with partner Bob Viani in Connecticut, New York and Florida in the past year under a separate development agreement.
Have you heard of this concept? Duck Donuts, based in Pennsylvania, is growing in New Jersey. The brand, which calls itself the fastest growing donut shp in the U.S. is adding stores in Bergen County, New Jersey, one in Hackensack and a second in Paramus area. Duck Donuts has 67 open locations with more than 140 in development.
Another newcomer on the block Fast-casual concept Go! Go! Curry signed its first franchise development deal with Daxin LLC. The brand features what it terms, "Japanese comfort food." The concept features black, thick curry sauce over Koshihikari rice, a premium short grain rice, with very thinly shredded cabbage and Pork Katsu – a crispy, deep fried pork cutlet – all in a stainless plate that is eaten with a fork. Houston, Texas will be home to the first franchise location. Shishen Li, co-founder and owner of Daxin, plans to open the first store in August. Go! Go! Curry has seven restaurants open in the United States, in New York and Massachusetts.
Two Scooters Coffee drive-thru locations will open in Spencer and Okoboji, Iowa, with the signing of a franchise agreement by Robb Steffes and Joshua Morris. The towns are part of the Okoboji lakes resort region in northern Iowa.
International expansion is on the mind of many brands. These are deals for big unit counts where a developer is opening an entire overseas market. Here are the two of the biggest franchise restaurant deals we've seen.
Legacy brand, Taco Bell has signed deals with groups in Brazil and Spain that call for the development of more than 400 total restaurants over the next decade. Sforza Holding Group, a private equity company based in São Paulo, Brazil, is set to open more than 200 Taco Bells in the state by 2027. The new agreement expands Sforza's existing partnership with Taco Bell. Led by founder and CEO Carlos Wizard Martins and his son, Taco Bell Brazil CEO Lincoln Martins, the group began working with Taco Bell International in 2016. In Spain, Casual Brands Group is also expanding upon a current partnership. CBG, led by CEO Ignacio Mora-Figueroa, has been working with the Taco Bell brand since 2008 and owns and operates 40 Taco Bell restaurants throughout Spain. With the new agreement, CBG guarantees that more than 200 restaurants will be built in the country over the next 10 years.
Church's Chicken is growing it's international brand (Texas Chicken), in the Asia Pacific market. They have signed an 80-unit deal with PT. Quick Service Restaurant to open and operate restaurants primarily in Indonesia. PT. QSR is the third Texas Chicken franchisee to enter the market, joining PT. Quick Serve Indonesia, which signed a development agreement earlier this year, and P.T. Cipta Selera Murni, which has been in the market since 1985 and has 59 locations. PT. QSR is a subsidiary of Singapore-based Envictus International Holdings Limited, which has a portfolio of restaurants, frozen foods, and sports supplements brands.
That's the latest on franchise restaurant expansion. We'll continue to track the deals. Meanwhile, if you're in the market for an existing franchise for sale, check out our listings online at this link.