Have you heard about the HOT Franchise Restaurant Brand -- Firehouse Subs? As a leader in the fast casual sandwich industry, the demand for their uniquely-prepared Specialty Subs is blazing a trail across the country, opening up fast casual food opportunities in new and existing markets. They currently have over a thousand happy operators in over 44 states. Every once in a while, someone chooses to retire, a partnership changes or for other reasons, someone decides to sell. That's when they call the Restaurant Brokers at We Sell Restaurants.
We are excited to represent these franchise opportunties for sale. In 2017 alone, Firehouse Subs has earned 6 different awards for being a top chain.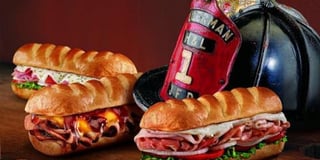 Founded in 1994 in Jacksonville, Florida by former firefighting brothers Robin and Chris Sorensen. Firehouse Subs is famous for serving medium and large specialty subs with premium meats and cheeses steamed hot with generous portions on a toasted sub roll, served "Fully Involved®" with fresh produce and condiments. The concept takes inspiration from the Sorensen family's decades of combined fire and police service.
In 2005, Chris and Robin Sorensen created the Firehouse Subs Public Safety Foundation® with the mission of providing funding, life-saving equipment and educational opportunities to first-responders and public safety organizations. Since its inception, Firehouse Subs and its customers have donated more than $24 million in 46 states, Puerto Rico and in Canada through Firehouse Subs Public Safety Foundation of Canada.
Firehouse Subs first attempted franchising in 1995. Soon after, the founders decided to pull back on the idea, eventually buying back those franchised locations in the coming years. Instead, they chose to focus on operating company-owned stores only, especially in the Jacksonville market putting franchising on the back burner. In 1998, Firehouse Subs surpassed 10 restaurants, and later that year opened the first location outside of Florida. By 2000 franchising became a topic of conversation once more. This time, the founders decided to take a different approach, using consultants to plan franchise growth. Due to the founders' frugality and business operations, they were able to set up financing for potential franchisees. The second wave of franchising began in 2001. By 2002, Firehouse Subs was opening its 50th restaurant. A year later in 2003, Firehouse Subs hit another milestone, opening the 100th restaurant. As the 2000s continued, so did Firehouse Subs' growth. By 2012 the company had opened its 500th restaurant, closing out the year with nearly 600 and in July 2016, Firehouse Subs opened its 1,000th restaurant.
If you are looking for a franchise restaurant brand that believes in both their operators and their communities, check out the listings below from the Restaurant Brokers at We Sell Restaurants.
Listing ID:5433
Restaurant Broker Robin Gagnon

Firehouse Sub Franchise for Sale - 6 Figure Earnings
Lease: 10 years From Jan 2015
Monthly Rent: $4210
Inside Sq. Ft. 2200
Outside Sq. Ft.
Price:$349,500


Robin Gagnon
(404) 800-6701
Listing ID:5509
Restaurant Broker Dominique Maddox

Firehouse Subs Franchise for Sale in Louisville - High Volume Store!
Lease: Expires March 2019 + 2-5 year options
Monthly Rent: $5200
Inside Sq. Ft. 2000
Outside Sq. Ft.
Price:$175,000
City:Louisville

Dominique Maddox
(404) 993-4448
Listing ID:5434
Restaurant Broker Robin Gagnon

Firehouse Subs Franchise for Sale is a Hot Opportunity for Owner Operator
Lease: New Lease Term to be Negotiated
Monthly Rent: $8953.02
Inside Sq. Ft. 2400
Outside Sq. Ft.
Price:$150,000


Robin Gagnon
(404) 800-6701
Looking for a franchise restaurant brand that makes a difference? Don't look any further than these franchise opportunities for sale. In a fast casual industry with plenty of competitors, this one outperforms others by turning visitors into into loyal customers. They know their customers want both quality food and fast service. They adapt and change based on consumer demand. This brand has been recognized through the industry with the following awards: :
· #1 America's Favorite Chain for "Top 5 Brands Overall" – Restaurant Business
· #1 America's Most Loved Fast Food Restaurant – Business Insider
· #1 America's Favorite Sandwich Chain – Market Force