A succe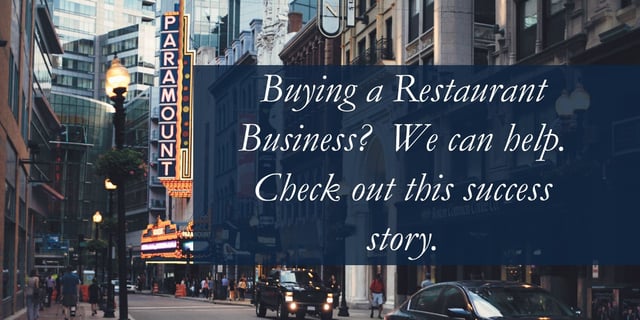 ssful end to MJ Sawaged's search for buying a restaurant business has culminated in the sale of Massino's Pizza and Pasta in Colorado. The legacy business has been operating in the Denver suburb of Aurora for over 12 years under the same owner. Massino's is an Arapahoe County favorite, serving up New York style pizza, calzones, and homemade soups, as well as Italian staples such as lasagna, manicotti, and baked ziti.
Certified Restaurant Broker John Kesterson represented 15 Restaurant Operators, LLC and its managing member MJ Sawaged in his search for buying a restaurant business. The listing was a popular one in a city that is booming with economic growth. Aurora is the 54th largest and most populous city in the United States, with a population of nearly 330,000 people as of the 2010 Census. That's a lot of hungry customers for the new owners to serve piping hot pizza and authentic Italian dishes to!
As part of his process for buying a restaurant business, Sawaged undertook due diligence, a site visit and a study of online reviews. The findings were positive leading to a quick transaction. The Italian restaurant is located in a popular strip center on Buckley Road and has an abundance of five-star reviews online.
The seller, Joseph Hadjih, is the original owner of the location, and after 12 years of owning and operating Massino's Pizza and Pasta, he was ready to retire. Mr. Hadjih reached out for the services of the We Sell Restaurants team in Colorado and John Kesterson to deliver those in the market for buying a restaurant business. The popular listing received hundreds of page views online.
Mr. Hadjih prepared Italian dishes over the years that have satisfied hundreds of customers. Here are some notable reviews left online regarding the establishment and the incomparable dishes it serves up:
"This place has the best food and the friendliest staff."
"Amazing pizza, prices and amazing customer service! I would definitely recommend to others!"
"By far the BEST pizza I've had in Denver since moving here."
"The pizza was awesome! Very friendly and helpful. I can't wait to go back and try more from the menu!"
The new owners are ready to start cranking out pasta and pies from this location equipped with indoor and outdoor seating now that their search for buying a restaurant has ended with this successful acquisition.

John Kesterson, the Certified Restaurant Broker representing Sawaged in buying a restaurant business said this of the transaction, "When a successful restaurant owner is retiring, it is always gratifying to find someone to take over that legacy location and continue to operate. It's a win for both parties."

Eric Gagnon, President of We Sell Restaurants had this to say of the sale, "Helping those who are buying a restaurant to support their families allows us to participate daily in the American dream. We are excited for Mr. Sawaged and wish him the greatest success in the future."

Those in the market for buying a restaurant can check out the many options online at our powerhouse website, wesellrestaurants.com