Our friends at Restaurant News did it again! Here's the list of the restaurant chains open for Thanksgiving this year. Making a home-cooked meal for Thanksgiving is how some families spend the day but a surprising number of people prefer to skip the preparation, cleanup, and house full of relatives. Instead, they opt for a chef who works their magic and a server team to handle the legwork! An added benefit to dining out, you can avoid all those pesky leftovers and seconds that are bound to sabotage your diet plans when a restaurants whisks in a meal and then clears it away in the same sitting.
The Restaurant Brokers have been on both sides of the fence. We've been the recipients of a fabulous home cooked meal, we've been the ones cooking the turkey and we've dine out. What's the best experience? It depends on your own unique situation. More and more families are gathering together but opting for dining out. We can't blame those who want to leave the cooking to specialists. Especially not after reviewing this list of fantastic chain restaurants who are staying open to make your Thanksgiving meal an unforgettable one!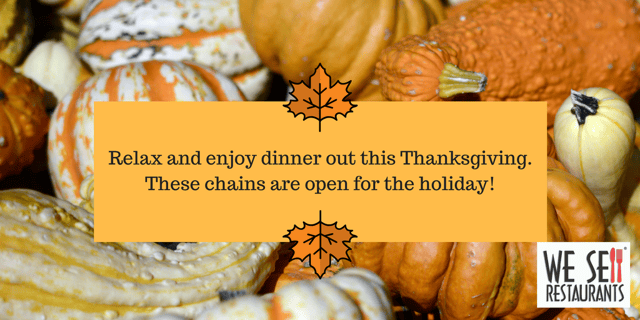 According the research performed by the National Restaurant Association, this year nine percent of American's will be eating their Thanksgiving dinner at a dining establishment instead of in the comfort of their own or someone else's home. That's a three percent increase from 2011.
If you're one of the millions of American's who are eating their Thanksgiving dinner out this year, check out the following list of chains who are staying open to roast your bird, bake your ham, and plate up your mashed potatoes and gravy so that you can be thankful you don't have to lift a finger – except to pick up your fork and knife!.
Applebee's – Not all Applebee's restaurants will be open for Thanksgiving, but there will be many in select markets that are. Those that are staying open for the holiday will serve turkey, green beans, and mashed potatoes with gravy. Call your local Applebee's to find out if they will be participating!
Boston Market – For $12.99 a person you can enjoy turkey breast or half of a chicken along with two side dishes, a roll and a slice of pie! For $34.99 enjoy the same items for three people!
Country Buffet – Country Buffet is where you go to get a meal just like what grandma made, and Thanksgiving dinner is no exception. From 11am-6pm guests can dine on numerous meats from the carving station, potatoes, juicy corn, and a selection of Thanksgiving pies.
Cracker Barrel Old Country Store – head to Cracker Barrel for a turkey dinner complete with a small portion of sugar-cured ham, delicious sweet potato casserole, your choice of a side and beverage for just $12.99 per adult and $7.99 per child.
Denny's – Head into your favorite Denny's for carved turkey breast, stuffing and even cranberry sauce.
Houlihan's – What an interesting concept this bar and restaurant chain has come up with this year – 'Drinksgiving!' After you finish meal with the family, head over to Houlihan's and indulge in $2 beers, $3 wines, and $5 pitchers of Long Islands!
McCormick & Schmick's Seafood & Steaks – For an upscale dining experience this Thanksgiving, head to McCormick & Schmick's Seafood & Steaks for turkey dinner including butternut squash soup, cornbread stuffing, and apple squash casserole. This chain will also be featuring its regular menu all day long for anyone not wishing to have the traditional Thanksgiving turkey!
Romano's Macaroni Grill – For $24.99 per person you can indulge in a three-course dinner including roast turkey, mashed potatoes, carrots with bacon, apple sausage stuffing and pumpkin pie.
Ruth's Chris Steak House– Another upscale dining option for Thanksgiving is the famous Ruth's Chris Steak House. The price is a bit steep, but it is well worth it! For $39.95 per adult and $12.95 per child, guests will enjoy gumbo or a house salad as a starter, and tender turkey with house-made gravy, stuffing, and more!
Ryan's – If you're looking for good old fashioned pecan pie this Thanksgiving, you'll want to get to Ryan's. Sure, you can get the traditional turkey dinner, but you can also get friend chicken, steak, shrimp, and meatloaf! Southern-inspired side dishes include collard greens, green beans and corn.
Shari's – Head on into Shari's for turkey or ham dinner for just $14.99. If you'd rather have something from the daily menu, all entrees are $5 off from 10:00PM Thanksgiving night until 10:00am Black Friday! Shari's has 94 locations in the United States. For dessert, Shari's is serving up its award-winning pumpkin pie!
Sizzler's – From 11am through 10pm on Thanksgiving, guests will be treated to stuffed roasted turkey, potatoes, cranberry sauce and pumpkin pie. The price will vary at each location, so call ahead to the Sizzler's closest to you for pricing and reservations!
The Dixie Cafe – Head on over to the Dixie Café for a traditional turkey for just $10.99 per person from 11am-5pm.
Waffle House – While they don't have a special Thanksgiving menu, they will be open serving all of their signature items to the masses!
With all of these delicious options to choose from, we wouldn't be surprised if some of us have a home-cooked meal for lunch, and head out for a second serving for dinner! Wherever you choose to dine this Thanksgiving, We Sell Restaurants wishes you a happy and healthy holiday with your friends and family. Enjoy!