It's official! According to listing website BizBuySell.com, a record number of businesses were sold in 2016. What's driving all these turnovers? The Restaurant Brokers have seen strong optimism reflected with the Trump administration in office. Business optimism has been recorded at the highest level since 1984. Where did the highest growth in restaurant sales take place? Bizbuysell said regions suche as Marietta, GA, Tampa, FL, Denver, CO and Dallas, TX showed reported closed business transactions in the triple digits for the 2016 year. Where did resturant sales fall into that category? Try 1731 resturants sold in 2016.
The report from BizBuySell.com, the Internet's largest business-for-sale marketplace, reported in January that 2016 totals beach 2015 by 8.6 percent and 2014's previous high by 4.6 percent. Their report, titled the Q4 2016 Insight Report, aggregates statistics from business-for-sale transactions reported by participating business brokers nationwide. The re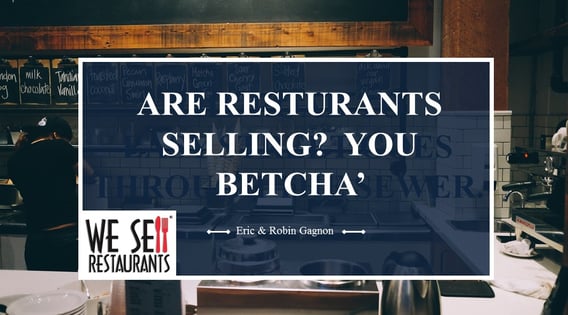 staurant brokers at We Sell Restaurants participate in reporting their sold listings through the site.
What was the count? There were 7,842 closed transactions reported in 2016. Acording to the site, this was, "the highest yearly total of small business sales since BizBuySell first started tracking data in 2007." They also surveyed business brokers on activity and a record .63 percent of the brokers surveyed had more deals in 2016 than in 2015. Was that the case for the restaurant brokers at We Sell Restaurants? You betcha with 2016 posting a new banner year for the firm. What contributed to the growth? Restaurant Broker Robin Gagnon says it was a combination of factors, "For us, we say many more restaurant sales occuring in the franchise sector and most were financed by our strong SBA lender partners." Bizbuysell agrees, citing the following factors in the growth including: improving small business environment, more owners looking to sell, more qualified buyers on the market and better financing options.
According to the report, "2016 financial indicators echo the sentiment of an improving small business environment. The median revenue of sold businesses grew 5.2 percent from $449,462 in 2015 to $472,798 in 2016. Median cash flow also increased, up to $107,551 from $102,000 the year prior. These growing financials likely enticed more buyers into the market, spurring transactions.
How did restaurants for sale fare? In fourth quarter, Bizbuysell says 1731 restaurants changed hands. That drawfs the next highest turnover cateogry (convenience stores) where 394 sales were reported for the same time period. The median sales price of restaurants sold in fourth quarter was $160,000 or roughly 90% of their asking price. Average sales of a restaurant for sale listing in that time frame changing hands was $485,000 and they traded at a cash flow mutlipe of 1.98 percent.
Where did the restaurant brokers at We Sell Restuarants end with year? Total transaction counts increased by 19.3% in units sold, another year of record growth. For the industry, higher demand did not translate to higher prices. According to bizbuysell's report, "The median asking price remained flat from 2015 at $225,000, while the median sale price increased a mere half a percentage point to $200,000. These figures put the average sale-to-asking price ratio at 92 percent. Such a strong ratio indicates the market is becoming more balanced, with both parties coming closer together in their assessment of fair market value."
Where is the market headed? These restaurant brokers see strong growth in the number of restaurants for sale hitting the market in the next two years based on three key reasons:
1) Pent up Demand: Sellers have been holding off on selling for several years because both the tax code and the earnings they could make on their money were not in a positive direction. Interest rate record lows combined with capital gain highs meant owners were better off to hold onto their inventory instead of seling it.
2) Trump Bump: The stock market growth is a reality and there is more optimism among small business owners to see regulatory demands decrease.
3) Baby boomers: There are 10,000 baby boomers retiring every single day. Many of those have held off on retiring because the tax code and interest rates didn't favor a "cash out" of their business. There's no getting past the statistic that the boomers are out there and some of them want to go ahead, cash out and retire.
For these reasons, the restaurant brokers see continued strong growth for 2017, 2018 and 2019. There is even the potential for the sell cycle to get so high that we see dampening of pricing in the outlying years. For now, Bob House, President of BizBuySell.com and BizQuest.com said. "Not only are more small businesses changing hands, but healthier businesses put the new owners in a great position for continued success. This bodes well for the market, but also points to a bright future for small businesses overall."
Want to see the restaurants for sale offered by the Restaurant Brokers? Check the full list out at this link.