These restaurant brokers see silver linings in the industry's response to the crisis and the payoff is in the P&L. Meanwhile, traffic is improving, and sales are rebounding.
There is good news for restaurant owners as the week of June 5 reveals that retail traffic is improving across the board. The data is measured against the weeks of February 1 – 23rd of this year or Pre COVID closures.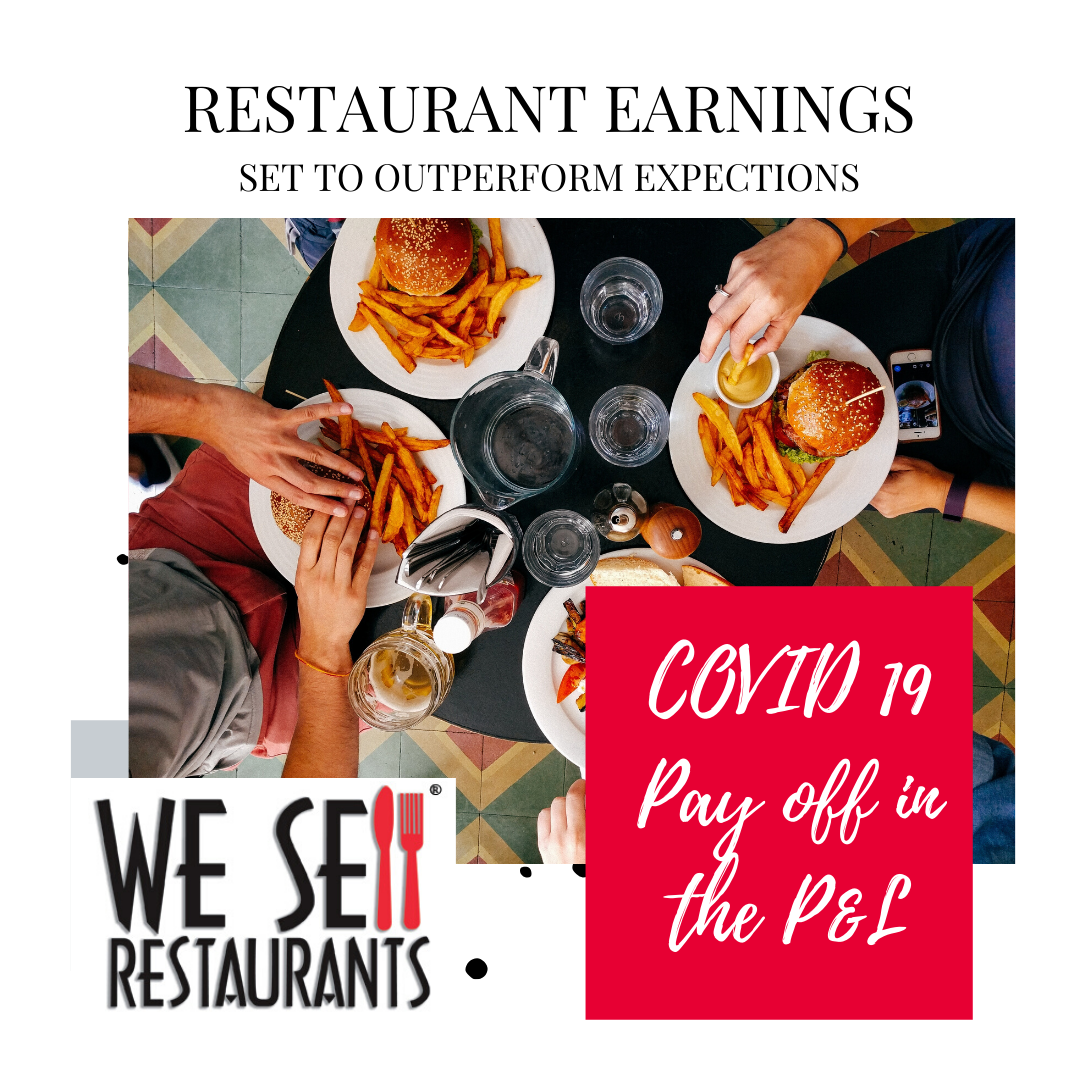 The graph below issued by LocateAI is telling the same story that We Sell Restaurants is hearing from our restaurant owners and operators. For many who are re-opening now, we are seeing trends where large amounts of outdoor seating is helping some over others.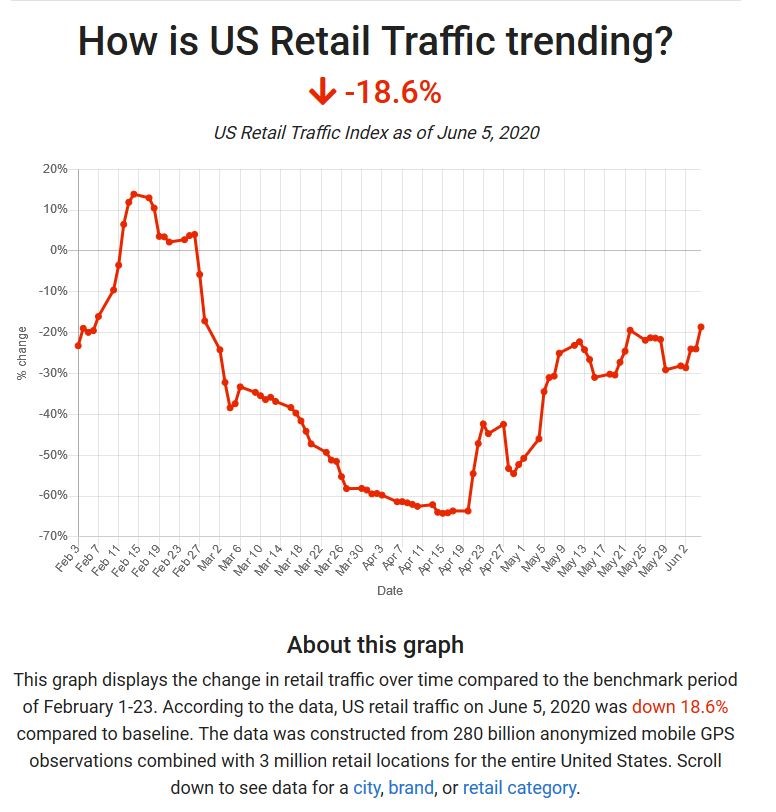 From our personal experience, these restaurant brokers have been pursuing our local eateries with a passion. One night this week, we hit a major milestone. Our favorite local joint was on a forty minute wait! While we may have been annoyed just a short time ago, we are celebrating this sign that the industry is rebounding and doing it much more quickly than anyone predicted.
Current thinking is in two camps, those, who view the recovery as V-shaped, indicating a fast recovery as Americans return to normal and those who see a longer U-shaped time period in place. We are in the camp of V-Shaped recovery based on the data from the field. Here is our analysis.
Sales are Returning:
First, we are out of the worst of this. The industry hit rock bottom in March and April where the National Restaurant Association says sales were off by $80 billion for those two months. They are projecting a loss of $240 billion overall for the year.
We are speaking with operators daily who are telling us that June has so far demonstrated strong sales which is supported by the traffic data study cited above. For operators with large patio space and markets where the local governments are allowing these to expand into the parking lots, crowds are returning.
Restaurants are Priced on Earnings, Not Sales
More importantly, sales are not the predictor of business value. While inexperienced business brokers may point to sales as the determinant of the valuation, We Sell Restaurants understands that restaurants are bought and sold on a multiple of earnings, generally termed, Sellers Discretionary Earnings or SDE. This is the amount of earnings to the bottom line before interest, taxes, depreciation and amortization plus the value of a single owner's salary.
When sales decrease, there is the potential for earnings to decrease but certainly not at a dollar to dollar rate, especially with strong attention to expenses. The ability of restaurant owners to pivot, innovate and change staffing models along with the Paycheck Protection Plan which provided for cash flow, allowed many of our operators to protect their bottom line (EBITDA) for much of the three months, despite the top line drop in sales.
Restaurant Owners Protected Earnings through Innovation and Adaptation
Restaurant owners, and particularly franchise brands, were very quick to innovate. Black Box CEO Kelli Valade said in a recent article, ""The industry … got really scrappy, really creative and really smart about how to react and react quickly,"
Our restaurant owners confirm this point. They made quick updates to social media messaging, changes to their menus and found ways to earn more on less sales. For some pizza brands pushing strong messages, those with drive through windows and strong promotional messaging, there are entire groups of the industry that saw distinctly positive sales.
Expenses Became Key
With less sales coming in the door, these restaurant brokers saw an intense focus on cutting back on menus and making sure the items being prepared for carry out and curb delivery had strong profit margins and were easy to prepare. Since food costs are typically 28% – 32% of the expense line, being able to manage this more carefully and push it down to the 20% range means we are seeing operators pick up anywhere from 8 to 12 percentage points on their earnings.
Interest was Paid by Uncle Sam
Operators with SBA lending were able to take advantage of the CARES Act and wipe interest off their profit and loss statements for a full six months. This expense alone, which could be as much as 5% of sales was absorbed by the government, increasing cash flow further.
Salaries and Wages Decreased
By far, one of the largest line items on most profit and loss statements for restaurant owners is the labor line. There was a huge loss in the labor pool due to the closures. The recovery is in the works and the restaurant business added 1.4 million jobs back in May. However, staffing levels are still down more than any other industry, based on the most recent information from the National Restaurant Association.
The chart below shows the reduction in staffing levels and shows the jobs added in May. In addition to this result, 61 percent of restaurant operators said they anticipate adding more employees to payroll within the next 30 days according to the National Restaurant Association.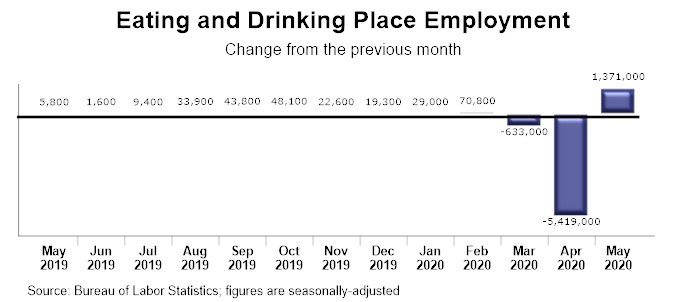 Overall, these restaurant brokers see the contribution of these variables collide to produce remarkably strong profit and loss statements by month despite the crisis. In addition, with sales now rebounding, we think the disciplined approach to expenses may see profits rise by door through the end of the year.
Overall, bottom lines may surprise restaurant buyers as they are stronger than expected through careful cost control.
For more information and advice for restaurant owners and the restaurant industry COVID19 advice, visit this link.