In some scattered states across the U.S, there are restaurant units that never closed. For most, however, they adapted to dramatically pivot their business to focus on curbside, drive thru and takeout. These restaurant owners developed strategies in a short time frame to retain and maintain their business.
As the landscape changes yet again and states allow restaurant owners to move back to dine in, they will face new challenges. How could or should restaurant owners adapt? Here are our thoughts at We Sell Restaurants along with some recent research on the topic.
Shane Skillen, CEO of Hotspex, Inc. interviewed 1,000 restaurant goers on April 14, 2020 and he published his insights in an article available at this link. The number one takeaway from his survey (79% of those questioned) said food safety and the possibility of contamination was their primary concern regarding restaurant delivery.
Move that thought process forward into dine in and we expect to see some of the following adaptations.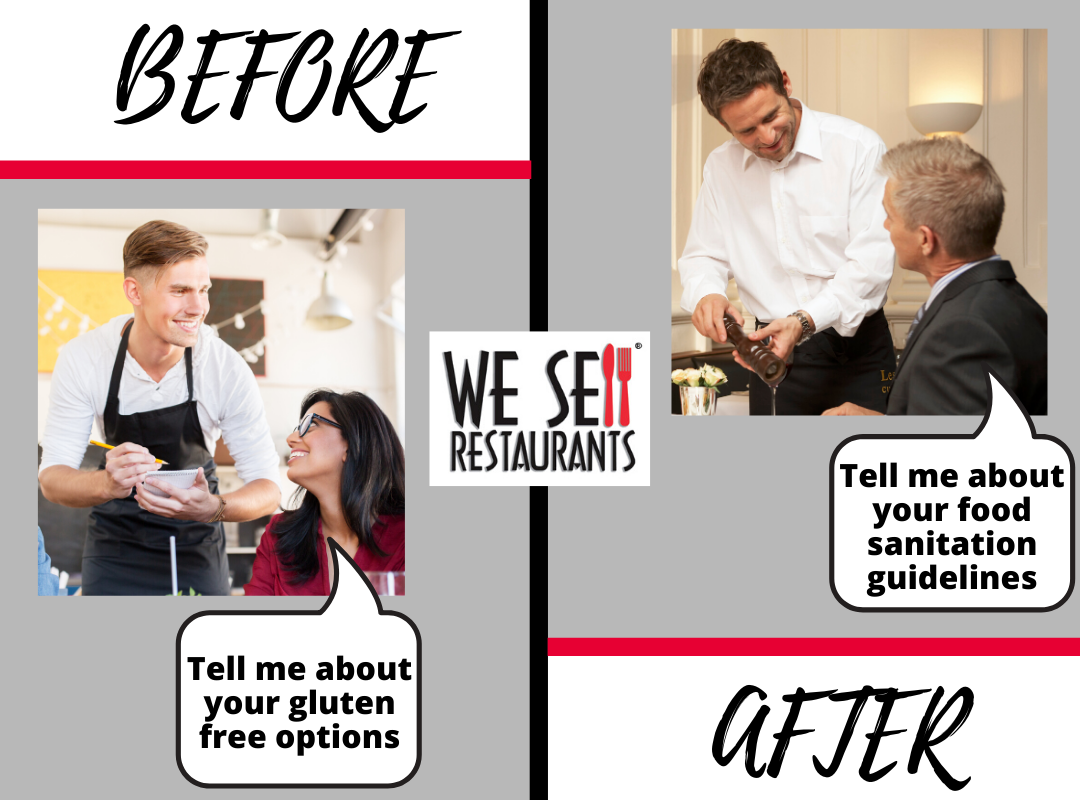 Menus will Change
Traditional menus will go the way of the dodo bird, including technology like table side electronic menus that have been favored in recent years. No one will want to touch that sticky iPad with the amazing wine list that was just handled by someone at another table.
Restaurant owners and suppliers must come up with technology-based menus with one-time removable or peel-off screen protectors for single use, otherwise paper copies of menus will likely become the norm. For paper, it's simple: a single table will receive the menu. In this scenario, public safety will trump being green, and the menu will be recycled or get thrown away. If a restaurant chooses to use traditional menus, they should be prepared to explain how they have been sterilized between uses.
You Must be Ready to Talk About Food Safety
Every customer will ask questions about how safely the food is prepared. Anticipate the need for this reassurance and be prepared to answer the questions. Old school: "I need to speak to the chef about how he can assure me this is gluten free." New school: "I need to speak to the chef about his food safety protocols." Restaurant owners can start putting training materials together now while they have down time so the wait staff is armed with this information when diners return.
Dining Rooms Will Reconfigure
Dining rooms will seat fewer people and communal dining tables will be a thing of the past. Dining with strangers? That won't be happening in the new world we'll be living in so restaurant owners should be looking at their seating arrangements and anticipate replacing communal tables with booths and tables that can be separated by newer social distancing regulations (whatever they end up being).
Waiting for a Table will Change
It is not just the dining room that has to be re-imagined. Restaurant owners must also look at how they will queue people in advance of seating. If they have not moved to a texting program yet, they should get it installed. No one will want to hold a grimy pager that has been in countless hands or gather in a small space with strangers while their table is prepared. They will hold their own trusty phone and wait for the text that their table is ready.
The Hotspex survey found that 42% of consumers miss the restaurant escape experience. That does not mean the old restaurant experience. This finding represents an opportunity for restaurant owners. They can target special occasion customers, especially since consumers will have less money to spend overall based on the wrecked economy. Restaurant owners can spend time now thinking of how they make the dining experience more memorable.
Forget the Old Birthday Celebration
Here is what is out – Gathering a bunch of strangers at a table to belt out some iteration of Happy Birthday with a sombrero that has been used (how many times?) perched on their head. No one wants their server and tableside singers breathing all over them and their food. As an aside, your staff will cheer this move as well!
What is in? Customized paper menus and small gifts or takeaways that acknowledge that a special event happened that day.
Overall, what we believe at We Sell Restaurants is this: our restaurant owners have proven during this crisis is that they are incredibly resourceful, resilient, and adaptive in the face of adversity. The new dining experience is certain to provide outlets for creativity and comfort that will result in an exciting, sanitary, and overall improved way to eat out.