March 2022 marks two years since Covid-19 first spread in the United States. Every industry has felt the effects of the pandemic in some form or another, but restaurants, in particular, were one of the most severely impacted sectors. Many restaurants had to change their entire way of existence while quickly adhering to new government mandates.
It has been an arduous journey, as many restaurants had to accomplish these goals on the fly. Two years later, a sense of rhythm has appeared, despite the need for limitations and mandates still appearing with each new wave.
Technology, specifically, has paved a way for restaurants to stay alive in the midst of uncertainty. Even before the pandemic, the restaurant industry was already streamlining toward easier, and faster, options. The pandemic accelerated the process. To modify the way they run their business quickly and efficiently, restaurants have relied heavily on methods like automation, kiosks, third-party apps and more. Alongside these changes, evolutionary transformations have come into play.
AI And Automation
As we mark the two-year anniversary of the pandemic, we're continuing to see a resiliency in the restaurant industry. Despite moving toward more efficient options in the past, restaurants now are implementing more technologically savvy options to keep their doors open. In addition to suffering from mandates and limitations, restaurants are still seeing high unemployment.
With a lack of physical employees present, restaurant owners have found alternatives in the forms of automation and artificial intelligence, from kiosks to robots. Finding solutions in technology is not only beneficial to restaurants, but customers enjoy it as well. Seventy-nine percent of patrons say they prefer to use online kiosks instead of a human server.
Igloos And Greenhouse
In 2020, igloos and greenhouses were used out of necessity, but now their use has created an atmosphere that customers have enjoyed and can expect. Many brands are partnering together to create the ultimate thematic experience for patrons to enjoy. Outdoor dining has evolved past just sitting down and being presented with food—it can now be seen as an experience or event.
Contactless Ordering
Along with the more thematic dining experience, a handful of other restaurant trends are bound to either pop up or become further cemented as a restaurant norm.
Contactless ordering looks like it is here to stay, for example. According to Square, 94% of U.S. restaurants offer contactless payment options, and the adoption of this practice has positively affected operations, as 82% of respondents to a Mastercard survey felt it was a cleaner way to pay.
Dining Apps
For customers and restaurant owners alike, dining apps like DoorDash, UberEats and BiteSquad were crucial during lockdown. Many customers may still be hesitant to bring their families to eat in a dining room with strangers. In fact, according to a 2021 survey, 53% of adults said purchasing takeout or delivery is now essential. Food delivery has influenced consumer behavior to go digital. While this was slowly becoming more popular pre-pandemic, the pandemic accelerated this trend by years. These apps have given patrons a way to grab a bite of their favorite food without sacrificing safety.
In return, restaurant owners are able to employ their cooks while also continuing to feed hungry and loyal customers. This really opens up how restaurants will lay out their menus and continue to prepare their food. Many restaurant owners, thinking to the future, are looking into better ways to package foods, investing in stronger containers, and have expressed interest in personalizing their to-go bags.
Drive-Thrus
Drive-thrus have been around as long as many of us can remember, and this option provided a huge financial relief when restaurants were first forced to close their dining rooms.
During the first lockdown, drive-thru ordering surged, and it may still exceed pre-pandemic levels. In response, restaurants started ramping up investments to make their drive-thru lanes more efficient. Fast food restaurants thrived during this time, completely changing the fundamentals of their drive-thru lane. Some restaurants allocated one lane to only digital and delivery orders. Others are investing into higher tech, such as personalized, AI-powered boards and menu boards connected to the PoS system, so there are no technical difficulties when patrons pull up.
How The Restaurant Industry Will Move Forward
Expect the use of technology to become more advanced as the restaurant industry continues to evolve. Customers are already looking forward to restaurants suggesting menu options based on your order history. In order for restaurants to continue to provide personal touches, they are also exploring technological additions to curate experiences based on trends, promotions or even weather.
Many restaurants have recently used technology as a foundation to get creative, take risks and search for new ways to make profits. The industry is still in the process of rebuilding and working to meet expectations from customers while creating new expectations for themselves. In 2022, expect more adjustment to the already established trends and sharper technology catering to customers.
While we are likely to see an increase in technology, it will probably never fully replace the human interaction we see when we dine out at our favorite spots. There will be a delicate balance many restaurant owners will have to acknowledge and adjust.
Food has always been more than just a transaction, and it's likely that philosophy is here to stay.
This article was originally written by Official Forbes Business Council Member Robin Gagnon and published on Forbes on March 3, 2022.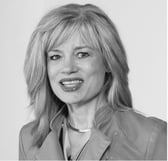 Robin Gagnon, Certified Restaurant Broker®, MBA, CBI, CFE is the co-founder of We Sell Restaurants and industry expert in restaurant sales and valuation. Named by Nation's Restaurant News as one of the "Most Influential Suppliers and Vendors" to the restaurant industry, her articles and expertise appear nationwide in QSR Magazine, Franchising World, Forbes, Yahoo Finance, and BizBuySell. She is the co-author of Appetite for Acquisition, an award-winning book on buying restaurants.