Are you in the market for buying a restaurant? Are you looking at lending resources? If you're like a lot of buyers, it may be your first experience with SBA lending. Don't count on getting these lessons from your lending partner but trust We Sell Restaurants to fill in the blanks.
Lesson # 1: The Seller Can Contribute to YOUR EQUITY when buying a Restaurant
If you are buying a restaurant and the SBA lender is looking for 20% down, some of that may come from the seller. That means on a $300,000 purchase, you can put as little as ten percent down or $30,000 and have the seller hold a note for $30,000. The lending community views this as twenty percent equity combined between the two which meets the threshold for lending in most cases.
This is a great lesson in reserving your own cash when buying a restaurant with financing terms. It also keeps the seller engaged in the game with a little "skin" which never hurts when there is lending involved. It is referred to as a seller's "hold-back" or "seller's note" in banking language.
Lesson # 2: A Seller note has to be on a Standby for Two Years
Don't count on the lender to explain this up front and your broker may not be familiar with this requirement in many instances but this one is not negotiable. If a seller lends money in the deal (see Lesson 1), then he or she may not receive a payment until 24 months and one day after the closing.
Why is this rule in place? The bank wants to be sure you have maximum cash flow to succeed and make the payments BEFORE a payment goes to someone else. The form of the payment can then conform to whatever terms you and the seller decide. Want a lump sum at 24 months? That's not a problem.
Interest can accrue on the balance (and should accrue at whatever rate you and the seller decide. You can set the 24-month mark for monthly payments, lump sum, quarterly payments or whatever works between you and the seller. The lender will have to examine the note and it will be part of the closing documents. The seller will also have to subordinate his interest in the furniture and fixtures to the bank. That means any claim they have on the assets is superior to the seller's lien or claim.
Lesson # 3: SBA Rules can be Overcome
There are hard and fast rules for SBA lending but lesson three is that any requirement can be overcome or re-negotiated. One requirement is that a second mortgage is always a requirement to secure SBA lending. Not every time. In a recent transaction with We Sell Restaurants, two well qualified individuals did not want to secure their note with real estate holdings. In their case, the financials were strong enough and their net worth position was strong enough that the lender offered an alternative. They were allowed to deposit a fixed amount of money in an interest-bearing account with the lender for a two-year period. When the two years ended, they would get a full refund of the amount.
In other cases, we have seen lenders overcome issues like:
Felony convictions
Credit scores of spouses
Bankruptcies
The bottom line to this lesson is that if you don't ask, you won't get. Be open to negotiate the terms of a deal and make sure your restaurant broker works to represent you in the matter.
Here's what you learned from today's article. First, you're not on your own to raise the down payment. The seller's hold back or note can be part of the equity or down payment in the deal. Secondly, a seller note has to be on a two year standby, meaning he can receive no payments for 24 months. Lastly, despite what you may hear, there are some rules that can be overcome or renegotiated.
If you're buying a restaurant with lending, use these lessons to minimize your down payment with input from the seller and negotiate terms that work for you as a buyer.
For more information on lending resources or buying a restaurant, visit these links:

For more information on lending, Download our Free Guide to Lending at this link.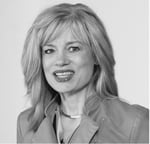 Robin Gagnon, Certified Restaurant Broker®, MBA, CBI, CFE is the co-founder of We Sell Restaurants and industry expert in restaurant sales and valuation. Named by Nation's Restaurant News as one of the "Most Influential Suppliers and Vendors" to the restaurant industry, her articles and expertise appear nationwide in QSR Magazine, Franchising World, Forbes, Yahoo Finance, and BizBuySell. She is the co-author of Appetite for Acquisition, an award-winning book on buying restaurants.