Restaurant owners and operators are waking to the good news that the Paycheck Protection Program changes requested by the industry have been voted into law. H.R. 7010 passed yesterday with a vote by the Senate after previously being approved by the House.
The new bill, titled the Paycheck Protection Program (PPP) Flexibility Act addresses many of the concerns voiced by the industry and put forth by the National Restaurant Association on behalf of restaurant owners nationwide.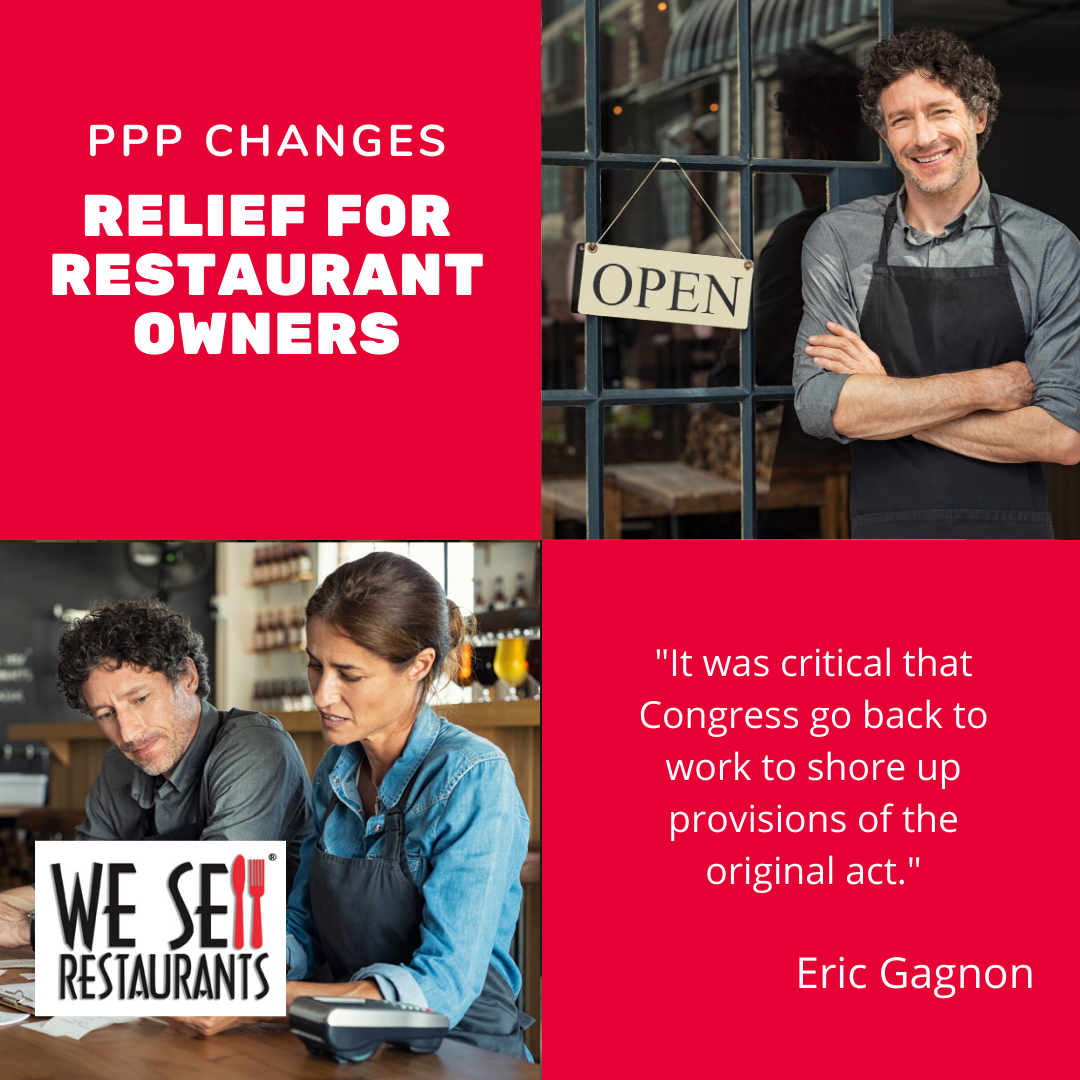 First and foremost, it extends the period covered for expense payment from the original 8-week time frame to 24 weeks. This is critical since many restaurant owners who received funds are still not open and thus, were in a catch 22 scenario of filing and accepting funds they could not deploy as governors have not fully eased restrictions and allowed them to resume normal operations.
Eric Gagnon, President of We Sell Restaurants said of the new legislation, "It was critical that Congress go back to work to shore up provisions of the original act which, while well-intentioned, did not align with the reality faced by restaurant owners. While the Paycheck Protection Program provided a stopgap means of funding for many, it certainly produced unintended consequences as we wrote in this article" He continued, "Many are still unable to re-hire and re-open at pre COVID19 levels and are facing restricted seating and time frames to operate."
The second measure of the bill extends the rehiring time frame. Under the original premises of the program, restaurant owners had a very tight timeline to rehire and bring their staff back to the table as payroll funds had to be spent in eight weeks. This is now extended as well.
This was critical for the industry which is the nation's second largest employer. Many restaurant owners were struggling to hire since they have not been allowed to fully re-open or in some states, open at all.
Those who received the funds before this legislation was enacted will have the option to invoke a "Borrower's Choice" provision. That allows those who have already received PPP loans to choose the covered period of their loan to be either eight weeks or 24 weeks from origination.
In one of the most critical items for restaurant owners, the use of funds has been relaxed. Previously, 75% had to be used for payroll expenses and non-payroll items such as rent, utilities or mortgage interest) was capped at 25 percent. Since many landlords have failed to offer any accommodations to businesses in the form of rent relief or rent deferrals, many are paying large occupancy costs on essentially shuttered locations. They were previously, not allowed to spend more than 25% of the PPP funds for rent. Now the cap has been moved to 40 percent.
The last major change was lengthening the loan maturity date from two years to four years. We Sell Restaurants anticipates that these changes will be welcome relief for restaurant owners who are still reeling from the COVID19 crisis and are now facing riots and early closures due to civil unrest.
Robin Gagnon of We Sell Restaurants said of the changes enacted, "Restaurant owners have faced enormous challenges amidst the pandemic. This latest legislation shows that Congress is willing to act in a bipartisan fashion and accept the input of the industry when a fix is necessary." She added, "While some parts of the industry are undergoing struggles, it is a mistake to treat the entire restaurant business model with a singular view. We are seeing strong activity from those buying a restaurant as we recently outlined in an article on activity during the pandemic time frame."
For more articles from We Sell Restaurants on the COVID19 crisis and important resources for restaurant owners, click this link.