The CARES Act was a rushed piece of legislation in response to the pandemic. It is no wonder that it has generated some unintended consequences. Here is what restaurant owners should know from the team at We Sell Restaurants.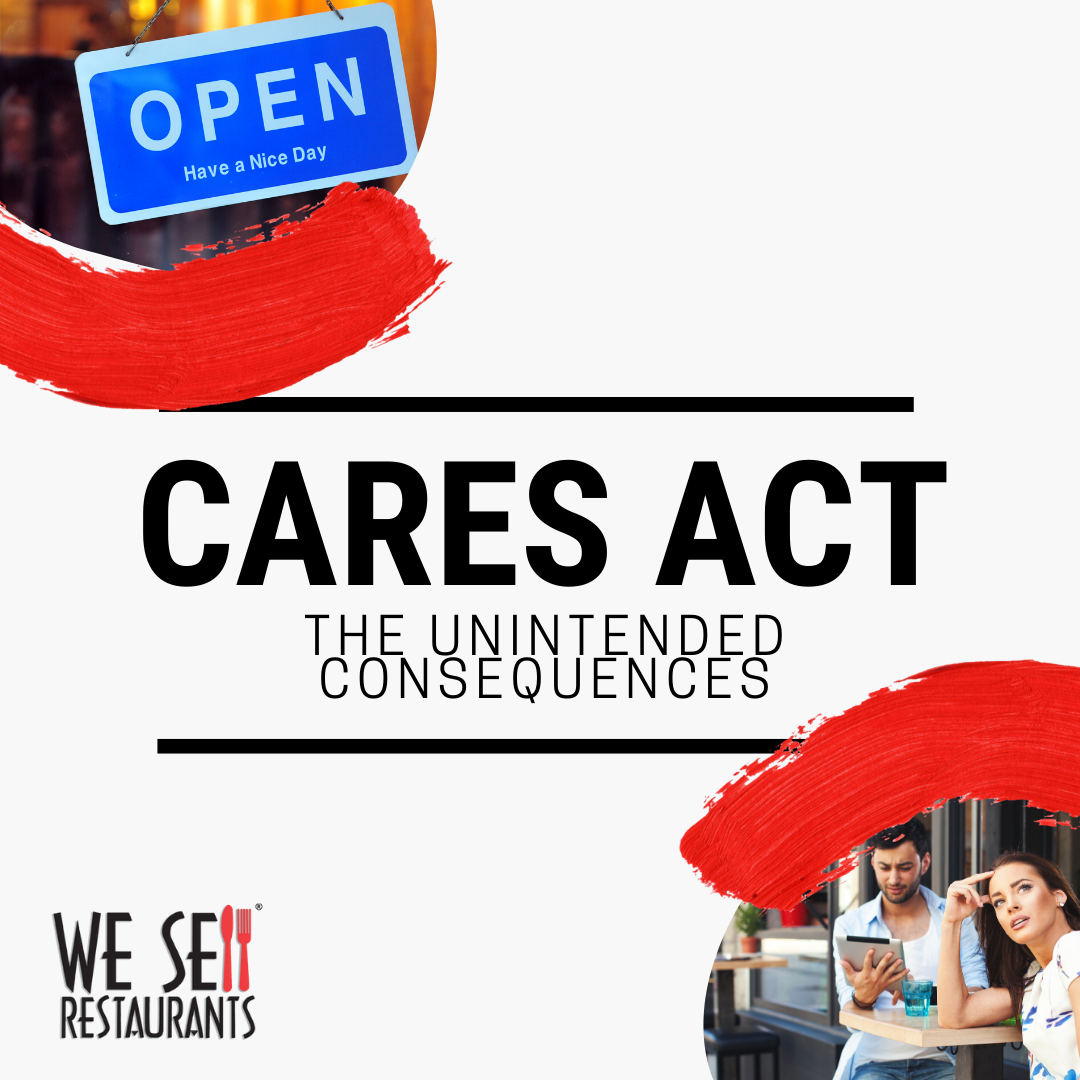 Big Business Went after Big Payouts
The original bill did not preclude those with large coffers and other sources of money from applying and being rapidly funded. The first round of support ran out almost immediately and stories began to surface of large publicly traded companies or large chains taking money while many small business owners and some of our restaurant owners failed to be funded.
We saw funds returned voluntarily by Shake Shack almost immediately. Salad chain Sweet Green and Sandwich chain Potbelly both sent back $10 million dollars. Ruth's Chris Steak House says they will be returning $20 million and Nathan's Famous Hot Dogs is giving back $1.2 million. That is a good start.
Plenty of colleges and universities with large endowments are standing firm and refusing to return money they took under the plan (like Notre Dame), while Harvard was shamed by the President to return their $10 million to the taxpayer's coffers.
The program was intended for small business owners, and with the return of these funds we hope to see more restaurant owners get money in the second round of funding released this week.
Our advice to restaurant owners: Make sure you apply. Even if you missed the first round, as funds flow back into the program, your application will be in line for money. We anticipate more money coming back as large companies want to avoid either the public shaming or government audit of their intentions. As of yesterday, Treasury Secretary Steven Mnuchin says the SBA will review all loans in excess of $2 million. This is a good approach to be sure the funds get where they are needed, to small business owners.
PPP Caps Force Shut down of Regular SBA Lending
The second unintended consequence of the CARES Act is a looming iceberg and restaurant owners trying to sell their business are the Titanic heading straight towards it. The collateral damage from the recent deal struck on Capitol Hill is leading to a pending shutdown of the regular 7(a) loan program as soon as PPP funds are exhausted.
The CARES Act language combined the PPP and the 7(a) loan program's authorization caps, or the dollar amount up to which loans can be made, into one joint $349 billion authorization cap for the covered period of February 15, 2020 to June 30, 2020. That means no lending can happen once they hit that cap.
For our restaurant buyers and sellers, that means that unless Congress acts (and they are not in session), the normal SBA lending program will shut down as soon as PPP runs out of money and there will be nothing new funded until July 1.
That is a pretty huge unintended consequence. Can it be fixed? Yes. There is a statutory change required so they will have to call a session and agree to fix it. Otherwise, we are telling our restaurant buyers and sellers to extend times to close in order to account for more time for the lending cap to go away.
Unemployment Benefits Result in Higher Pay than Working
The last and most critical piece of the CARES Act put into place by well-intentioned but shortsighted congress members is the additional unemployment pay of $600 per week layered onto regular unemployment benefits.
This amount of subsidized unemployment money exceeds the base rate most restaurant workers were making going into the pandemic. Restaurant owners are faced with raising wages from an average of $12 to $13 per hour to more than $21 per hour at a time when they are already facing financial ruin just to be competitive with current unemployment benefits.
In addition, they must, under the PPP regulations, re-staff and re-hire within eight weeks of receiving funds. If they fail to do so they will have to pay back those funds. Restaurant owners went into the pandemic facing labor shortages and we predict they will exit the latest crisis and attempt to rehire amidst a new shortfall of willing and able workers, all due to collateral damage caused the CARES Act.
Despite the best intentions of Congress, these are three exceptionally large unintended consequences of the CARES Act that restaurant owners now face.
For more information and resources surrounding the COVID19 virus from We Sell Restaurants, visit this online link.