The franchise industry is a great place to get your feet wet through business ownership or expand your existing portfolio. Whatever your motivation is to become a franchisee, there are many decisions to work out before making the investment. The first step may be in identifying the type of franchise that is best suited to you, your lifestyle, and your financial goals. Interested in franchising but not quite sure where to start? Here's a guide to five types of franchises and the pros and cons of each.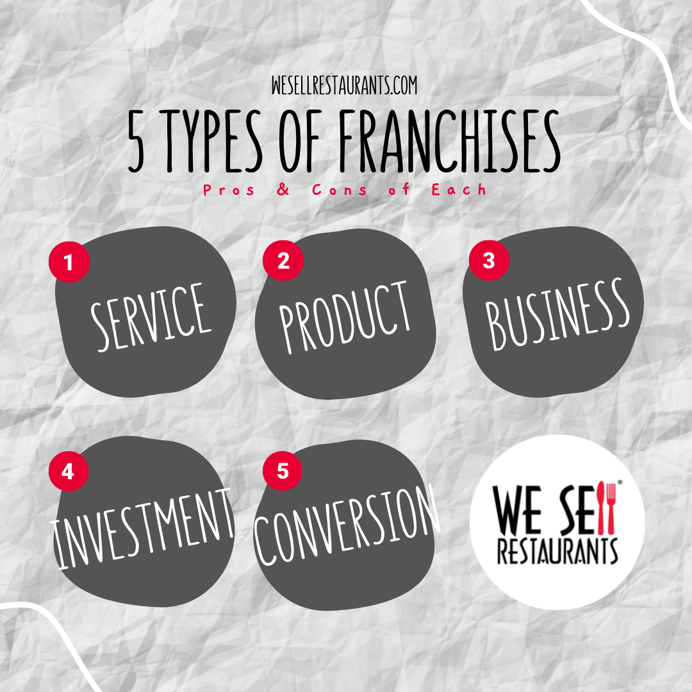 Service Franchise
This is often referred to as a home-based business and can be run by yourself, or you might manage a limited staff. It is typically a service-based industry like cleaning, landscaping, event planning, travel agency, direct mail, and tutoring, to name a few.
Pro: This type of franchise requires a smaller price tag for franchise fees and startup costs, equipment, and supplies.
Con: You must be prepared to deal with customers and do what it takes to make them happy with services you provide. This is a great option if you are customer service oriented.
Product Franchise
This is also referred to as a distribution franchise. The franchisee disperses products from the parent company. The parent company allows the use of the branded trademark, and the franchisee sells the product. The franchisee has to pay fees for using the trademark name and the products that they sell. These are typically large product dealers like large equipment, vending machines, and car repair. The product distribution franchise actually represents the highest percentage of total U.S. retail sales.
Pro: As a franchisee, you can work relatively independently. This is ideal for people who prefer less customer involvement. This is a real B2B model.
Con: You will have to follow certain guidelines, such as selling the products on an exclusive or semi-exclusive basis.
Business Format Franchise
This is the most popular of all the types of franchising. When discussing franchises, this is the model best associated with the industry. Following a business format franchise, you would operate under a brand name, paying franchise fees for the use of a proven business model to provide products or services. The parent company trains franchisees under a detailed plan and gives ongoing support to ensure success. Examples include restaurants, gyms, and retail operations.
Pro: You receive ongoing training and support from industry specialists to provide added security to your investment. This is a perfect fit if it's your first time franchising. You get a very good background in business ownership with the protection of a brand and its business model.
Con: The franchisor is very involved in how service is provided and how business is run. There are many guidelines and expectations. Although this is reassuring for many owners, others may feel it inhibits creativity.
Investment Franchise
This is a large-scale business acquisition that requires a large capital investment. As a franchisee, you become a major investor, providing the outlay and management team. Examples of investment franchises include hotels and large restaurants.
Pro: It is a great fit as a franchise if you want little personal involvement and want to use this for investment purposes.
Con: There will be a high initial price tag and probably a capital gain when exiting this investment.
Conversion Franchise
This is a hybrid form of franchising. The franchise system itself grows as an existing business converts to a franchise unit. The franchisee adopts the parent company's brand name, marketing and advertising programs, training system, and client service protocols.
It means immediate growth for a smaller business as they convert to a franchise. It assists the existing business by growing the customer base and benefitting from a brand name. Privately owned businesses that often switch to a franchise brand include electricians, florists, plumbers, and HVAC repair.
Pro: This is a quick ramp-up to growing your existing business. And you gain the benefits of partnering with a recognizable brand that can give your business a boost. This is ideal for business owners who want to grow their current business.
Con: You lose control of the systems you had set up as an independent business owner. It can be a tough adjustment to go from the boss to a partner in your business.
What to Consider When Choosing a Franchise
To understand which of these franchise types are best suited for you, keep in mind some very important concepts. First, be willing to work hard. Even if you don't take a management role in the business, as an owner, you've got to know what you're doing and stay on course.
You also need to know your finances. Know how much you are able to spend on this venture. When you begin whittling down your options and comparing brands to partner with, have a very clear understanding of the franchise fees, initial investment fees, and any ongoing fees like royalties. Take the opportunity to study a brand's FDD (Franchise Disclosure Document), which details the franchise system.
Determine what your level of involvement be? Will you just be a hands-off investor using the investor franchise model? Or perhaps you're more comfortable owning a distribution business with a more involved position.
Once you've chosen the type of franchise that suits you best, and you are comparison shopping for brands, talk to other franchisees to gain an insightful perspective about day-to-day operations.
Set your sights on something you are good at and really enjoy doing. Entrepreneurs who engage with businesses they are passionate about are much more successful.
We Sell Restaurants
If you are someone interested in partnering with a recognizable brand that provides a strong training model allowing you to work from home and still engage with customers, We Sell Restaurants is a brand that's worth looking into.
We Sell Restaurants is a unique food franchise. We are a business broker franchise focused on the restaurant industry. We help others satisfy their American dream of business ownership with a restaurant purchase. Unlike other food franchise opportunities, you set your own hours and enjoy an unmatched lifestyle in the restaurant industry.
The We Sell Restaurants franchise is a low-cost franchise investment that provides flexibility, a quick ramp-up, and a proven concept. We ask that you have access to $50K in liquid capital. There is a $40,000 franchise fee, and total startup ranges between $60,875 and $95,650.
We require franchisees to have a real estate license and great motivation for success. Previous restaurant experience or business ownership is not required, but we do prefer that you have demonstrated leadership ability and commitment to running your own business.
If you have the ability, the passion, and the capital to partner with a business brokerage leader and are ready to take the next steps, request info, and let's get the conversation going. We're always looking for smart, dedicated entrepreneurs to join the We Sell Restaurants franchise family.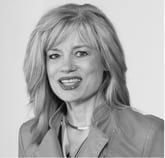 Robin Gagnon, Certified Restaurant Broker®, MBA, CBI, CFE is the co-founder of We Sell Restaurants and industry expert in restaurant sales and valuation. Named by Nation's Restaurant News as one of the "Most Influential Suppliers and Vendors" to the restaurant industry, her articles and expertise appear nationwide in QSR Magazine, Franchising World, Forbes, Yahoo Finance, and BizBuySell. She is the co-author of Appetite for Acquisition, an award-winning book on buying restaurants.