The headlines read that thousands of stores are closing and for many, it is a tough time to consider buying a restaurant. On the other hand, those who paid close attention to the tale of Chicken Little who screamed the sky is falling were proven wrong. The COVID19 crisis had created an opportunity for those in the industry and we are seeing entrepreneurship, innovation and creativity flourish, for some businesses, as never before.
Buying a restaurant during times of uncertainty is not for everyone but for those out of work and looking to the future, here are the concepts that are working as well as those who are taking the opportunity to reinvent themselves.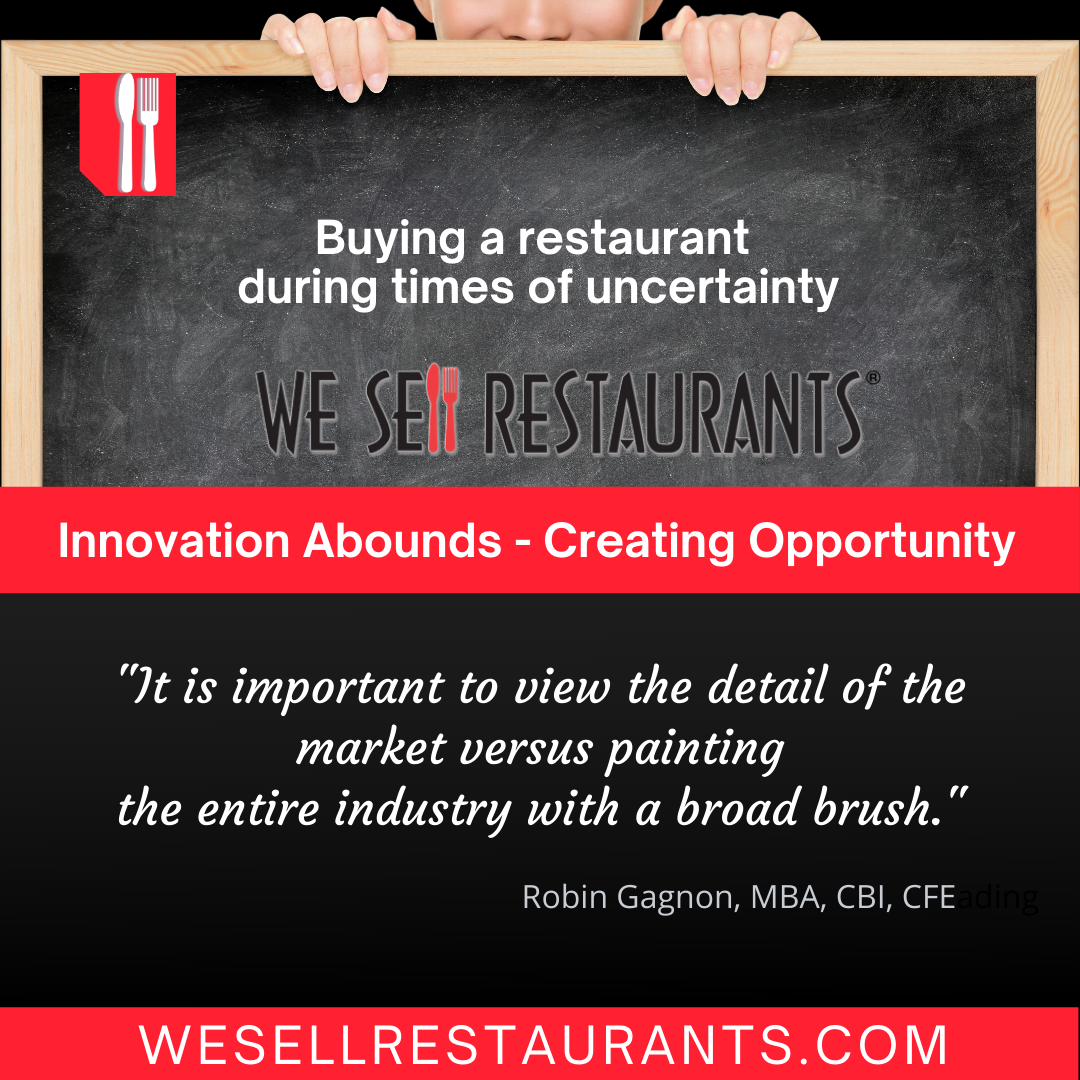 Full Service Independent Restaurants as a category are the hardest hit. These are the units that could not or would not pivot to a model of take out and deliver and to be fair, do not really serve food that travels well in a delivery or take out scenario. The restaurants in this category are those we might consider for a special occasion or anniversary type dinner. Stunning food, immaculate presentation, excellent service and high price points. These are in trouble today. However, there will be a return to dining in and the ultra-special culinary experience combined with a social occasion. There will be fewer of these concepts in the future but those remaining will be able to name their price because after all, rarity is key component when setting demand. For now, these are a hold and wait scenario.
Buffet style restaurants. You may want to automatically count these among the casualties of the current situation but smart operators are quickly modifying the self-serve concept into one that has a properly masked and trained employee serving food, versus the every man for himself at the buffet. The silver lining to this cloud is that many of our waistlines may appreciate the guard rails around the amount of food we may have consumed in the past at the buffet table.
Bars have been hard hit. Those in charge of states are intent on punishing this industry have focused intently on businesses serving alcohol. Even without enough data to show that bars are spreading the virus any faster than any other type of business, pubs and bars have been more aggressively shut down or are in the last wave (or phase) to re-open. Don't despair as your local bar is down but not out. We are social animals and surveys show that in economic downturns and times of uncertainty, alcohol consumption goes up. Bars are not going anywhere. The adaptation of these amazing bar owners has been to create more outdoor space for gathering and apply pressure locally to deliver drinks or allow for carry out of alcohol. They may end up changing alcohol laws for years to come. Don't count them out.
Office Building Cafeterias. For years, this category of restaurant for sale has been a favorite among those buying a restaurant. Short hours, cheap rent and a captive customer base who eats in the office building rather than leave for lunch are perennial favorites. With office buildings shut down and workers at home, those who were loving the life are trying to find new means to make the business work. If they are smart, they are figuring out delivery and/or negotiating new deals with landlords until workers return to the building. At the end of the day, offices at some level, will re-staff and food will need to be onsite. For the landlords, they are most likely work with their tenants in waiving what is usually modest rent anyway. They view the food service as an amenity for the building. These will survive but there may back after a slower start.
Those are hardest hit segments. Overall, there is particularly good news in the industry. For many concepts, the virus has in some way forced them to transform their business in a positive way. These restaurants are driving higher sales and greater return on investment than they were before the virus and include:
Any fast-casual concept. The fast in fast-casual needs to refer to exactly how quickly they spun up their offerings onto multiple take out platforms and figured out the model for delivery and take out. Since most of these concepts are franchises, it's no wonder that statistics are saying that of the restaurants currently closed, only 6% are franchises and the majority will reopen.
Anyone with a drive through window. This Restaurant Broker has a Subway for Sale in Michigan that is producing record sales and earnings because they happened to have a drive through window. Zaxby's Chic Filet and Sonic quickly pivoted to push food out of their drive through windows and their sales reflect their effort. Meanwhile, their cost to staff dining rooms has dropped and in some cases, menus have been abbreviated. This impacts the food cost and labor cost, driving them down and reflecting higher profitability. That's right. For those buying a restaurant, some concepts have figured out that they finally can trim the menu, cut back staff and make more money.
Pizza, Pizza, Pizza! Nearly every pizza chain in the nation is outperforming last year in sales and earnings. They are also able to better control their food costs as there are fewer dine-in clients, (less predictable counts), while online orders through their apps provide constant data to keep them stocked just in time. They have now mastered inventory control with less waste and better cost control.
Suburban restaurants versus urban restaurants. Geography is affecting which winners are emerging in the current market conditions. This Restaurant Broker has sandwich franchises for sale that used to only be busy on the weekends see entire adjustments to their traffic patterns. Now these suburban stores are getting families on weekends and have lines Monday through Friday for lunch service. Downtown locations, typically home to office buildings, as mentioned earlier are facing a virtual dearth of customers and no one nearby to deliver to.
If you're buying a restaurant, it is important to not assume that the headlines are 100% real and the sky is falling. Some segments of the industry have been hit harder than others by the crisis. Others are clearly thriving. The winners are moving quickly into contract with for those buying a restaurant who see opportunity among the chaos. That is why it is important to view the detail of the market versus painting the entire industry with a broad brush.
To see some of the winning restaurants for sale available today, visit this link.