Looking for great quality of life, lower costs and restaurants for sale to support your family? Read this article to understand why your search may need to focus on small towns.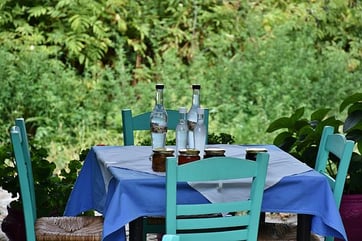 The majority of profitable restaurants for sale are located in major urban and suburban areas primarily due to their adjacency to multiple residential and business customers. Keep in mind, however, that the more desirable and "populated" the area, the higher the rent, the greater the competition, and the overall cost of living to reside near your business can quickly offset the benefits of being in a prime spot. The Restaurant Brokers at We Sell Restaurants have many successful and highly profitable restaurants for sale in major cities including but not limited to Atlanta, Charlotte, Fort Lauderdale, Denver, and Austin. We also have equally as profitable restaurants for sale listed in more remote areas, and while they may not be in the center of all the action, they do provide a long list of benefits and advantages.
The first and foremost benefit of restaurants for sale in more remote locations, is the cost of living. Owning a home more than an hour outside of a major city or suburb can cost, in many instances, less than half of what some houses would cost in a more populated area. A lower cost of living translates to a better lifestyle with more disposable income. In the Atlanta market, a 3,000 square foot home can run $700,000 within a 15-mile radius of the city reduce to $500,000 within a 30-mile radius and can cost as little as $250,000-$300,000 in a more remote area.
Well run restaurants for sale in these areas tend to enjoy longevity and repeat business as a result of the local reputation they've built, and the fewer number of establishments serving the area. Rent is another major factor, as it is the single biggest fixed cost on a restaurant profit and loss statement. You can flex how much inventory and supplies you buy and you can manage your staff and wages based on traffic volume, but the rent is the rent. Rents in strong suburban markets such as Gwinnett and Fulton County, Georgia, can range from $25 to $40 per square foot and more. The average rent in these areas for a 2,500 square foot restaurant is around $7,000 per month. However, if you venture out a little further you can find rents as low as $12-$18 per square foot.
Lastly, and equally as important is quality of life. The pace is slower in smaller towns, people tend to be friendlier, and everyone knows your name. Living in a smaller town is not for everyone, but if you are looking to acquire a business in a small town, and the charm and appeal of living away from the fast pace, high cost urban scene, please check out our listings of restaurants for sale with We Sell Restaurants.
One of our restaurants for sale in small towns is listing #5560 in North Georgia's White County. Priced at $249,000, this location has been open for over two decades, is doing over $650,000 in sales, and generating around $100,000 in owner benefit. The space is a very manageable 2,200 square feet with another 1,000 square feet of outside seating. Rent is only $3,400 per month including CAMS.
Another one of the many restaurants for sale outside of cities is listing 5463, located in Thomasville, Georgia. This established and profitable BBQ business has been open for 10 years and generates $730,000 in sales annually. The current owner is completely absentee, and this popular restaurant is still showing a profit. It is priced to sell at $199,900, and there is a great opportunity for an owner operator to come in and make $80,000 to $100,000 annually.
We Sell Restaurants is the nation's premier source for buying and selling restaurants for sale across the county. If you are looking for restaurants for sale in Manhattan, Boston, or Raleigh, we have plenty of listings to choose from. If you're ready for a slower place, we have restaurants for sale for those of you who are looking to uproot from a major city and go somewhere quieter while still maintaining a certain income level. Check out all our listings on wesellrestaurants.com and call one of our certified restaurant brokers today at 404-800-6700.