If you're buying a franchise restaurant, you are sure to encounter a requirement to visit with the brand, meet the principles and in essence, undergo a job interview to join their brand.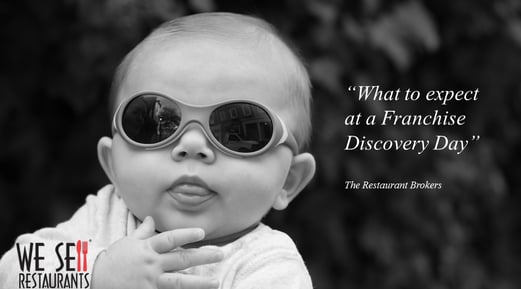 Somewhere in the history of franchising, "Discovery Day" became the common terminology for this first meeting or size up between a prospective franchisee and their future franchisor. Some brands have retitled this to fit their culture more aptly with names like "Day of Discovery" or "Leap Day". While this is booked as a day for you to learn more about the brand, you should count on the franchisor also gaining important intel on you that day to gauge whether you're a fit for their concept.
What exactly happens at Discovery Day? What should you expect? As restaurant brokers, we have attended many discovery days and here's what you can count on.
We will ignore the basic advice here which says arrive on time, dress professionally and be prepared. We're assuming that anyone who is buying a franchise restaurant already gets the basics. Depending on the life cycle of the brand and how many territories are available in the U.S., remember that this is a sales day. The franchise is going to try and show you all the reasons that you should join their brand.
For starters, the agenda will almost always include a very senior executive, in most cases, the brand President, sharing his or her take on the vision for the brand, the culture, where it's been an where's it's going. Take your cues from his style and if he's open and engaging and invites questions, serve them up. If not, know that there will be functional areas trotted out in front of you to explain in detail the operations of the brand and some questions may be a better fit for them.
You will always, always, as a candidate to buy a franchise restaurant, be served the food. In large discovery day groups, this may be in the form of catering or at a nearby store. For smaller, more intimate discovery days (held one on one or in small groups), you may go to a nearby "corporate" store or training store for lunch.
If you are seriously considering buying a franchise restaurant, you should have already been a customer of the brand long before Discovery Day. It is easily a black mark on your candidacy if you show up and ask when they started serving wings when they added the item six months ago. As a buyer of a franchise restaurant, the restaurant brokers recommend you visit multiple times during different day parts (breakfast, lunch and dinner) depending on the service hours before you ever make it to Discovery Day. If you're visiting from out of country where they don't have the concept, fly into town a day early and visit the stores in the market multiple times before you show up.
You can also count on hearing a lot about corporate culture. This is where you figure out if the brand is a buttoned up corporate entity, a millennial workforce inspired laid back environment, an operations Phenom or some hybrid of these. Don't overlook the importance of culture in deciding to move forward in buying a franchise restaurant. If you're attitude is not the least altruistic, you would not fit with a brand like Firehouse Subs whose foundation and commitment to community are at the forefront of their marketing and public face. That type of culture disconnect will eventually breed dissatisfaction on one side or the other. Use the Discovery Day to "discover" if this brand feels right for you.
Most of the functional areas will also appear before you on Discovery Day. Plan to meet and greet those from marketing, real estate, supply chain management and more. That's your time to ask questions specific to your purchase of the franchise restaurant for sale. If you're buying a franchise restaurant resale, evaluate where the brand is now and understand what is needs. Then target your questions to those needs. If food costs are too high, ask the supply chain management group how to save on costs. If sales are declining, ask the marketing department what type of support you can expect. The restaurant brokers encourage you to have some form of questions during this time period. If you sit back, it could appear to the franchise that you are disinterested or not as passionate about their brand as they are.
The day will typically end with one on one interviews and this is the portion that is very much like a job interview. You will be asked your motivations for joining the brand, the level of commitment you are prepared to bring to the table and other items that get to the heart of why you are joining them.
Within two days you will generally be awarded a franchise by the brand. Ultimately, that's the goal of the Discovery Day, your acceptance of the brand and their approval of you. Do you have other questions about Discovery Days when you are buying a franchise restaurant? Call or email us and we'll be happy to respond.