Franchise Partner Ken Eisenband sells another one! We Sell Restaurants announces the latest closing on Sugar Chef in Boynton Beach, Florida.
We Sell Restaurants announced the recent sale of the Sugar Chef bakery located at 1499 SW 30th Avenue in Boynton Beach, Florida. Marie Roth, a principal of Les Jardins De Bagatelle, Inc., acquired the company from Kate Townsend, the owner of Cakes by Kate Inc. The transaction was handled by Ken Eisenband of We Sell Restaurants.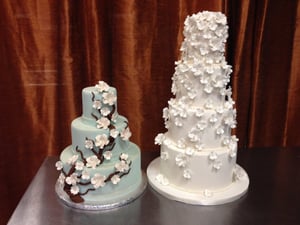 Sugar Chef is a bakery that specializes in premier wedding and occasion cakes. Open for more than two decades, the business in Boynton Beach has a legacy of filling special occasions with delicious baked goods and cakes.
The buyer, Marie Roth, shared her thoughts on her experience with the We Sell Restaurants group. "My experience while working with We Sell Restaurants and Ken Eisenband was excellent. Ken is extremely knowledgeable about the industry and his expertise regarding the buying and selling process is nothing short of phenomenal."
She continued her praise of the transaction and Ken's actions saying, "He walked me through each step of the selling process and made sure I understood everything that I needed to do. He was always available to answer any questions or concerns I had and, even though he is a transactional broker, I really felt he had my back. Ken is a credit to his field."
Ken Eisenband leads two offices for We Sell Restaurants with distinction in the southern part of the Sunshine state and directs a team of Restaurant Brokers as a multi-unit owner. He is a member of the Business Brokers of Florida (BBF), where for multiple years, he has received the prestigious Dealmaker Award. The Dealmaker Award designates Eisenband as one of the top five transaction agents in the state of Florida
Ken has been named to the Million Dollar Club of the BBF each year of his membership. In 2018, Ken won the Co-Broker of the Year award for the Southern Division of BBF. He has also prepared training and spoken before the group at large as a subject matter expert in selling restaurants.
Ken's entire inventory of restaurant for sale locations can be found directly online at wesellrestaurants.com.
We Sell Restaurants is the nation's largest restaurant brokerage firm, specializing in restaurants for sale, restaurants for lease and franchise restaurant resales. Found online at wesellrestaurants.com, We Sell Restaurants offers services in 45 states nationwide.