Getting a meeting with the buyer is the first step in selling your restaurant. Here are ten tips to keep the deal on track once the meeting is set.
When a buyer visits your restaurant as a customer and decides they are interested they will often request a meeting with the seller to see the back of house and the rest of the operation. That can be a valuable next step as long as you are prepared and adhere to these important "Do's and Don'ts".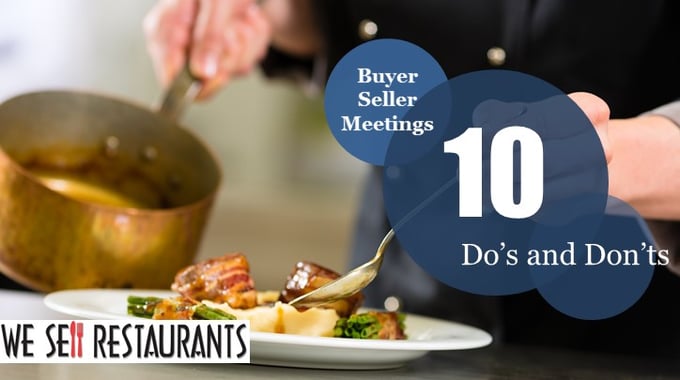 Do Schedule the Meeting to Ensure Confidentiality
An experienced restaurant broker will always protect your interest by working around your business hours. That typically means a buyer meeting early in the morning or late at night. If a buyer cannot be flexible on this point or insists on the seeing the back of house when the store is open, consider whether he or she is a good fit for the business overall. While you can allow the buyer to view the backend operations posing as an insurance agent or interested franchisee, it's much easier to simply schedule this during "off" hours.
Don't Ever Meet Without the Broker
You never want to have a meeting with the buyer without the presence of your restaurant broker. This is because the restaurant broker can act as your mediator between your wanting to be helpful as possible to the buyer and the buyer wanting to obtain as many tidbits of information as he can. It is important to remember that not all buyers who inquire about your business will do so with the best intentions in mind. If they ask your restaurant broker a question and hear an answer that they don't like chances are they will turn around and approach you with the same question in an effort to get the answer that they are seeking.
Don't Share Copies of Financial Records
When you meet with the buyer it is okay to review and discuss financial information with a buyer that is pre-qualified however, never share copies of financial records with the buyer. This information should be channeled through your restaurant broker to protect your best interest.
Don't Offer a Business Card
Avoid sharing your business card with the buyer because this encourages him to contact you directly. If the buyer requests your business card or tries to approach you with questions, always refer him to your restaurant broker for the information he needs. Tell your broker that the buyer has attempted to contact you so they can inform the buyer that (in most cases), he is violating the confidentiality agreement.
Remember that your restaurant broker has worked with buyers thousands of times and this may be your first exposure. You don't want to lessen the chances of your restaurant to sell by giving the wrong information, too much information or the right information but just too soon in the process.
Do Be Personable and Brief
Try not to offer too much information during your meeting with the buyer. It is quite normal to be nervous which can cause you to reveal too much information about your business. You do not want to tell the buyer about situations that could raise issues such as telling him that you were once close to bankruptcy and you pulled out of it and built up the business to what it is today. Instead keep your answers brief, focused, and personable.
Don't Be Late
Make sure you are on time for your meeting with the buyer. If you know your staff leaves at a certain time then schedule your meeting a few minutes or half hour after they leave so you are not held up by concerns or questions from your staff. Being late to the first meeting with the buyer may get the deal started off on the wrong foot.
Do Say Why You Are Selling
Always make sure you state your reason for selling. Although you may have shared the financial details, buyers always want to know the reason you are selling. When you are providing your reasons you should not reveal any personal information that is compelling you to complete a quick sale. First of all, this is none of the buyer's business and secondly, it could cause you to lose your leverage with the buyer. So avoid telling the buyer that one of your business partners has cancer and only has six months to live.
It is okay to provide reasons such as disagreements among partners, retirement, lifestyle change, or taking care of your elderly parents in a distant location. These are all reasons that are understandable. Reasons that are not acceptable are age old reasons like you are pursuing other interests which doesn't make any sense if you're are currently running a profitable business. If you are involved with a franchise which isn't doing well financially, it is okay to reveal this information. Chances are the buyer will already know by looking at your financial records.
Don't Give Advice
When it comes to legal advice or liquor license advice, avoid it at all costs and leave it to your broker to provide the legal resources and the contact information for the person handling your liquor license. While it is okay to tell the buyer the name of the person that handles your liquor license, avoid giving out any advice such as "The liquor license is no problem and here is all you do is…."
Don't Complain
If you have gotten hosed by your landlord or can't stand your franchise brand any longer, keep it to yourself. The buyer should be on a journey of discovery and form his own opinions about these and other matters. You risk raising issues of concern for the buyer that otherwise would not come up.
Don't Provide Third Party Information
Avoid giving out your landlord or franchise contact information. Until your business is under contract the buyer has no legal right to this information. Furthermore, you do not want the buyer making contact with third parties that you have developed a relationship with. If the buyer happens to disrupt the relationships and then walk out on the deal you are left to clean up the mess. Instead send the buyer to your restaurant broker so they can control the third party contact.
A buyer meeting is a logical part of the process for selling your restaurant. Buyers want to speak directly with the sellers for answers to important questions and to get your point of view. Make sure you're familiar with these ten "Do's & Don'ts" to make sure your deal stays on track and the buyer remains interested.
Are you interested in selling your restaurant? Contact us for a free valuation.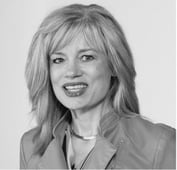 Robin Gagnon, Certified Restaurant Broker®, MBA, CBI, CFE is the co-founder of We Sell Restaurants and industry expert in restaurant sales and valuation. Named by Nation's Restaurant News as one of the "Most Influential Suppliers and Vendors" to the restaurant industry, her articles and expertise appear nationwide in QSR Magazine, Franchising World, Forbes, Yahoo Finance, and BizBuySell. She is the co-author of Appetite for Acquisition, an award-winning book on buying restaurants.