In honor of all of the hot sales going on today for Black Friday, the Restaurant Brokers didn't want to miss the opportunity to share our deals with those of you searching for a restaurant for sale. What do the Restaurant Brokers consider a hot Black Friday restaurant for sale deal? One of our many asset restaurant for sale listings that are $75,000 or less! Some may say, "I am pretty sure I can lease a restaurant space for far less than $75,000, why should I buy an asset restaurant sale?" The Restaurant Brokers are here to tell you exactly why you should consider an asset restaurant for sale as opposed to leasing a restaurant space.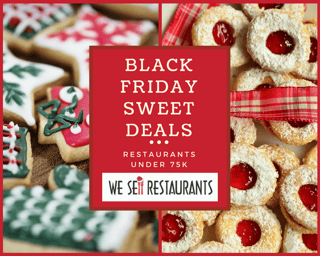 First off, many restaurant spaces for lease are just that – space. Sure, some of them have a build out that has been started, but starting tends to be where they were also finished. Many of these leased spaces have little to no kitchen equipment. What's that mean? Simply, you, the lessee, is responsible for the purchase of the equipment. "Well, I can just buy used restaurant equipment, how bad can that be?" While used kitchen equipment is a great option, keep in mind you will be spending a minimum of $35,000 to $45,000 on just the equipment.
After the equipment is purchased, it needs to be delivered to your location and then installed. You can expect to shell out anywhere from $2,000 to $5,000 for this. Now, you have it all delivered and installed, you're ready to fire it all up for a test run, and you discover that two thirds of the equipment doesn't work. Now what? You will either have to pay someone to come in and inspect and fix the equipment (if it's fixable), or look for different equipment. As you can see, this can be very pricey.
You may say, "The restaurant space for lease I found already has the kitchen equipment and it's brand new – the previous renter installed the kitchen and ran out of money, I just need to finish the rest." Just like ANY renovation or build-out, to do this in a restaurant space for lease is no different. You are looking at $90,000 and up for just a 900 square foot space!
An asset restaurant for sale is sounding a whole lot better now, how about it? The Restaurant Brokers have lots of asset restaurant for sale listings, and we are sure that we have the perfect one to suit your needs! Take a look at a few of these deals that are priced right up there with the rest of the Black Friday deals going on all across the country today:
First up on our list is a listing for only $29,000. You may be thinking, "There's no way I can get anything decent for that price." Think again. This restaurant for sale is located in Austin, Texas in a developing party of the city. Currently this is operating as a sub shop, but it's ready for you to bring your own concept. It would be perfect to run a café, small bar, bistro, or carry-out business! The possibilities are endless with this little gem, and rent is only $1,851 per month. Click here to check out this listing!
Next up is a buffet-style restaurant for sale in Blount County, Tennessee that is in a stand-alone building and includes a retail store! Keep this as your own to sell trinkets or homemade goods, or lease it to another tenant! The possibilities are endless in this 5,800 square foot location with a rent set at an unheard of $2,500 per month! You get all of this and a fully equipped kitchen for just $55,000 – wow! What a deal – check it out here!
Our final Black Friday restaurant for sale deal is almost too good to be true – a sandwich shop restaurant for sale in Golden, Colorado for just $50,000! This business is located in a busy strip mall, high school, and residential neighborhoods. The location is an easily manageable 1,050 square feet with seating for 24 guests for just $1,650 per month. Don't miss out on looking at this restaurant for sale listing here!
With all of these great restaurants for sale from the Restaurant Brokers for less than $75,000, you can get a great business for yourself, and have money left over for all of your upcoming Christmas shopping! Keep an eye on all of our restaurant for sale listings by registering on our website, www.wesellrestaurants.com – we put new listings up each and every day and you never know when you will find a steal!