The International Franchise Association (IFA) has taken a leadership position in providing content to all affected businesses during the COVID19 Crisis. Their current webinar series, titled "Roadmap to Recovery" will include the principals of We Sell Restaurants on the topic of Developing a Strategic Retention Model for Restaurant Franchises. The event will be held Thursday, May 14 at 12:30. Those who wish to attend may register at this link.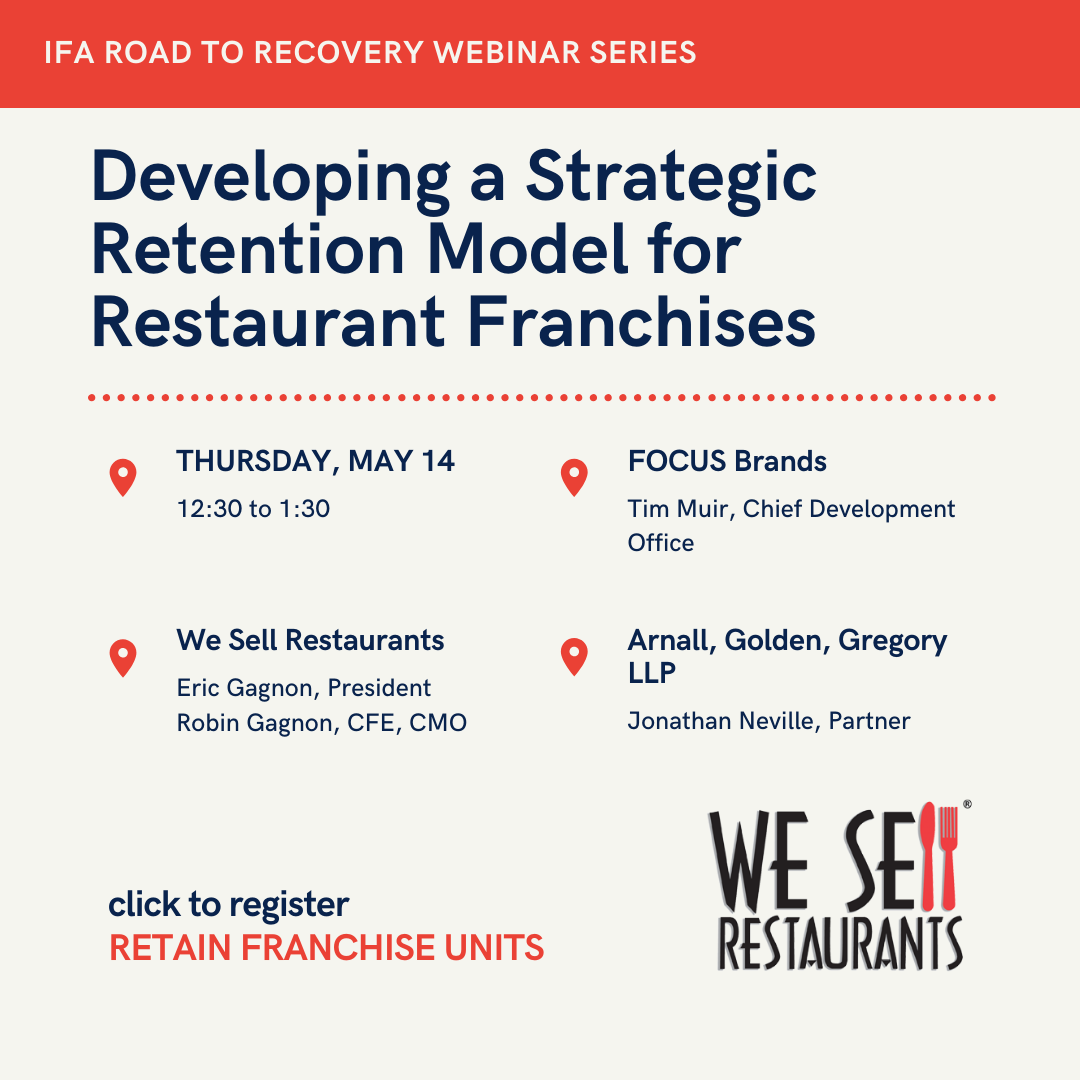 Eric Gagnon, President of We Sell Restaurants and Robin Gagnon, its' Chief Marketing Officer and Certified Franchise Executive, will cover the timely topic of Developing a Strategic Retention Model for Restaurant Franchises.
Restaurant franchises have been disproportionately affected by the pandemic. Losing 15% to 20% of a restaurant franchise's total units may be a forecasted outcome but according to these specialists, your brand can flatten the curve and save jobs at the same time.
Topics for the webinar will include:
Handling terminations for doors where operators will not re-open. The optics and the reality in today's environment.
Developing a resale program to quickly convert non-operating units into new owners.
Adapting a new model for transition and training to keep the doors open
Working with landlords to keep trade dress in place amidst to provide time to transfer.
Financial support or franchise financing to retain units -- weighing the cost of a new franchise and time to open versus the cost of retaining an existing unit.
The owner pool created for single unit operators amidst the 5 to 7 million workers who have lost their job due to the crisis.
In addition, the team will look at the Steps to Implement a Strategic Retention Plan that including the following:
Identifying the units that may remain shuttered absent intervention.
Contacting or contracting with an external team like We Sell Restaurants to reach out to the affected units.
Developing the termination language that conveys control over the assets.
Understanding the status of any liens that would prevent transfer of the assets or a focus on workouts with lenders who are invested in seeing these store remain open.
Retraining, rehiring and reopening the stores to retain the unit counts
The We Sell Restaurants founders will be joined by Tim Muir, Chief Development Officer of FOCUS Brands. Tim has 25 years of successful franchise sales and development experience and is known throughout the industry as an effective, hands-on leader. Before joining FOCUS Brands, Tim successfully managed signature brands as Vice President, Franchise Sales and Development for Choice Hotels. FOCUS Brands is the franchisor for Moe's, Carvel, Cinnabon, Schlotzsky's, McAllister's Deli, Auntie Anne's and Jamba Juice.
The fourth panelist will be Jonathan Neville, Partner at Arnall, Golden Gregory, LLP. Jonathan "Jon" Neville is a partner in and co-chairs the Retail Practice at Arnall Golden Gregory. Jon has established a national reputation as a leader in the retail real estate industry as he has completed transactions in nearly all 50 states and has spoken at multiple conferences across the United States and on nationally syndicated media productions. He is known for his strategic knowledge of leases and landlords for the restaurant franchise industry.
Those who wish to attend this timely presentation may register at this link. You can view other articles and resources by the We Sell Restaurants team related to the COVID19 at this link.