The doors have closed, and the franchise brands have all headed home. What did the highlights of the annual convention bring all of those in the industry together this year? Restaurant Brokers Eric and Robin Gagnon attended from We Sell Restaurants along with Steve Weinbaum from the Atlanta office.
The high point of the opening session had to be the words of Gary Vaynerchuck or "Gary V", the keynote speaker. He challenged franchise restaurant brands to see the disruption occurring in the industry and move media dollars out of traditional methods like TV and into digital channels like Facebook and Instagram. He noted that the attention of the end consumer is shifting and there is an enormous opportunity to leverage dollars. His advice to the brands – make $1.00 spend like $10.00 instead of spending $10.00 in precious dollars only to have it return $1.00.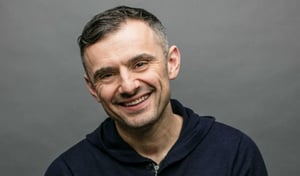 For this marketing guru who grew a $3 million dollar wine store and built it to $60 million before launching his own digital media company, it's all about contextual creative that gets to the heart of the ultimate end user. In his words, the number way to win – "Build an actual brand" and the volume of creative is imperative. He reminds restaurant franchise owners and all franchisors to have the discipline to create and get in front of the consumer with contextual creative.
What's the restaurant of the future according to this visionary? It may be a commissary with no brick and mortar that builds an incredible online brand presence and delivers 100% of its product through services like GrubHub or EZ Cater. As a franchise restaurant owner, does that strike fear in your heart? It should as it suggests that just like taxi cabs and car services who never dreamed of Uber and Lyft, a restaurant franchise can be replaced with an online brand.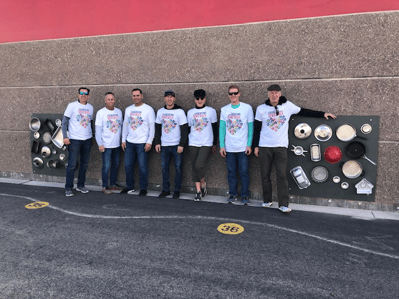 Eric Gagnon, President of We Sell Restaurants, picked up power tools to work at a local school as many brands embraced Franchising Gives Back. The work of this team, at an elementary school in Las Vegas will send children back to school with smiles and renovated playgrounds and classrooms.
Franchising Gives Back is a national commitment by the International Franchise Association to band together in communities across the nation and share with those in need.
Robin Gagnon is a member of the Women's Franchise Committee and the sub-committee that produces the Annual Leadership Conference. This year, Nick Friedman, co-founder of College Hunks Hauling Junk, led the program focused on culture. As he reminded the audience, it's not what's on the walls; it's what's in the halls. He terms a brand's culture, the "immune system" of the business.
The strong focus of this brand on core values instills the culture at all levels of the organization. He also reminded the group of more than 300 that you must balance the "Sesame Street" approach to a fun workplace with the "Wall Street" demands in order to have a result based organization. In his words, "With no margin; there's no mission". He told franchise restaurant brands to repeat the values often for these to permeate the brand. Does it work? For College Hunks Hauling Junk, the focus on culture has paid tremendous dividends in building one of Inc Magazine's Fast Growing Companies.
A legislative update to the Women's Franchise Committee suggested that the $15 minimum wage is probably going to pass on the House floor though the strong legislative arm of the IFA suggests it will probably fail in the Senate, leaving that bill, like many , at an impasse in today's political climate. The impact of this wage law on independent and franchise restaurants where we have seen this implemented has resulted in loss of jobs, cut backs in hours and overall loss in restaurant count.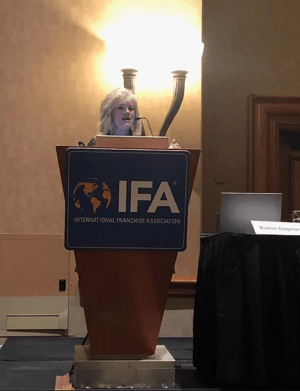 Robin Gagnon, co-founder of We Sell Restaurants, moderated a panel with Google's Maresa Freidman and NetSearch's Mike Myers. The presentation was titled, "Online Search in a Digital world, will you be left behind or lost online?" Key Takeaways from the session dovetailed with the keynote speaker as the Google team emphasized that an increase in connectivity is dramatically changing search. The other key takeaway was a reference to today's newly empowered consumer.
Google's advice to the restaurant franchise world and all brands was simple. Be there, be valuable and be quick. They estimate there were 8 billion devices connected worldwide in 2017 and by 2020, they expect that number to hit 20 billion. Time spent online in 2019 every single day is estimated to be 6.9 hours.
Measure every moment was another piece of advice offered by Google. It's no longer about the final point before a customer buys but every interaction in a series of touches with your brand that gets them to the point of purchase.
Eric Gagnon, President and Co-Founder of We Sell Restaurants, moderated a panel that included both franchise restaurants and other national brands. His session, titled, "Building, Maintaining and Growing Positive Relationships with Your Franchisees," was also moderated by Andrew Bleiman, Managing Attorney with Marks & Klein, LLP. The participants ranged from emerging franchise restaurant brands with less than 50 units to powerhouse franchisors with 500 or more stores. The sharing between these groups made the business roundtable format a win all the way around.
Robin Gagnon moderated a Business Solutions roundtable on the Topic of "How to Make a Good Franchise Great." Participants also ranged from entry level players to those with units in the thousands. Key takeaways around communication included a suggestion to put Franchise Units together on a What's Up App to share knowledge in a quick hit. Those who report up to a Franchise Business Consultant with a range of approximately 20 – 30 units can use this tip for instant communication and connection.
In addition to the great events above, the sessions were packed with restaurant franchise brands and other segments of the industry. The closing session of IFA saw the installation of Dave Barr as the new incoming IFA President. The action packed days passed in a blur but strong networking and great exposure to ideas is what the International Franchise Association Conference is all about. Stay tuned to our blog for an update from Steve Weinbaum, Certified Restaurant Broker who also attended the packed event.