Falling in Love with the Dream and Buying the Reality. You want to buy a restaurant but you don't have money for the deal. Is there a solution? Read on for the tips and tricks from the restaurant brokers to make it happen.
First time restaurant buyers can look like seasoned professionals by following the tips in this article on buying a restaurant with no money down. What are the steps? What comes first? How do you negotiate the deal. Focus on the following first and then we'll teach you how to shop for the right listings.
Step 1: Get your financial house in order
If you are trying to buy a restaurant with no money down, make sure your credit is buttoned up and ready to go. Pull a recent credit history from one of the many online sources – you are entitled to free copies. Clean up any pending issues and make sure you have a good credit rating going into negotiations and be ready to show this to a potential seller. If you want him to serve as your bank, you need to demonstrate that you're credit worthy .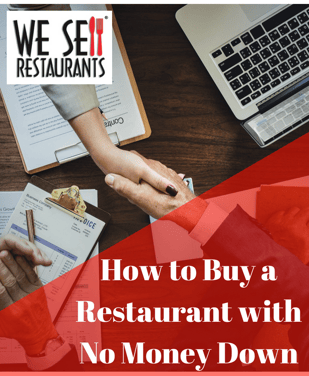 Step 2: Build a business plan
The only way a seller and a landlord will buy into your takeover is with a solid business plan. The components of the business plan should include your knowledge, background and experience, your marketing plan, your overall strategies and tactics to build sales, along with financial projections. If you need help building a business plan, check out our earlier blog post on this topic at this link. Other sources of help with a business plan include SCORE, the nation's largest network of volunteer, expert business mentors. They have chapters all over the United States.
Step 3: Identify target Restaurants
Now that you have your financial house in order, let's start the search. Begn by find restaurants that are not advertising cash flow. These are turnaround opportunities sometimes called "asset sales." For many of these restaurants for sale, the current seller may be disengaged, working in another business or out of capital to get this business to the next step. It could be he just doesn't have the same skills you have in operations or marketing. Identify these listing from ads with terms like, "Gorgeous build out. Owner spent more than XXX to create. Seller will sacrifice…" A franchise might be advertised at "just $99,000 though the build out and cost to launch exceeded $350,000." These are excellent targets for buying a restaurant with no money down as the seller is already demonstrating his willingness to cut his losses.
Does an asset sale mean the business is failing? In many cases, yes -- today. If you're going to buy a restaurant with no money down, you need to be ready to take on the risk to "flip the restaurant" and take it to the next level. How do you decide if it's the right one? Investigate the business. Visit as a customer. Check out the surrounding area. Pull the demographics on the trade area and figure out if the market is good and the concept is bad. You can change the concept. You can't change the location.
Identify where the seller has missed the mark by reviewing his financial picture, checking out his marketing (or lack thereof) or understanding the quality of the assets. Fit your business plan to this situation and see if your ideas have traction in this location.
A quick note on asset sales. They are not always independent restaurants. Often a franchise restaurant for sale location will not be making money under the current ownership. The seller is often absentee and has not embraced the franchise model. This is an easy one for a turnaround situation.
One other key restaurant broker bit of advice on examining asset sales. It is never a good idea to focus on cutting costs. Most sellers have tried that path. Look at any restaurant for sale to expand the top line. Where can you grow sales? If you take care of sales, almost all other elements of the financials come into acceptable ratios. Take lease rates as an example. If the current seller is doing $400,000 in sales on a space leasing for $6000 per month, his occupancy cost as a rate to sales is far too high. Will the landlord negotiate this down? Usually not. Focus on what he is not doing that will drive top line sales to the right level (closer to $750,000 on this rent number) and if you can't make it work, don't tie up your credit and time in this restaurant. The most common solutions are marketing and advertising. Most sellers with restaurants that are under-performing are failing to reach out with strong ideas to drive traffic. In addition, look at delivery. The many sources of delivery today including, Uber Eats, Door Dash and many more that represent a strong opportunity for higher sales.
Final Step: Negotiate a deal with no money down.
Once you have identified your target, approach the seller or the broker with a proposal for acquiring the business with no money down. Demonstrate that by taking over today, you will remove the current seller's liability for the lease or franchise. – A seller who is currently not making money is often willing to walk away provided you address his obligations. That includes the personal guarantee on the lease or the franchise agreement. Sometimes he has equipment that has a remaining note. See if you can take over his payments. The point of the negotiation is to remove the pressure of staffing and running the business today. He needs to see you as his solution in order to sell you the restaurant with no money down.
Nothing down doesn't mean he'll never be paid. Be creative in financing terms. You can tempt the seller to accept your offer with an "earn out" or stake in the future production of the business, including a percentage of sales or percentage of profits. You will need to do some strong work on presenting the deal and the "upside" to the seller but, hey, you're buying for no money down, so put the effort into the negotiations.
Demonstrate to the seller why this is a win for them and build an acceptable interest rate into your future payments. You are taking a chance on buying a restaurant based on what the future holds. You have to convince the seller to take the same chance on you!
Like this article or want to talk more or see restaurants for sale? Check us out online at this link.