Buying a Bar does not have to be a risky situation. The team at We Sell Restaurants has these tips for you on confirming earnings.
Does the latest bar for sale listing on your screen seem too good to be true? It may be. Learn from the restaurant brokers the secrets of paying the right price,when you find a Bar for Sale.
First, let's deal with those bars for sale with "Cash" earnings. We are putting to rest the age-old hassle with how to set pricing in this article. The only legitimate way to value a bar for sale, is based on provable earnings.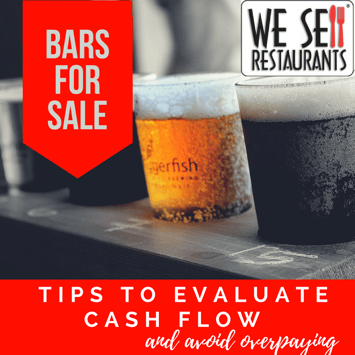 Valuation Approach
What are Earnings and where are they derived?
Earnings are based off a company's profit and loss statement.

Recast earnings include add backs, calculated to remove interest, depreciation, amortization and taxes from the net income number.

The result of this approach is the Seller's Discretionary Earnings, the basis for lending.
Beware! This method does NOT work when the Bar for Sale listing states that they have "Cash Earnings" they will be using in the Valuation.
Why Cash Earnings Won't Work
A listing reflecting cash, is generally, not provable.

A seller reflecting "cash earnngs" may be avoiding certain tax requirements like sales tax or income tax.

A seller avoiding sales tax or income tax may be paying employees "under the table" which means he is also breaking the law and failing to file appropriate employee tax filings.
Look out for brokers promoting this type of business online. If a listing says, "Cash to be proven by Seller," you can be inheriting a lot of issues.
Some Restaurant Brokers will not advertise or list this inventory, but simply offer them as an Asset Sale because they cannot be verified. An asset sale is an appropriate way to approach a bar for sale opportunity without books and reacords. An excellent lease in a high value location and a liquor license may be enough to convince you to move forward and pay for assets. Just don't back yourself into the corrner of paying for earnings that can't be proven. Also, asset sales will typically not qualify for any type of lending. Only a bar for sale with verified earnings will make the grade for SBA lenders.
What Issues are Associated with Cash Businesses?
Confirmation of Earnings - It's nearly impossible to verify earnings without working in the location for a period of time. Even if you move forward on the basis that the earnings are real, you will realize additional expenses by converting this to a scenario where appropriate taxes are paid (both income tax and sales tax). This is definitely a buyer beware scenario.

Overpayment - The seller is being paid twice, for the same income. They have already received a HUGE benefit since they have avoided all the reasonable and customary taxes; for instance, State Income Tax, Federal Income Tax, etc. Now, they want to sell this bar at a premium.

Transparency by the Seller – The seller of this bar for sale has operated on a less than candid basis with the State Alcohol Licensing Authority, the State Sales Tax Board, and the Internal Revenue Service. Do you think they will be forthright with you, when you are trying to buy this Bar for Sale?
What Should You Do?
If you are a Buyer that prefers a less risky approach, than a Bar for Sale with Verifiable Earnings is the answer! The price might not be the "Deal" you were looking for or saw advertised on a listing with "Cash Earnings", but the motto that "You get what you paid for" holds true in this scenario.
Pricing and Earnings are NOT a game in the Valuation of a Bar for Sale. They are simple math problems and they can have a right and wrong answer!
Robin Gagnon is Vice President and Director of Marketing for We Sell Restaurants and www.wesellrestaurants.com. She holds an MBA in finance and frequently writes on the topics of restaurant sales, restaurant valuation, and financial topics around the buying and selling or restaurants, clubs or bars. Want to see her latest bar for sale listing with verified earnings? Click this link for more information.