As a Restaurant Broker assisting those buying a restaurant, I am often asked how to accomplish the goal with a small amount of savings. There are several ways. Here are my tips for making it happen and five options for buying a restaurant with no or low money down.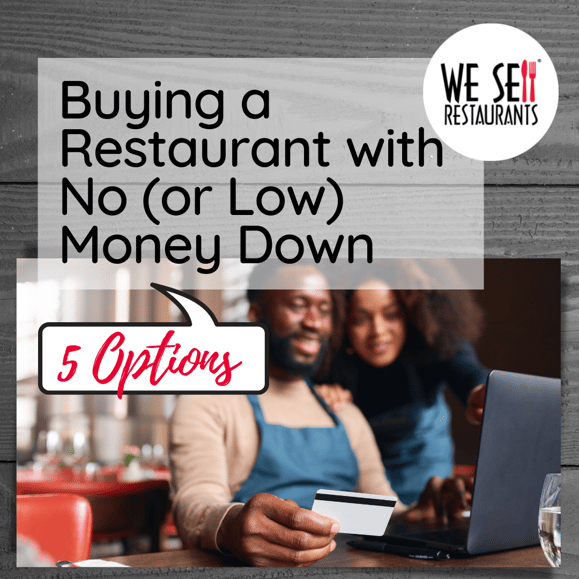 Tip Number 1 – If you are buying a restaurant, make sure your financial house is in order before you begin. Pull a credit report and take a hard look at it to clean up any deficiencies or mistakes before you even undertake the venture.
Tip Number 2 – Maximize your experience. Approaching lenders for buying a restaurant without experience will rule out some options. Make sure your experience is on your resume, even if it is dated. If possible, enter the industry, even on a part-time basis, to add to this element of the game.
Tip Number 3 – Don't fall in love with the first opportunity you see. Buying a restaurant is a journey and you may not qualify for everything if you have low or no money down. The options you are seeking may take longer to find but the payoff is worth the time invested in the search. Make sure you partner with a strong Restaurant Broker as well.
Now, to the meat of the matter, buying a restaurant with no (or low) money down. Here are the top five ways.
Seller Financing – I am listing this as an option for those buying a restaurant in a no or low-money-down situation, but sellers are not often willing to entertain this scenario. Someone selling their restaurant will want to cover their risk, thus they will be looking for something more like 50% down and 50% financing.
A seller in trouble who needs out may agree to this scenario but if you have limited resources to invest, that creates issues when it comes to approval with the landlord and the franchise who are going to want to see liquidity. It may also put you into a precarious financial position that you cannot afford since the business is not cash flow positive.
This is the best option for someone who has plenty of cash on hand but wants to reserve it for operations rather than acquisition and that is their motivation for buying a restaurant with no or low money down. I have seen well-capitalized buyers use this option multiple times as the seller gets released from the liability under the lease and removed from day-to-day operations. Use it when you want to retain your own cash, not when you don't have any.
SBA Lending – The government backs loans with a guaranty of 80% of the loan (in normal circumstances) and that was raised (and will remain at this level for the near future) to 90% during the period of COVID. For that reason, lenders are comfortable with the risk associated with those buying a restaurant with no or low money down. While the SBA lowest amount they will accept down is 10%, that certainly qualifies for this Restaurant Broker as a low amount down situation. Another little-known fact, however, is that the bank will also count any seller financing as part of your equity into the deal. It works like this:
10% from you – the person buying a restaurant
+ 10% Seller Financing – from the owner selling a restaurant
= 20% Amount Down (as seen by the SBA)
This is a great tip from this Restaurant Broker that just doubled your equity in the deal, decreasing your overall amount down and lowering your loan payment amount. The seller note (or financing) must be on a standby meaning he does not get paid until the lender is paid off in 10 years. This is a great trick for buying a restaurant with no (or low) money down. If you need a resource for SBA lending, follow this link and We Sell Restaurants will connect you.
Unsecured Lending – Financing a restaurant with unsecured lending is the best option for those buying a restaurant with no or low money down since the loan is tied to you and not the business. Typically, in a bank loan, the note is secured by the assets of the business including the furniture and equipment in the store. That is the case with the SBA lending described above. For unsecured lending, however, it is all about the buyer and not the seller. In this instance you need to have a great credit score (well not exactly great as this restaurant broker has a resource that will do it at anything above 680). You also do not want to be overly leveraged. That means you do not want to have a lot of credit accounts out there with balances on them. In fact, if you have unused lines of credit or credit cards, it is best to close those before you apply for this scenario. If you need a resource for unsecured lending, follow this link and We Sell Restaurants will connect you.
HELOC (Home Equity Line of Credit) or Cash-Out Refinance
This is another option for those buying a restaurant with low or no money down. Housing prices in America have increased substantially and this is expected to continue. In fact, Freddie Mac (Federal Home Loan Mortgage Corporation), predicts that home prices across the country will rise by 6.6% in 2021 and 4.4% in 2022. That means you may have equity in your home you can cash out and apply to a low or no money down situation for buying a restaurant even if you haven't owned your home that long. If you think you bank account is empty but want to pursue your dream, try looking at your equity. This is a slower path to funding as you must wait for the HELOC or cash out refinance to be completed like any other loan, but it is a path to restaurant ownership.
401K ROBS or Rollovers for Business Start-Ups
Those buying a restaurant with no or low money down can get funding direct from themselves. This small business funding method lets you move retirement funds out of a 401(k) or other eligible plan and into your business. There is no early withdrawal or tax penalties and this method has been used in the United States for several decades. If you need a resource for a 401K rollover, follow this link and We Sell Restaurants will connect you.
The process rolls over as much or as little as you like into a new 401(k) plan which then invests in your new restaurant business. You then buy stock in your restaurant. This is a way to easily cash out a small amount of equity for buying a restaurant with no or little money down.
Overall, those buying a restaurant with no or low money down are not as limited as they may think. Use the tips I have provided in this article for achieving your dream. Explore these five options and message me online or through social media if you want me to connect you directly to resources for any of these options.
You can also visit our restaurants for sale online at this link on the nation's largest restaurant for sale website.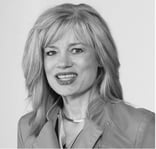 Robin Gagnon, Certified Restaurant Broker®, MBA, CBI, CFE is the co-founder of We Sell Restaurants and industry expert in restaurant sales and valuation. Named by Nation's Restaurant News as one of the "Most Influential Suppliers and Vendors" to the restaurant industry, her articles and expertise appear nationwide in QSR Magazine, Franchising World, Forbes, Yahoo Finance, and BizBuySell. She is the co-author of Appetite for Acquisition, an award-winning book on buying restaurants.