Even though government intervention amidst the pandemic has shuttered many businesses, there are still restaurants for sale in today's environment that are performing well and outperforming the industry. Here's a look at some of the concepts by Restaurant Broker Robin Gagnon of We Sell Restaurants.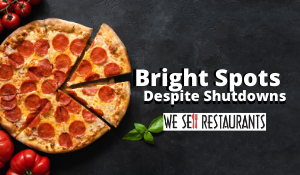 Pizza, Pizza, Pizza!
Our franchise and independent restaurants for sale specializing in pizza take-out and delivery were well positioned before the shelter in place order. They are currently reporting excellent sales. Domino's is one chain that reflects the current conditions with multiple nuggets of good news lifted from recent reports.
First – Domino's stock (as of March) was the only restaurant stock up year to date. Second – Domino's reported just last week that they are hiring 10,000 new works while other labor forces are seeing massive decline. Lastly, Domino's embraced what was occurring and made changes in their business model quickly. They launched contactless delivery early on and responded with additional advertising just as the shut ins were increasing.
It's not just franchise chains like Marco's Pizza, Domino's and Papa John's that are thriving, however. Our independent operators are struggling to fill orders among the many sheltered in place at home seeking a good cheesy pie to offset the virus stay at home blues.
Curbside Models
There are still curbside delivery models in place. One example, Sonic Drive In, as a total chain is impervious to current closures. Their entire model is an American drive-in fast-food restaurant chain owned by Inspire Brands. They have more than 3,500 units across 46 U.S. states and they haven't missed a beat in getting food curbside and avoiding the dine in issues of other chains. This nostalgic throwback to the fifties is also in play at independent concepts in pockets of the U.S. where they are also doing well.
Drive Through
Fast casual concepts with drive through windows are seeing the impact of the virus blunted as their drive through windows produce strong results. This includes brands like Zazby's or even the occasional Subway operator who many years ago, negotiated a lease that included a drive through.
As we're working with buyers today on restaurants for sale, they are inquiring which locations have a drive through window or can be adapted to have one.
We suspect that once this current crisis passes, more operators will be considering the value of the patio space they have today versus a drive through window. We may well see remodels reversed to accommodate more drive through opportunities as a hedge against threats like these.
Ice Cream
Who would have thought that Ice Cream concepts would be a burgeoning concept in current times? Whether it's the joy of the simple things that still count (and doesn't the sweet taste of ice cream count as one of the simple but tried and true way to raise the spirits?) or parents who just have to get out of the house with their kids home from school. Either way, it's easy to maintain social distancing in walk up lines to grab a cone. Our ice cream stores are seeing increases in sales in the current environment.
Innovators
Each day, we see new stories of leadership among stores, even our restaurants for sale, who are re-positioning themselves during difficult time. We are seeing stores deliver groceries and meal ingredients along with instructions so they can put their large pantries and stocked coolers to work. We are also seeing stores who are closed to the public decide to re-purpose their food into meals for carryout to anyone that's lost a job under incredible conditions. What about breweries that are changing up their production lines and in lieu of brewing beers have shifted production to hand sanitizer? Then we have restaurants that are simply sending meals to hospital workers and paramedics who are on the front line.
Here are links to just some of the stories that make you so proud to be part of this amazing industry.
Tropical Smoothies Delivering to Hospitals
Texas Roadhouse CEO foregoes salary for one year to pay workers