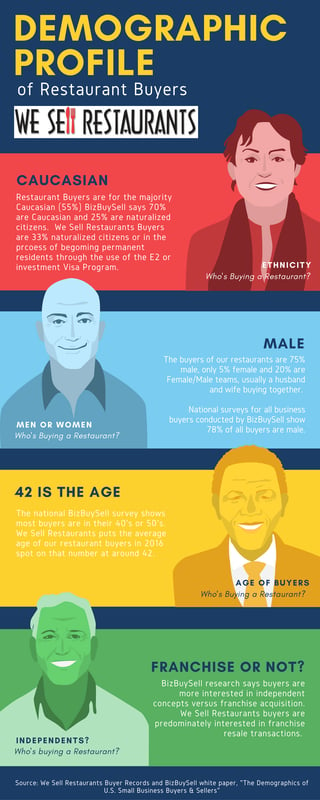 Is American still the land of opportunity? A recent white paper published by BizBuySell focused on the demographics of those buying businesses in America today indicates it just may be. They attempted to profile today's business buyers and sellers. For buyers, the commonalities in their study showed buyers of small businesses in general to be:
Largely Caucasian (70%)
College-educated and married
In their 40s and 50s.
Male -- 78%
Men, according to their statistics account for 78 percent of today's buyers. They are also well educated, with just 28% holding neither a college degree or having a trade or vocational background. The restaurant brokers decided to check these statistics against our own restaurant buyers. We took the sales so far for 2016 and analyzed whether these restaurant buyers match the model set forth by BizBuySell. The results?
We Sell Restaurants buyers for 2016 show some similarities and other real differences from the statistics cited in this recent BizBuySell white paper. One interesting finding in surveying our actual restaurant buyers is that 20% of our purchasers were teams made up of males and females. These were almost exclusively husband and wife teams. This was not even mentioned in the BizBuySell statistics of prospective buyers so it could be those thinking of buying a restaurant and responding to their survey were just half of the eventual buyer profile while our actual results are from buyers that made the purchase and we were able to interact with both sides of the equation. Other statistics from the We Sell Restaurants buyer pool this year:
55% Caucasian
Largely (80% college educated and married)
5% Female only
20% were Male/Female teams (husbands and wives buying together)
Average age: 42
While the national results show that 7 in 10 buyers are Caucasian, the restaurant buyer pool from our database is much more diverse. Our restaurant buyers showed that only 55% were Caucasian or native born white while 45% count themselves among other groups such as Asian, Hispanic or Latino or were first generation Americans.
From the BizBuySell white paper, their prospective buyer audience was slightly more diverse in age. Thirty-six percent of buyers today are college graduates and 22 percent hold post-graduate degrees; just 28 percent have no college degree or trade/vocational background. The buyer population is slightly more ethnically diverse than sellers. Seventy percent of prospective buyers identify as Caucasian, 12 percent as Asian/Pacific Islander, seven percent as Hispanic/Latino, and seven percent as African American. The buyer pool is also more diverse than the overall U.S. population: according to 2014 census estimates, 77 percent of Americans classify themselves as Caucasian, 13 percent as African American and less than six percent as Asian/Pacific Islander.
We have a harder time quantifying education as we did not specifically ask that question of our buyers. The BizBuySell survey also indicated that that more than a quarter of buyers are not natural born U.S. citizens. Fifteen percent of buyers are naturalized citizens, eight percent identify as permanent residents and two percent as visa holders. For We Sell Restaurants, the percentage is slightly higher at around 33% naturalized citizens or in the process of becoming naturalized citizens. We find that our restaurant buyers often come to the United States on an E2 or investment visa. They are attracted to the restaurant industry, especially franchise restaurants and for this reason, our statistics would be much higher.
The BizBuySell results were also able to capture additional tidbits such as whether buyers have a military background and reported that nine percent of all buyers self-reported themselves as veterans. We Sell Restaurants was not able to provide data on this statistic.
One other finding of the BizBuySell statistic that was in stark contrast to We Sell Restaurants is their finding on independent versus franchise acquisition. For their buyers, across the board, they were interested in owning established or independently owned businesses, more so than new or existing franchises. For We Sell Restaurant buyers, a majority were inquiring on franchise resales.
We will continue to monitor the BizBuySell buyers and see how closely the We Sell Restaurants buyer corresponds. For more information on listings available at We Sell Restaurants, follow this link.