One of our favorite emails is from Franchise Times who issues their Development Deal Tracker telling us (and you!) what's moving in the marketplace and who's written offers to develop certain concepts. We also check the latest reports on the newswires to make sure we aren't missing anything. Here's the Restaurant Brokers take on the latest news which is of course, dominated by the food industry.
There is excitin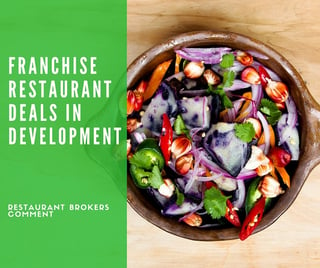 g news in the Burger segment for the Hwy 55 concept. They announced an agreement with one of their current franchisees to expand the concept in a serious way into Louisiana. According to Franchise Times, Jason Hall, will be adding more than 50 locations to Louisiana in the next 10 years. He currently operates three units in South Carolina.
BBQ always seems to make the expansion list though we Restaurant Brokers are trying to figure out why it continues to be so popular. Billy Sims BBQ has a franchisee named Dave Dunn in Kansas who has opened three stores and will be opening two more under a five store agreement with Billy Sims BBQ. According to the report, the franchisee said, "We strongly believe that this BBQ is the best in the country and are opening nearby locations as fast as we can."
It wouldn't be another month of reporting growth in development deals without a nod to the latest pizza concepts. Pieology is on the move in Georgia with the first unit opening in Alpharetta by Segovia Aslan Enterprises. Franchise Times reports this group has the rights to open additional Pieology restaurants across the Southeastern United States. That definitely falls into our footprint so we're looking forward to trying this concept first hand.
Mexican keeps growing. El Pollo Loco Holdings has announced a new deal with PLM Restaurants L.C. The terms are reportedly for six new restaurants by August 2019 in the Tucson, Arizona, market. In news we like to hear, PLM also purchased two existing units in Tucson.
Other acquisition news includes a move by the parent company for Arby's, (Arby's Restaurant Group Inc.), to acquire 19 Arby's restaurants in the Knoxville, Tennessee area. These were previously operated by Arby's franchisee T.G.J. & Co., Inc. This is an interesting buy back from the company and bucks the trend seen for many years where headquarters or "corporate stores" were being divested rather than acquired.
Other news picked up from the press include a deal by Dunkin' Donuts to develop eight new restaurants in Los Angeles California. Precision Hospitality & Development has the rights. Their first restaurant under the agreement is planned to open in 2018. This agreement closes out the company's first wave of franchise commitments since announcing the state would be open for franchise sales in January 2013.
Salad & Organic Food Service LLC, a subsidiary of Miami Subs Franchising Corporation has announced its purchase of Salad Creations LLC, another South-Florida based chain specializing in build-your-own and signature salads, soups and panini. The acquisition of 16 restaurants includes inline, mall, hospital and university locations throughout the United States
While that's the news on the domestic front, the overseas action continues.
Steak and Ale is going to Mexico courtesy of a deal between Legendary Restaurant Brands and ONBD Group. Franchise Times is quoting one principle in the transaction as saying this could be up to 75 restaurants but they are starting with five in Mexico City. The terms of the agreement will allow ONBD Group to sub-franchise Steak and Ale to approved operators within Mexico.
In other international news, Brazil is getting two Wendy's, which are planned for Sao Paulo. This is the first move into Brazil by the company. The Brazilian expansion is reported as a joint venture between Wendy's; Starboard Group, a large Wendy's franchisee; and Infinity Services, a Brazil-based restaurant investment company. Starboard owns 182 Wendy's across the U.S. .
Last but not least, a bar serving "fusion food" in a lab setting, Air Bar, is planning ten locations in India.
This latest report on growth shows consistency in the basics - with burgers, pizzas and Mexican cuisine leading the way. The buyback of the Arby's unit is also intriguing as it is counter to the trend the restaurant brokers have seen for several years. We'll keep watching this report and others to bring you news on development in the franchise world.
Looking to buy a restaurant of your own? Visit our online listings for more information on our restaurants for sale at the link below.
.