What's happening with restaurant franchise expansion? The restaurant brokers have taken a look at the publicly announced deals and compiled the latest information for you on franchise deal announcements. While the growth is across the nation, we are seeing strong growth and more deals in the southeast. In the last few days a number of franchise brands have announced new locations and development deals south of the Mason Dixon line.
Is that surprising? Not really. The "South" region (defined by the Census Bureau) extends as far west as Texas and Oklahoma, north to Kentucky and east to the District of Columbia and Maryland, down to Florida and includes everything in between. This area has been on a growth curve exceeding the rest of the nation according to many published reports on multiple fronts.
Of course, these restaurant brokers are southerners at heart so we're excited to see more deals happening in our neck of the woods. Here are just a few hitting the local press in the last few days.
Church's Chicken® has a new franchisee, Volunteer Chicken LLC, who is opening ten new restaurants in the southeast. Their focus will be on multiple restaurants throughout Nashville, Knoxville, and Chattanooga, TN, with another 10-restaurant deal expected to follow in 2021. That's according to Franchise Times which noted this deal in a recent post.
Southerners aren't all about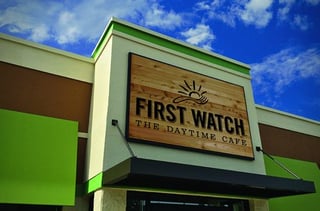 biscuits and gravy but a new deal by First Watch shows that the first meal of the day is a popular one. Good Morning Carolinas, LLC, a subsidiary of Houston Pizza Venture is planning to develop a dozen new First Watch restaurants in the Charlotte, North Carolina, as well as Columbia, Greenville and Spartanburg, South Carolina, markets within the next five years.
Moving to Pizza but staying with a southern theme, Pieology Pizzeria, opened their third North Carolina location in Greensboro North Carolina. The growth by Segovia Aslan Enterprises is expected to continue as they have the franchise rights to open Pieology restaurants across the Southeastern United States.
Pieology isn't the only one focused on the south. On November 16, 2016 Pie Five Pizza Co., the Dallas-based pizza company, opened its doors in Hickory North Carolina. The franchisees, Jeff and Christine Steiner plan to open over two dozen additional units in the Tarheel state. These experienced operators also own and operate several other concepts including: Five Guys Burgers and Fries and Moe's Southwest Grill.
Another popular concept, East Coast Wings & Grill, which is based out of North Carolina announces that they are specifically looking to expand in these targeted (mostly) southern states. They are looking at Florida, Georgia, Kentucky, North Carolina, Pennsylvania, South Carolina, Tennessee, Texas and Virginia. East Coast Wings Grill has 36 stores open currently and they are looking to grow to over 100 according to Franchise Times.
East Coast expansion is on the mind of Dunkin' Donuts. They have signed a multi-unit store development agreement with franchisees Ray and Zak Omar and Megan Karim to develop four new restaurants in Clarksville, Tennessee over the next several years. The first restaurant is planned to open in Clarksville in 2018 near Fort Campbell, one of the largest Army bases in the United States, which was also Ray's home base during his tenure as a special operations officer.
One reason for all this growth may well be the population in the south. With over 120 million people, the South is the most populous region. It's also the area where population growth is occurring as baby boomers age and move south and others simply seek a different lifestyle and move from either the Rust Belt or the higher cost and higher tax base northern states.
If you're moving and looking for a franchise restaurant for sale, check out our restaurant for sale listings online at this link.