Can we still call it a trend when it's been going strong for some time now? The Restaurant Brokers just read about the latest acquisitions by New Orleans Saints Quarterback Drew Brees. It appears he's going for records both on and off the field! A recent post in Franchise Times reveals that in addition to his interests in Jimmy John's and Walk-On Bistreaux & Bar agreement, he's now in a partnership to develop up to 69 new Dunkin' Donuts in New Orleans, Baton Rouge, Shreveport, Monroe and Alexandria, Louisiana.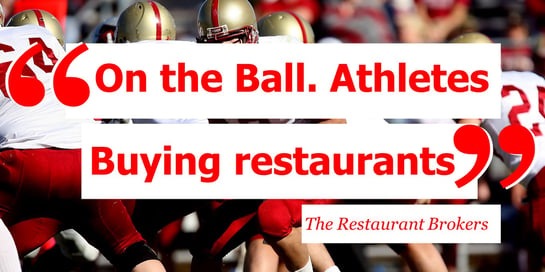 Seems like this guy likes calling plays both on and off the field and his calls all include quick casual at this point! He's partnering with an existing franchisee which is a smart move. The franchise partner already has five existing stores which will be "co-owned" with Brees as part of the deal. HIs name is Vik Patel and he is the CEO of Tampa-based Purple Square Management Co. He heads up Bourbon Street Donuts, LLC and has been a Dunkin' Donuts franchisee for 10 years. He currently operates 46 restaurants in Alabama, Florida and Louisiana. Purple Square also has plans to open an additional 26 units in 2017.
The Bourbon Street Donuts group also includes former New York Giants offensive lineman and current FOX Sports broadcaster, David Diehl. How do professional athletes move from calling plays to quarterbacking franchise restaurant deals? It's much more common than you may know.
What drives athletes to the restaurant industry? The restaurant brokers interviewed some pro athletes turned restaurant owners on our radio show and here's what we learned.
George Tinsley Sr.,, an icon in the industry who opened the first African-American owned T.G.I. Fridays® in the U.S. where it became the "No. 1 T.G.I. Fridays® in the U.S. for nine consecutive years, and continues to be a top performer," owns and operates more than 50 Florida franchises, with most locations in Miami and Tampa International Airports. He told the restaurant brokers that "teamwork" and "competitive spirt" led to his success.
We also interviewed Tye Hill and James Butler who together own three Golden Coral Restaurants. Hill played in the NFL for five seasons for among others, the Atlanta Falcons, Tennessee Titans and Detroit Lions. Hills says this of the restaurant industry, "Definitely go through training." His partner James Butler played for the New York Giants when the team won Super Bowl XLII. He also played professionally for St. Louis Rams. He told the restaurant brokers he got interested in the business because of "We know how to build a team. We know what a successful team looks like."
The restaurant brokers were also joined on our radio show by Carlos Emmons, a former American football linebacker in the National Football League. Emmons was drafted in the seventh round of the 1996 NFL Draft by the Pittsburgh Steelers and played for the Steelers until 1999. In 2000, he began playing with the Philadelphia Eagles and was named team Defensive MVP in his final year. He signed as free agent by the New York Giants in March 2004 and was released by them on February 12 2007, after having career ending back surgery. He is now the owner of the Wet Willies franchise in Atlanta Georgia. When asked about the business, he says, ", "As soon as the star fades, the restaurant fades." He goes on to say, "You can't rely on the roar of the crowd."

Some of the big name athletes involved in restaurant reads like a "who's who" of the superstar world. "Magic" Johnson has an ownership interest in over 100 Starbucks as well as multiple TGI Fridays locations. Cincinnati Bengals veteran Max Montoya traded in his Super Bowl rings (2 of them!) for franchising in 1995 and owns five Penn Station East Coast subs.
Wingstop has been attracting investment from the entertainment world recently with a big buy from a known rapper but before Rick Ross went for this brand, Three-time Super Bowl winner Willie McGinest bought two stores. He also owns a frozen yogurt franchise.
Those on the gridiron aren't the only ones in the mix. Jamal Mashburn, an NBA start and part of 1994 Dallas Mavericks now owns 71 restaurants including 34 Outback Steakhouse franchises and 37 Papa John's franchises.
The attraction for athletes to the franchise restaurant business includes a success rate higher than other industries. Also, the ability to partner with existing franchisees such as the deal Brees just cut for the Dunkin Donuts units is also an added benefit. Lastly, the International Franchise Association or IFA has been hosting events and working to market the benefits of franchise restaurants with this group. After all, it's better to be in business with those who are already experienced rather than starting from scratch. Want to listen to the full We Sell Restaurants interview with some professional athletes owning restaurants? Download from iTunes at this link.