We Sell Restaurants closes on another restaurant for sale transaction; the resale of the Firehouse Subs franchise in Charlotte, North Carolina
We Sell Restaurants is pleased to announce the sale of Firehouse Subs located at 4732 South Boulevard in Charlotte, North Carolina. Trung Nguyen of Charlotte, North Carolina acquired the company from Timothy Goss. The transaction was handled by Justin Scotto of We Sell Restaurants.
Firehouse Subs, a fast-growing franchise chain with over 1,160 opened restaurants was founded by two firefighter brothers. Firehouse Subs is a nationwide brand with many locations in Charlotte, North Carolina. The South Boulevard store in now under new ownership with the assistance of the We Sell Restaurants Franchise Partner in the market.
The seller, Tim Goss, said of his experience with We Sell Restaurants and Franchise Partner, Justin Scotto, "Could not have asked for it to go any smoother. Made the process easy to stay on track and complete as scheduled." The buyer is excited to be the newest franchisee in the Charlotte market for the Firehouse Subs brand. He said, "Justin handled the deal with care and professionalism. He clearly laid out the timeline and what was needed to close the deal."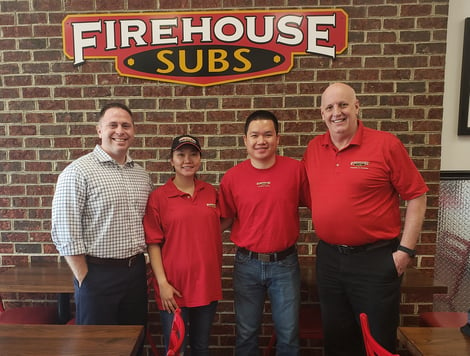 Justin Scotto is the multi-unit Franchise Partner in the Carolina's. A Certified Restaurant Broker, Justin has been in the restaurant industry for 20 years. Justin is a longtime veteran of the restaurant industry. In recent years, Justin developed and operated 12 fast casual restaurants with Firehouse Subs from the ground up before pursuing a path of restaurant brokerage with We Sell Restaurants.
Eric Gagnon, President of We Sell Restaurants, had this to say of the transaction. "Justin is one of our newest Franchise Partners and has shown strong results in the Charlotte market. We look forward to his continued success."
Franchise Partner Justin Scotto is a specialist in the restaurant sales industry.
Justin is a graduate of the University of North Carolina at Chapel Hill. He lives in the Charlotte Region and when he is not busy brokering restaurants, he enjoys family time with his wife and five children.

Justin is also a member of the Carolina's-Virginia Business Brokers Association. Justin can be reached by phone at (704) 609-4460 or by email – justin@wesellrestaurants.com.
Restaurant for sale listings can be found online at wesellrestaurants.com, the nation's largest and most heavily trafficked marketplace for the sale of restaurants.
We Sell Restaurants is the nation's largest restaurant brokerage firm, specializing in restaurants for sale, restaurants for lease and franchise restaurant resales. Found online at wesellrestaurants.com, We Sell Restaurants works in 45 states nationwide.