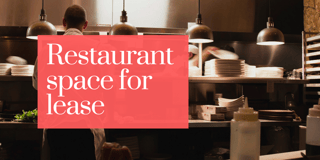 Restaurants for lease have some advantages as far as not having to put all of your capital up front to purchase the business outright or for a hefty down payment on a loan. This money that gets to remain in your hand can be used to upgrade the décor in the dining room and for marketing purposes. If you are on the hunt for restaurants for lease, to keep the most money in your pocket, your best bet is to purchase an existing location that is up to code and already equipped with all or most of the equipment and appliances you will require.
Restaurants for lease are a great option for someone who has never owned a business before, or someone who is not well-known in the area. Someone buying an eatery who is popular within the community will have an easier time bringing patrons to their business and will therefore generate more income as opposed to someone who is almost unknown within the area. The lesser-known individual will have to shell out significantly more money on marketing and advertising expenses to bring business in.
Many restaurants for lease spaces are second generation – meaning before the space was vacated it was a dining establishment. This mean that you won't have the extra expense of installing kitchen equipment, and in many cases the restaurants for lease space will include the tables and chairs for your use, if you wish to use them. If the restaurants for lease you are looking at were not previously dining establishments, you need to make 100 percent sure that the space you are interested in can be made into one. It is absolutely crucial to bring in a code enforcement officer, health inspector, and a fire marshal so that they can tell you everything that will need to be added or updated. The next step is to discuss with your potential landlord how much, if any, of the repairs and updates they will cover.
The Restaurant Brokers have the most restaurants for lease listings, and we can help you find the perfect spaces all across the United States. Is the mountain lifestyle what you love? We have the perfect location for you! This is one of our restaurants for lease that comes with a view – the Great Smoky Mountains specifically! This space is only 50 miles outside of Atlanta and is a free-standing building with nearly 10,000 square feet of space. Not only do you get a fantastic dining space, but the additional space could be used for a second business! Some ideas would be a health food market, art gallery, or even a space to hold events! Don't miss checking out this listing here.
Are you more of a beach person? No problem. We have plenty of restaurants for lease listings on the coast. Take for example this listing in Broward County, Florida that used to be an iconic barbecue joint. All of the equipment is there for you to turn this space into the business of your dreams, and the landlord recently replaced the floods and updated the facility to be up to code. The landlord is ready for you to bring your own concept! Check this one out here.
These are just two of the restaurants for lease the Restaurant Brokers have to offer. Why choose a We Sell Restaurants listing? Our Certified Restaurant Brokers have the knowledge and tools necessary to make your transition from browsing restaurants for lease listings into lessee in record time. Take a moment to read our FREE Leasing Guidebook that includes indespensible information for someone considering restaurants for lease. Visit our website and check out all of the restaurants for lease we have to offer, and get ready to get into your business!