The We Sell Restaurants radio show airs every Saturday at noon (12pm) in Atlanta on AM Talk 920 and Sunday at 1pm on BIZ 1190AM, (The Wall Street Journal Network) in the nation's 7th largest media market. The goal of our show is to satisfy our listener's appetite for acquisition, feed the need for restaurant reality and serve up a recipe for business success.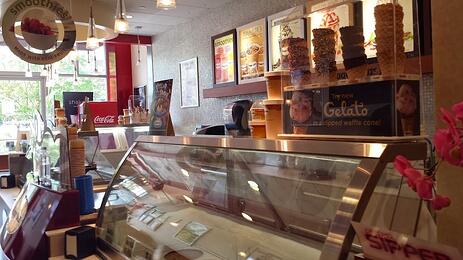 The hot summer days leave everyone searching for a way to cool down. Is it yogurt or ice cream that satisfies a sweet tooth on a hot day? The United States is the top ice cream consuming country in the world and the history of this cold treat dates back to the second century B.C. Yogurt is a relative newcomer gaining market share and creating new customers.
Restaurant Brokers solicited advice from Solomon Choi and Stratton Leopold on the coolest treat for summer days.
Solomon Choi is a seasoned food service industry leader, raised on the philosophy that "passion brands" are built by engaging with consumers in ways that enrich their daily lives. A multiple-time guest panelist for NYU Stern's Annual Marketing Conference, Solomon has been featured on MSN, CNBC, Bloomberg News, ABC News, Fox Business and in the Wall Street Journal and The New York Times, among many others. He is a graduate of the Marshall School of Business at USC with a degree in Marketing.
Over the years he learned the operations side of the franchise business, starting as a busboy and graduating to managerial positions that eventually led to a vice president role in the family business. Later, working as a Director for a hospitality Group that included a Gelato franchise and full service restaurants in Los Angeles, Solomon Choi, CEO Solomon gained even more business operations knowledge as his responsibilities increased to managing food costs, margins, leases and more. Recognizing a niche market in self-serve, frozen yogurt, Solomon studied the dessert business firsthand by apprenticing in one of the original self-serve frozen yogurt shops in California. He parlayed that knowledge by taking his deep industry insights and relocating to New York to launch 16 Handles™, where the brand has since exploded into a regional phenomenon. In 2008 the very first 16 Handles opened in New York City's East Village. At the time, there were nine direct competitors within a four-block radius. Through smart marketing that merges grassroots, social and strong PR efforts, Solomon pioneered the concept into what is now over 40 operating locations across the east coast. Today the company remains well poised for continued growth and has since incorporated a corporate chef to help drive flavor recipe innovation.
Also weighing in on this topic, was Stratton Leopold. Leopold's Ice Cream was founded in 1919 by three immigrant brothers from Greece: George, Peter, and Basil Leopold. They learned the art of candy and dessert from an uncle who had already settled in America. The brothers perfected the secret formulas and created the world famous Leopold's VeriBest™ ice cream. They opened their own ice cream parlor on the corner of Gwinnett and Habersham streets in Savannah, where two streetcar lines intersected.
The original Leopold's Ice Cream shop closed in 1969. Stratton Leopold, the youngest child of Peter Leopold, kept many of the original fixtures in storage while he pursued his dreams of working in Hollywood. On August 18 of 2004, Stratton and his wife Mary officially reopened the legendary family business. The new location on downtown Savannah's bustling Broughton Street was designed by Academy Award nominated set designer Dan Lomino. The original fixtures Stratton had kept were used, including the black marble soda fountain and wooden interior phone booth. The shop has a beautiful old-fashioned flair with some modern decorative additions - posters and props from Stratton Leopold's film career.
The Restaurant Brokers wanted to know which is the best choice…yogurt or ice cream? Both Choi and Leopold agree that it all boils down to personal preference. It's interesting, according to Choi, as it's not uncommon in his stores, to see women coming in and interacting with their brand with their yoga mats or after spinning class. Yogurt has a health aspect that ice cream typically does not.
Leopold agreed that personal preference but that ice cream is an old fashioned feel good treat. Ice cream is a destination treat and kids love to come in and get the old fashioned flavors and enjoy an old fashioned soda fountain. He states they are very particular about where they get their ingredients because, at Leopold's they make all their ice cream from scratch. Yes, you read that right. From scratch. Imagine that! He spoke about heavy cream and discussed how what the cows ate would reflect in the ice cream. Who would've thought?
In terms of profitability and the competitive landscape, Choi discussed how he knew there was a market for frozen dessert when he opened in New York. He wanted the biggest slice of the pie and he knew the popularity of frozen dessert was increasing. They had more flavors and more choices than any of his competitors. Beyond this, and perhaps most importantly, Choi wanted to be the first frozen yogurt business in New York City to be self-serve. He wanted to sell the lifestyle message of "Flaunt your Flavor," whatever your frozen dessert fix is ice cream, gelato or frozen yogurt…celebrate you. Currently, his locations have over 16 rotating choices daily; with 50 different topics; there are non-fat, healthy and not so healthy choices so no one is excluded and that's what keeps people coming back for more.
In addition to all this and more, Stratton also discussed how July is National Ice Cream month and how Leopold's participates in this platform. A child 12 and under accompanied by an adult, one day a week, who can recite the Pledge of Allegiance from memory, receives a free ice cream. To learn more about this initiative check out ipledgeforicecream.com.
To learn more about this subject and more, the radio show is available for download on iTunes or online at www.wesellrestaurants.com. Take a moment and LIKE the restaurant brokers on Facebook or follow the restaurants brokers on Twitter. Remember, We Sell Restaurants is your industry authority and source for information on all things restaurant related.