Robert Wagner, CPA has released his quarterly report on Atlanta restaurant sales and the news is good once again. His survey shows that same-store sales increased 6.8% over the same time period measured in 2011.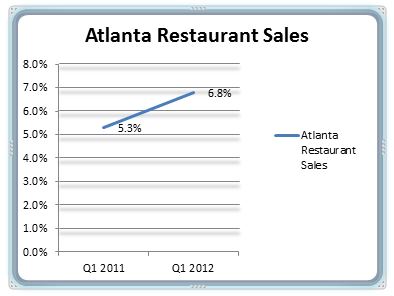 The NetFinancials survey of 79 independent Atlanta restaurants has been compiling comparative data for five straight quarters and the trends continue to improve. Last year this time, Wagner reported that Q1 2011 sales were positive but at a lower rate, increasing 5.3% compared to this year's 6.8% gain.
As restaurant brokers, we are constantly sifting through news and information from multiple sources including food and alcohol distributors, equipment suppliers, along with restaurant sellers and owners. We find the NetFinancials data to be right on target with the feedback we are receiving. Our clients tell these Atlanta restaurant brokers that sales are trending upward especially in the fast-casual and casual segments.
One of the most powerful call outs from the survey is the percentage of restaurants reporting gains. As seasoned restaurant brokers, we see this as the strongest overall indicator that the market is thriving. Last year Wagner states that less than one in five (19%) of the restaurants surveyed for first quarter had increases. This year, in an amazing change of events, 81% or more than 8 out of 10 says they are trending in positive territory. That means the tide is rising for all operators and signals overall growth in the market.
What do restaurant owners attribute the growth to? Wagner states, "Restaurateurs tell us there are three reasons for the impressive Q1 sales gains: customer counts were up, check averages were up and more businesses and groups were dining out."
He also says that warmer early weather is prompting restaurants to open their patios and capitalize on customers. We have heard the same thing from many of our operators with outdoor spaces on a wait as early as February and March with unusually warm temperatures.
May is a huge month for the industry with both Cinco de Mayo and Mother's day in the mix. With warm weather forecast for both, clients are looking for record results this month.
Robert Wagner, CPA is president of NetFinancials, Inc. which provides a full range of tax and accounting services for restaurant companies. Email: bob.wagner@netfinancials.com. www.netfinancials.com Direct: 404-874-7002