Amidst the sobering realization that the Federal Government alone won't be able to keep their businesses afloat during the COVID-19 pandemic, many restaurant owners denied assistance from their insurers are rolling up their sleeves and demanding justice. Like any grassroots movement, independent restaurant owners across the country have begun suing their insurers in a legal battle reminiscent of David vs. Goliath, and it seems as though the tide may be turning. A group of high-profile chefs have banded together to form the Business Interruption Group, or "B.I.G.", with world-renowned restauranteurs like Wolfgang Puck, Thomas Keller, and Daniel Boulud spearheading the offensive.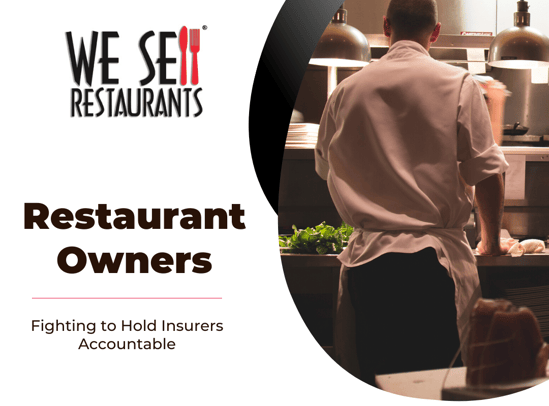 As stated on their homepage, the group's goal couldn't be more straightforward: "We are B.I.G. - A Nonprofit That Insists Insurers Pay Owed Business Losses Caused by The Coronavirus." Just below that, these restaurant owners remind us of a few sobering statistics:
- The Restaurant Industry provides jobs to 15.6 million Americans
- Restaurants contribute over $1 trillion to the economy annually
- Restaurants represent over 4% of GDP.
In preparation for the restaurant owner's legal battle against corporate behemoths like Lloyd's of London and The Hartford Insurance Company, B.I.G. has retained John Houghtaling, the high-profile lawyer who served as special counsel to the Attorney General in the litigation of policyholder rights in the wake of Hurricane Katrina. As one of the nation's preeminent legal experts on disaster recovery, Houghtaling's message to insurance companies is straightforward: "We are banding together to launch BIG legal action in every state against insurers who deny funds for civil authority coverage. Immediate payment is due on policies that do not contain a virus exclusion. We are willing to support federal subsidies for insurers who cooperate with us, but the window for a solution is closing fast."
Many restaurant owners are under the assumption that their business interruption policies automatically contain virus exclusion clauses, but the truth is that many don't. Insurance companies that aren't "protected" by virus exclusion clauses and that have been collecting hundreds of millions of dollars in premiums from restaurants for years are clinging to the notion that the insurance they provide only covers loss of income caused by physical property damage. Many would argue that's an overly simplistic and extremely convenient argument, especially in the wake of a global pandemic.
The argument that restaurant owners are putting forward is simple: Coronavirus contaminated the surfaces, air, and physical space inside of their restaurants, which led to government-mandated shutdowns. While the damage isn't visible in the way that fire or flood damage is, the physical contamination is equally destructive. If a nuclear reactor irradiates a cities' buildings and restaurants and prompts the government to evacuate, wouldn't that be covered? Sure, radiation isn't visible physical damage, but the contamination is deadly and the physical space has been harmed.
Even if B.I.G. vs. Big Insurance turns into a protracted legal battle that drags on for months or years, a growing group of states including Pennsylvania, Louisiana, New York, Ohio, Massachusetts, and New Jersey are introducing legislature that would force insurers to retroactively cover business interruption claims due to COVID-19 for restaurant owners.
What can or should restaurant owners do if you have faithfully paid insurance?
Step 1: File a claim. Even if, especially if, you are denied, it creates a trail of documentation that could make you eligible retroactively if restaurant owners ultimately prevail against the insurance companies.
Step 2: Stay involved and aware. Make sure you are following industry resources and your state restaurant associations who are all engaged on this topic. The B.I.G. website is available at this link.
Step 3: Contact your legislators by phone or by email and voice your support for government-backed legislation to nullify existing exclusions and force insurers to cover business interruption losses due to viral pandemics.
We Sell restaurant will work to publish more information on timely topics for restaurant owners amidst the COVID19 virus outbreak at this link.