The National Restaurant Association has shared their trends for 2020. None of these are a surprise to this restaurant broker as they focus on steps most operators took to stay alive in a year that stripped nearly $240 billion out of the industry and left 2.5 million employees out of work. Here are the top trends after surveying both operators and consumers. Survival topped the list in 2020 and the first two trends reflect this strongly.
Trend One Streamlined Menus
With take-out and delivery as the means to survival, taking that large menu down a notch was the only thing that made sense. Operators had to decide what would travel, what would re-heat, and what would deliver the greatest profitability. Menus were pared down and food choices were consolidated to make sense in a world spinning to get it out the door in new ways.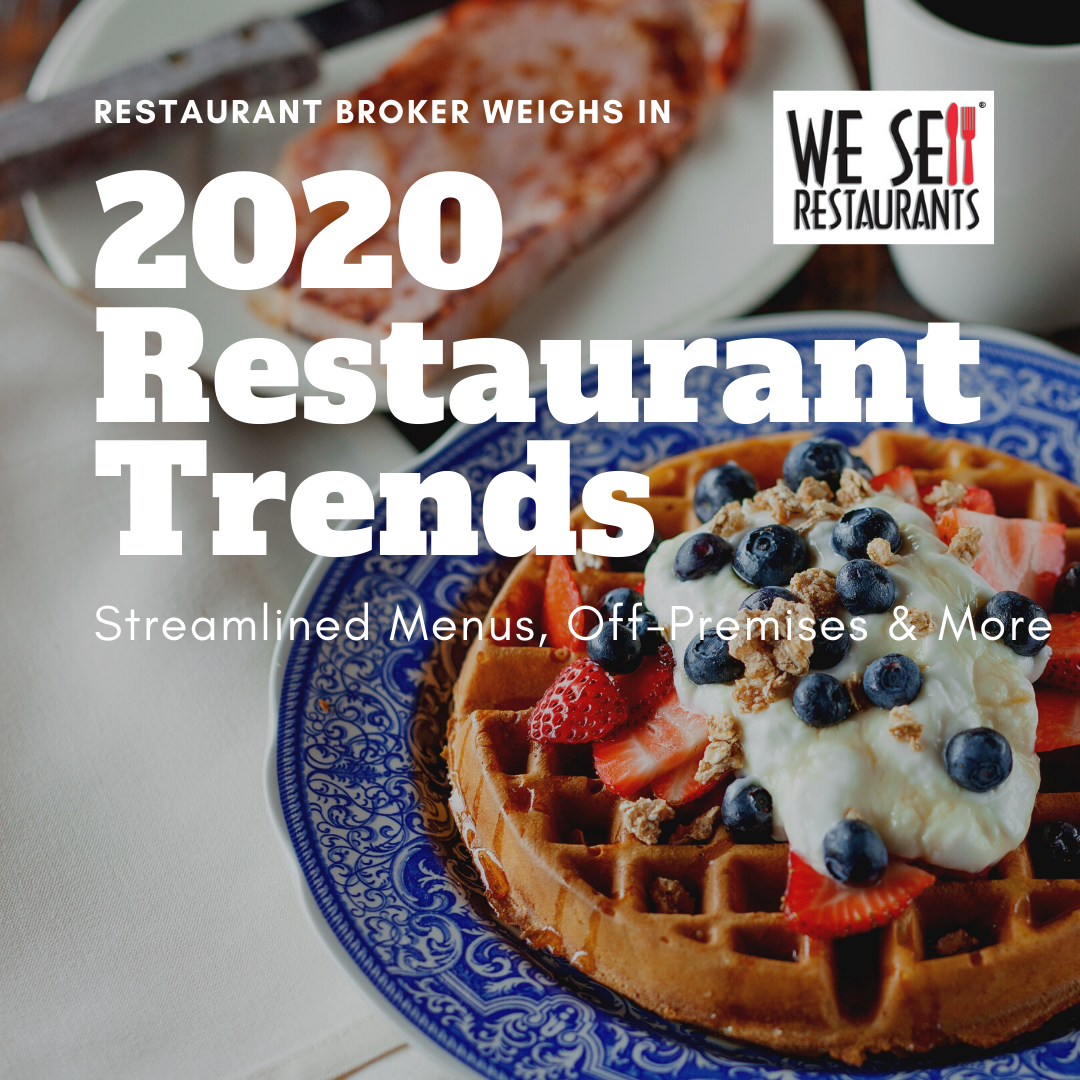 Trend Two – Off-premises takes Precedence
Stores that met the challenge quickly learned that survival meant an entire pivot in their business model. Before the pandemic, 80% of sales were done on the dining room floor. During the pandemic, smart operators turned this inside out and 80% of their volume went to the curb as take out or delivery. It was survival of the fittest and as a restaurant broker, I saw fast casual and franchise achieve the fastest turnaround on this metric.
Trend Three – Blended Meal, a Team Effort
Millennials according to the National Restaurant Association, enjoy the art of making one part of the meal while ordering others. This leads to a home cooked protein with sides and desert from a restaurant or a main dish from the home kitchen mashed up with sides from the restaurant. It gives a restaurant feel to a meal otherwise plainly cooked in the kitchen. We think this trend is here to stay as it introduces variety to dining at home while so many are still worried about eating in restaurants.
Trend Four – Bundled Meals are Considered Deals
Perhaps the greatest innovator ever of the bundle meal deal was Colonel Sanders with his Kentucky Fried Chicken, sides and biscuits. Smart restaurant chains with drive thru windows (we see you Zaxby's) pivoted quickly to this type of offering driving up the average ticket at the drive thru up while reducing effort to service that window. It's a brilliant strategy and it will continue to thrive as individual orders go to the wayside and consumers buy a "meal deal" for the family.
Trend Five – Meal Kits Make Cooking Fund
Kits that pre-package the ingredients make it easy for anyone to cook. If meal kits are prepared by your favorite restaurants, then almost every age group surveyed saw this as a win. I see this as a short-lived trend. Overall, the dining experience is better where someone else is cooking but we see it strong for this year.
Trend Six – Meal Subscriptions
More than half of the customers surveyed say they would get meals during the month for pickup or delivery at a discounted price if they were offered by their favorite restaurants. This form of subscription service is a brilliant plan for restaurant owners to get consistent cash flow. Wine shops have done this for years. Restaurants should join in. This meal subscription service is the equivalent of mailbox money for operators.
Trend Seven- Selling Groceries
This restaurant broker saw many restaurants participate in this trend during the shut-down months. Who wants to go to the grocery store? Given the option to buy fresh produce, proteins, fish and more from your local restaurant, we see this as a trend with a long runway.
Trend Eight – Alcohol to go
The survey by the National Restaurant Association showed nearly a third of off-premises customers of drinking age added alcohol to their order. Now that municipalities have removed barriers to alcohol delivery, this will be trend to stay if bureaucrats don't turn around and regulate it out of existence again.
Trend Nine – Comfort Food
It is no wonder that in a pandemic, consumers craved the foods that bring them comfort. These include items like burgers, curries, soups, pizza and noodle dishes. This will continue to influence their choice in restaurants. This trend is going nowhere but up for the foreseeable future in our opinion.
Trend Ten – Healthy and Die-specific Food Make the list (Barely)
Healthful food items and those with diet-specific requirements (gluten-free, vegan, etc.) made the top ten but in the last position. When times got tough, these trends felt less important than others.
Those are the top ten trends based on a survey of 6,000 operators and consumer preferences from 1,000 adults. Are they on target? This restaurant broker believes they are.