Buying a restaurant? For many, this is the American Dream. Before starting down the path of restaurant ownership there are questions you should ask. If you are buying an existing restaurant for sale, take the time to review these ten questions every buyer should ask themselves before deciding to buy a restaurant for sale.
Start with your level of readiness to acquire a business. These first three questions center around the timing and your level of preparedness to purchase a business. Ask yourself:
Are you ready to buy a restaurant?
Many statistics attempt to cite a restaurant's success rate in its first year. The National Restaurant Association estimates that about 30% of restaurants fail in year one, while a Forbes article cites that only 17% of restaurants do not make it past the first year. The point stands, however, that owning a restaurant comes with risk and is not a guaranteed success. When you are buying an existing restaurant for sale, this business has already beaten those odds.
That means your risk in acquiring a restaurant for sale will always be lower. That doesn't mean you should not prepare properly. Increase your chances of ongoing success by taking advantage of tools such as a Restaurant Business Plan Template and Restaurant Costs Calculator. Discuss the opportunity with your trusted advisors and evaluate how much support you will have in the future. Above all, spend time understanding the past performance of this business. This is the best predictor of ongoing performance. Understand what the business financials are telling you to have greater success in looking at the future. If you are not ready now, then learn what you need to do today to be ready to buy a restaurant tomorrow.
What is your goal in buying a restaurant?
Determine the type of role you plan to play in the restaurant you buy. Buyers interested in purchasing an absentee-run business will want to focus their search efforts on businesses with the option to be absentee. On the other hand, if you are opening your dream restaurant, then you may want to focus on restaurant listings that are open to new concepts and will provide the space and equipment you need to bring your dream to life.
How are you buying the restaurant?
The We Sell Restaurants proprietary Restaurant Assessment Tool touches on this key question. Whether you are the sole purchaser or plan to bring in a partner, make sure you know how you plan to finance the restaurant for sale. There are a variety of methods for restaurant financing. The type of financing you plan to use can drive which restaurant opportunity is best. Ask your restaurant broker for recommendations for lenders who understand and lend in the restaurant space. If you plan to apply for an SBA-backed loan, then the restaurant for sale ad should mention it is approved for this method of financing.
After answering the first three questions to determine your readiness, it is time to search for restaurants for sale. These listings tend to be private, withholding the name, address, and detailed financial information until a buyer has acknowledged confidentiality or completed a Non-Disclosure Agreement. This protects the seller and the restaurant. The last thing a seller wants is for his employees and customers to learn the restaurant is for sale.
Once you have completed whatever confidential steps are required and met any financial qualifications requested by the seller or franchise, you will be able to view a full package of listing information on the business. This is where you can begin to inquire about the next items. A good restaurant broker will provide you a listing package that answers many, if not all, of these questions:
How is the business currently run?
Understand the current operation in the restaurant for sale, such as the owner's role. Ask about the current owner's role and how many hours they work in the business.
What is the restaurant's financial history?
A profitable restaurant for sale will have up to 2 years of Profit & Loss Statements available at this point in the process of buying a restaurant. The current sales and expenses can clue you into ways you can improve businesses. However, if the restaurant is an asset sale, then this data will not be as pertinent to you since you will be purchasing the furniture, fixtures, and equipment to bring in your own concept, which will generate different sales results.
What transfers in the sale?
Ask about the lease information, including the expiration, renewal options, and transfer details. In most cases, the current lease will be assumed by the buyer and transferred, but talk to your restaurant broker about negotiating terms if necessary.
Unless you are bringing your own concept, you will also want to ask if items such as the concept, brand, and recipes transfer to a new owner.
Will the staff and management remain?
If you plan to keep the current restaurant concept, make sure you understand if the current staff will remain under a new owner. Otherwise, be prepared to hire and train new staff as a new owner.
Will there be training for a new owner?
Unless you are bringing your own concept to the table, then you will want to know what training there will be for you as the new owner.
How could a new owner improve the current business?
Before you buy a restaurant, you may also want to know where you can grow beyond the current success of the business. You can answer this question by identifying areas for improvement after you have visited the location as a secret shopper. Take a mental note of the employees, the guests, and more to see where you could optimize operations. Consider, also, if the business could grow into areas such as catering, online ordering, or pickup and delivery options.
Is now a good time to buy a restaurant?
After you determine your readiness for business ownership and understand the operational details of listings that you are interested in buying, you may be wondering if it is a good time to buy a restaurant.
If you are watching interest rates rise, you may be feeling that now is not a good time to purchase. However, there is opportunity for you to buy a restaurant with lending at a lower rate. In our article 5 Reasons to Sell Your Restaurant in 2023, we discuss how a seller can include owner financing on the deal to make a blended interest rate that is more appealing for a buyer.
Beyond market conditions, don't miss your chance to buy the perfect restaurant for sale for your goals. That restaurant you have had your eye on for the last few weeks may go into contract tomorrow. The listing you bookmarked last month may have sold yesterday. As we discussed at the very beginning, preparing properly will help you on the road to success in buying a restaurant, so do not let the numbers scare you away from achieving your dream.
Reviewing these ten basic questions will better prepare you to make an offer on a restaurant for sale and bring your dream of restaurant ownership to life. Start browsing restaurants for sale online or download our free manual for buying a restaurant to get started!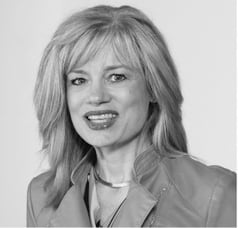 Robin Gagnon, Certified Restaurant Broker®, MBA, CBI, CFE, is the co-founder of We Sell Restaurants, a brand that has carved an unparalleled niche in the industry as the nation's leading and only business broker franchise focused on restaurants. Under Robin's leadership, We Sell Restaurants has grown to 45 states where it dominates the restaurant for sale marketplace, including franchise resales, delivering on the founder's vision to Sell More Restaurants Than Anyone Else. We Sell Restaurants was named one of the most influential suppliers and vendors in the country by Nation's Restaurant News and has earned a position on INC 5000's list of fastest growing privately held companies. Franchisees of We Sell Restaurants surveyed by Franchise Business Review placed it 25th in the nation in franchisee satisfaction.

Robin is the Chair of the Women's Franchise Committee of IFA and is a member of the IFA Board of Directors. She is also an MBA and Certified Franchise Executive (CFE) and has her CBI (Certified Business Intermediary) designation from the International Business Brokers Association. She co-authored Appetite for Acquisition, a small business book award winner in 2012 and contributes frequently to industry press appearing in Forbes, QSR, Modern Restaurant Management, Franchise Update, and others. Entrepreneur has named her to their list of the "Top Influential Women in Franchising."