If you are considering an investment in the hospitality industry, you join a vast group attracted to this industry. Before making the leap, however, here is what it is important to know before buying a restaurant that is not making money today or an asset sale.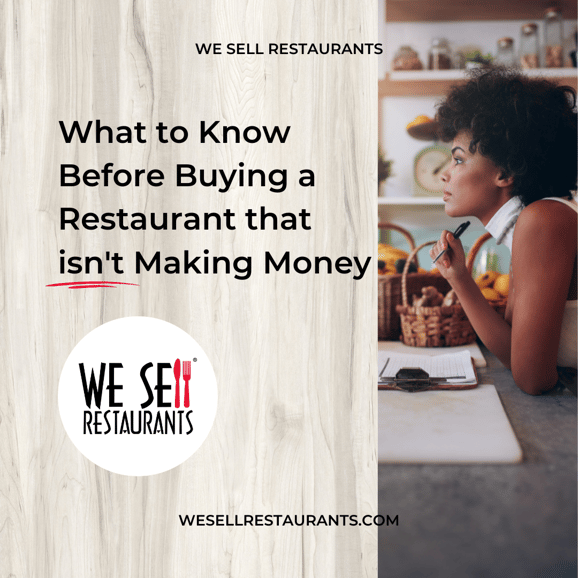 First, analyze your personal situation and the level of income you need from the purchase. Are you relying on fond memories of a college job, or do you have real-world experience that will benefit you in a turnaround situation? Do you need cash flow to sustain yourself and your family? If so, this is not the path to pursue and that's the most important thing you should know before buying a restaurant that isn't making money. The Restaurants Brokers at We Sell Restaurants have put together a useful tool titled the Restaurant Assessment Tool to help you identify your specific needs and narrow down your specific needs.
Once you understand that an asset sale is the type of business you should consider, undertake the search if you are clear on the financial outlook or cash flow of the opportunity.
A business that is referred to as an "asset sale" means there is no positive cash flow associated with the business. However, while there is no cash flow, the transaction includes the space, furniture, fixtures, and equipment. This makes it an attractive option for buyers looking for a minimal investment and committed to their own concept.
You can easily identify these opportunities from the description. They may be advertised as "Turn-Key", "Bring-Your-Concept" or "Convert to Your Concept" to describe the flexibility available to the buyer. They are generally referred to in the industry as asset sales meaning you are buying the assets of a going concern and in its current condition, it is not profitable. It may need a change of concept, more capital investment, more marketing, and advertising, or just more engaged leadership.
What to Know Before Buying a Restaurant that isn't Making Money – No Supply Chain Issues
If you want to build out your own concept from scratch, you'll need to invest in construction for a building, equipment, tables, seating, inventory, and more just to start. Besides being a more expensive path to restaurant ownership, prevailing backlogs in the national and global supply chain will also delay the full buildout route. The significant slowdown will come when you start ordering equipment for your building. Supply Chain issues aren't clearing up anytime soon, inflicting a long pause on restaurant buildouts.
According to data cited in Restaurant Business Online, there is a shortage of 85,000 truck drivers in the U.S. contributing to these shipping slowdowns. Globally, ongoing Covid-19 protocols continue to slow down ports as employees stay home sick. The National Restaurant Association reports that 96% of operators in 2021 experienced delays in the supply chain overall, and commentators on the subject say that these issues will continue to impact the restaurant industry, as essential equipment now takes 6 months or longer to arrive.
Time is money, especially when it comes to operating your restaurant. The more time you spend waiting for shipments to complete your buildout, the more time you lose that you could be open and turning a profit. Rent will start on a lease whether those fryers have turned up or remain on backorder for several more months. It's important to know before buying a restaurant what your time frame will be for opening. Businesses currently available with equipment and fixtures included allows your concept to hit the ground running sooner.
What to Know Before Buying a Restaurant that isn't Making Money – They Cost Less
Asset Sales are less expensive than Profitable Restaurants for Sale. This point basically speaks for itself: a profitable business is worth more than a business that isn't.
When you look at How to Value a Restaurant Business, it's important to remember that restaurants are valued based on EBITDA (Earnings Before Interest, Taxes, Depreciation, and Amortization) plus "addbacks", or they are valued based on Seller Discretionary Earnings (SDE)—also known as Owner Benefit. A smart restaurant broker will use the SDE valuation model to find an appropriate listing price for a profitable restaurant for sale, as this valuation method results in a higher listing price. If the restaurant for sale has little to no Owner Benefit, then the restaurant would be valued using the EBITDA method, consequently calculating a lower listing price.
However, a restaurant for sale that is an asset sale is still a valuable business for a buyer on the hunt for a minimal investment in an equipped space. The upfront cost to acquire a profitable listing opportunity will range anywhere between $200,000 and $1.5 Million depending on the concept. An asset sale will be under $200,000. Moreover, there is no guarantee that the buyer can bring their own concept to the profitable restaurant. This is especially true for restaurants franchises for sale, which may have steep fees if they allow the new buyer to change the concept.
What to Know Before Buying a Restaurant that isn't Making Money – Current Operations Tell You What's Wrong
If you are going to create a turnaround for an existing business, it requires real study and analysis to learn what is wrong with the current operation. In most cases, sales will heal most issues. That means that if the rent is too high, it is typically too high as a rate to sales. A $5000 monthly lease payment on a business generating $40,000 a month in sales results in an occupancy cost of nearly 13%. If the sales increase to $75,000 a month, the occupancy falls to 6.7% allowing for much higher profitability.
How will you increase sales? That's critical to know before buying a restaurant that isn't making money. If you are changing the concept itself, that will require additional investment in signage, trade dress, menu development, and more. If you decide to keep the existing concept, you must identify why the business is not making money. Look at the key operational variables which include:
Food or Cost of Goods Sold (COGS)
Labor
Occupancy (Rent)
Food or COGS should be around 30% of sales depending on the concept. If it is higher than this, there may be operational issues including theft or waste contributing to high food costs. This is easy to fix through strong management.
Labor Costs should be around 25% of sales, though these have been inching higher in the past year. If the labor costs are significantly above that number (32% or higher), then there may again, be operational concerns that can be addressed.
Occupancy costs or rent all in (including common area maintenance, taxes, or other fees charged by the landlord), should be roughly 10% of sales. For every point above this number, that is profit taken from your pocket as an operation.
Looking at these existing costs and the sales line are critical parts of what you need to know before buying a restaurant that isn't making money.
If the costs are all too high as a rate to sales but the concept itself is strong, you may simply need to be more hands-on as an operator and enact a marketing and advertising campaign to drive top-line volume.
You should also consider whether the business is doing take-out and delivery at the rate of competitors. If not, the owner may mistakenly believe that eliminating delivery is eliminating costs when in fact, it is affecting the break-even of the business needed by the overall sales volume.
What to Know Before Buying a Restaurant that isn't Making Money – Assumable Long Term Leases
Another frequently overlooked benefit that falls into the column of what you should know about buying a restaurant is the value of the existing lease. Many businesses that are not profitable today have something very valuable associated with them and that is the real estate rental contract. If the lease was signed for a long period of time with negotiated rates, you may be able to tie up a location at under-market lease rates for your new concept. When the business is existing, you are asking the landlord to assign and allow the assumption of the existing lease including its established rates. You are not asking for a new lease at current market rates.
What to Know Before Buying a Restaurant that isn't Making Money – Lending is Available
Many restaurant buyers mistakenly believe no lending is available on a business that is not cash flow positive. That is not the case and lenders will look at these on a difference basis and provide unsecured lending. That means the loan is based on the credit and character of the buyer, not the profitability of the business. If you are seeking lending for an asset sale, visit this link for a resource that can assist you.
Whether it is your first time buying a restaurant that isn't making money or you are a turnaround guru, the opportunities abound to make good choices, put your stamp on the business and launch a profitable concern. Understanding the differences between an asset sale and a profitable restaurant for sale are important to helping find the right restaurant for your goals. If you are interested in looking at restaurants for sale that are asset sales, browse over a hundred listed on the market today here, or check out hundreds of other restaurants for sale available on our website.
ABOUT THE AUTHOR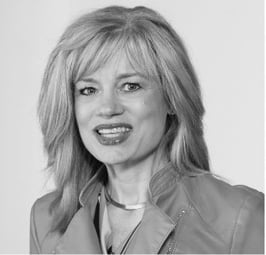 Robin Gagnon, Certified Restaurant Broker®, MBA, CBI, CFE is the co-founder of We Sell Restaurants and industry expert in restaurant sales and valuation. Named by Nation's Restaurant News as one of the "Most Influential Supplier and Vendor" to the restaurant industry in 2022, she has been identified as a major influencer in franchising. Robin is an Official Member of the Forbes Business Council and current Chair of the Women's Franchise Committee of IFA. Her articles and expertise appear nationwide in QSR Magazine, Franchising World, Forbes, Yahoo Finance, and BizBuySell. She is the co-author of Appetite for Acquisition, an award-winning book on buying restaurants.