The economy is soaring with small business confidence, lending, unemployment and GDP all hitting top marks. What does that mean to the franchise restaurant sales industry? It looks like deals to buy restaurants are hitting record marks. We Sell Restaurants has scoured announcement across the country to see what's selling and where. Here's what we learned.
One strong trend noted among the announcements is that existing franchisees are expanding. We Sell Restaurants suspects they are taking advantage of existing operational experience and a very robust lending market to grow additional for units within brands they already own. Examples include:
Dunkin' Donuts signed a multi-unit store development agreement with existing franchisee Lagunita Franchise Operations. Over the next several years the franchisee group is planning to open seven new Dunkin' Donuts restaurants throughout Montgomery, Alabama. The first two locations are scheduled to open in 2019, with additional restaurants to follow over the next several years. LFO is led by Damon Dunn; the group has been franchising with Dunkin' since October 2016 and operates seven restaurants in the Mobile, Alabama, and Mississippi Gulf Coast regions.
Expansion by Team Schostak in Michigan. The group already owns and operates five Del Taco locations, with a sixth in development. Mexican continues to be a popular choice as American embrace this food choice and franchise offerings. Franchise Times reports that Mexican chain Del Taco will grow an additional 12 stores across the Detroit, Michigan, area as part of a new franchise agreement with franchisee Team Schostak Family Restaurants. The company already operates also operates various other casual dining and fast casual brands, including more than 65 Applebee's restaurants across Michigan.

Cody Trammell and his Southern Fired Hospitality Group are announcing a second location by Cowboy Chicken. The restaurant in Edmond is set to open in May; Trammell's first Cowboy Chicken unit opened in February 2017 in Oklahoma City's Memorial Square Shopping Center. He and his business partners plan to open additional Cowboy Chicken restaurants in Oklahoma City, Tulsa demonstrating more growth within brands for new stores. Founded in Dallas in 1981 and franchising since 2009, Cowboy Chicken has 23 open locations.
Other deals with new franchisees for the past few months included Rise Biscuits Donuts which inked a five-unit franchise deal for the greater Kansas City area. Franchisee Ryan Cook plans to open the new locations over the next five years.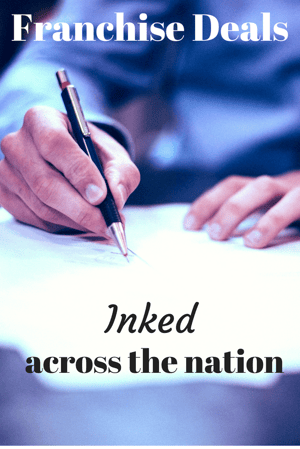 New York City-based Artichoke Basille's Pizza signed a multi-unit franchise deal to bring its brand to the greater Hartford and New Haven, Connecticut areas. Franchisee Matthew Rusconi is looking to open the first location by year's end and is scouting real estate opportunities in Hartford County, New Haven, Middletown, and Cromwell.
Tropical Smoothie Cafe signed its 100th agreement in Texas, a three-unit franchise deal with new franchisee Shahrukh Noormohammed to open stores in the Houston market.
Mooyah Burgers, Fries & Shakes will expand in Orlando, Florida, and southern Virginia. The company signed a three-unit deal with Bakfield, LLC, a group of three entrepreneurs and friends (Raj Bakshi, Keith Fields, Kevin Hipes) based in Lake Mary, Florida, and a three-unit deal with Keval Shah and Sanjay Patel, community-focused owners of multiple businesses in the area, including a Cold Stone Creamery in Norfolk, Virginia.
Russo's Restaurants signed a development deal with restaurateur Zafar "Jeff" Moosa, who acquired the Russo's Coal-Fired Italian Kitchen location in Richardson, Texas, and will significantly expand Russo's Restaurants' Texas footprint across Dallas, Fort Worth and San Antonio.
NFL stars Vernon Davis and Mohamed Sanu announced a joint partnership to bring more Jamba Juice stores to the Washington, D.C. metro area. Davis, a tight end for the Washington Redskins, and Sanu,one of the Atlanta Falcons' star wide receivers, plan to develop six units. Davis already owns five Jamba Juices in Northern California and is the co-owner of various commercial and residential properties throughout California and Maryland.
Teriyaki Madness inked a deal with the entrepreneurial trio Steve Freedman, Max Freedman and Rene Navas, who purchased 10 shops to build out in Miami, Florida, over the next 10 years.
International growth was also trending in the past sixty days. Dippin' Dots and Doc Popcorn will debut in China as the sister brands plan to open six locations by this fall and a total of 10 by May 2019. The brands' franchising group established a business entity in Asia and signed its first licensing agreement with Shanghai Desire Food Co. LTD. They are scheduled to open all of the following locations: Pudong and Yangpu in Shanghai along with the Shanghai South Railway Station and a flagship store planned for the Shanghai Shimao Plaza.
Duck Donuts signed its first international franchise agreement with OBX Alimentos SpA, which is set to open 10 donut shops throughout Chile over the next four years. Marcial Dieguez-Acuna is CEO of OBX Alimentos SpA and a partner in investment firm Inversiones Rio Potomac Ltd. His family has a track record of more than 50 years of successful business ventures in Chile, including bringing American concepts and products to Latin America.
Overall, the market looks great and franchise restaurant sales continue to grow. For existing franchise for sale opportunities, visit the We Sell Restaurants website online at this link.