The Yogli Mogli location in Buckhead is under new ownership based on the efforts fo the Restaurant Brokers at We Sell Restaurants. Robin Gagnon, Restaurant Broker and Franchise Resale specialist brokered the deal.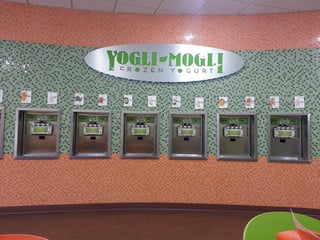 This particular Yogli Mogli franchise yogurt shop for sale represented a perfect opportunity for the buyer. The shopping center location for the store generates its own flow of consumer traffic from both on-site residents and nearly 130,000 residents within 3 miles of the center. Traffic counts average 45,000 vehicles per day and the center is within 1 mile of a major corridor. Co-tenants include high end retail and restaurants. One great perk of this location is a great outdoor space for additional seating of the Buckhead community that enjoys the frozen treat against a backdrop of the hot Georgia sun. The seller, YSB, LLC which is headed by Yosoye (Soy) Adesoye, is a multi-unit owner of the Yogli Mogli brand and he was downsizing his store count to spend more time with family.

This Yogli Mogli Franchise Yogurt Shop for Sale offers over 40 toppings and 16 flavors. This business model suits everyone with fat-free, low-fat or no-sugar-added varieties available along with sorbet. The Franchise Yogurt Shop for Sale offers frozen yogurt at only 70 to 120 calories per serving, making it ideal for people with calorie restricted or limited-sugar diets. Yogli Mogli's authentic and superior quality yogurt is packed with nutrients and probiotics and is certified by the National Yogurt Association's Live and Active Culture seal program for meeting (and exceeding) the required criteria for healthy yogurt.
Restaurant Broker Robin Gagnon said of the sale, "We had this Yogli Mogli Frozen Yogurt Franchise for Sale for a relatively short period of time before it caught the interest of the buyer. We had only 25 signed Confidentiality Agreements before we put this frozen yogurt franchise for sale in contract and the buyer began working toward franchise approval and training."
The buyer is a husband and wife team that is expanding beyond corporate America and beginning to generate a portfolio of small businesses. They plan to improve on both the customer service and sales experience at the store using the marketing and techniques of the Yogli Mogli franchise brand. The entire Yogli Mogli brand was acquired by U-Swirl, Inc. a short time ago and they offer sweet confections under multiple brand names including Rocky Mountain Chocolate Factory, CherryBerry, Yogurtini, Let's Yo! and Fuzzy Peach brands. According to a company statement, they expect to expand with 20 to 30 store openings during fiscal 2016. U Swirl operates 259 Frozen Yogurt units in 37 states and 4 foreign countries.
We Sell Restaurants is the nation's largest restaurant brokerage firm focused on helping buyers and sellers in the restaurant industry. Our listings can be found online at wesellrestaurants.com or by following this link.