Dave Duce, Franchise Partner in Austin Texas Brokers Transaction for Family Restaurant Operating in the Local Community for the Past Two Decades...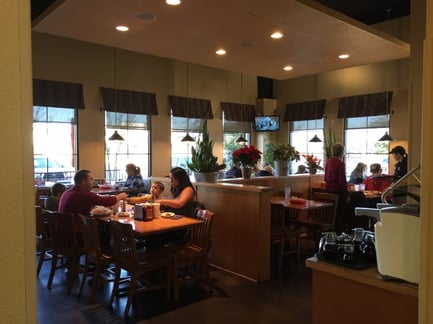 We Sell Restaurants, the franchise restaurant brokerage concept selling more restaurants than anyone else nationwide, announces their latest transaction in Travis County, Texas. Pecan Street Station, a casual eatery owned and operated by James and Robin Akin recently changed hands. Dave Duce, Certified Restaurant Broker and Franchise Partner for We Sell Restaurants in Austin represented the buyer and seller in the transaction.
Pecan Street Station went into contract in just over a month to buyers Paul and Rose Prestridge, who are excited to take over a thriving establishment. They plan to keep the local flavor, recipes and customer service this location is known for. Broker Dave Duce said of the sale, "In a few short months, we've been able to establish a strong group of restaurants for sale. It is clear that buyers outnumber sellers here in Austin and transactions are moving quickly. This particular restaurant was listed for just 36 days before going into contract. This was a successful transaction where both the buyers and sellers felt very good about the transfer."
The sellers, James and Robin Akin, plan to retire after several successful decades in business. They are working along with the buyer to transfer their knowledge and recipes as the restaurant changes hands. New owners Paul and Rose Prestridge were minority partners in a franchise fast food concept for several years prior to purchasing Pecan Street Station. They are looking forward to bringing that experience to their latest venture as operators of this casual eatery.
This is Duce's second sale in as many months. He also recently closed on Cream Whiskers, a unique and popular puff-pastry bakery located two blocks from the University of Texas at Austin. Eric Gagnon, President of We Sell Restaurants said, "We are very excited to see the very short time between listing and sales in the Austin market. Dave is a great example of the We Sell Restaurant process that allows our brokers to sell more restaurants than anyone else nationwide."
We Sell Restaurants, a franchise concept focused on helping the food service industry buy and sell restaurants through a unique branded and systemic approach, is now operating in 32 states including those served by the corporate headquarters and franchisees
About We Sell Restaurants: You can find We Sell Restaurants online at wesellrestaurants.com, Facebook, YouTube and Twitter. To learn more about franchising with We Sell Restaurants, visit www.wsrfranchise.com or call 888 814 8226. We Sell Restaurants is the nation's largest restaurant brokerage firm assisting those in the market to buy and sell restaurants.