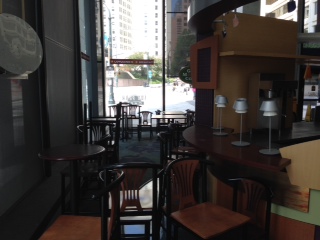 Rent this restaurant space for lease in a location surrounded by thousands of potential customers. Located in downtown Atlanta, this restaurant space for lease, offered by the restaurant brokers, is the perfect new locale for your business. The monthly rent is $4,995 for 2,900 square feet which includes a 600 square foot mezzanine open to the downstairs. Public transportation provided by the Metro Atlanta Rapid Transit Authority (MARTA) offers plenty of transportation options. Patrons can easily access the district by either the MARTA rail stations and/or the city bus routes.
This is currently a closed location however it has a hood, grease trap, flat top, fryers, refrigeration and some other remaining equipment. The front of house includes everything down to the chairs and tables so it could be turned over to a new concept quickly. Your new business will be located directly on a university campus with access to more than 32,000 students and 3500 faculty m
embers. Landlord is willing to do both Tenant Improvement Money and free rent for a period of time for the right tenant to offset an upfront charge of $25,000. The landlord is willing to make a sweet deal but he wants experienced operators or franchises for this one of a kind location. His preference for the concept includes a breakfast and lunch operation. Come a break a few eggs on this college campus today with the many concepts that are right for this daypart.
The area is thriving and allows for a terr
ific opportunity. This restaurant space for lease is surrounded by major retailers, high-end businesses, and outstanding foot traffic. This area is the central business sector for Atlanta and is the largest of the city's districts. This
Atlanta neighborhood
hubs many corporate headquarters as well as city, county, state, and federal offices.
This restaurant space for lease is within a region which measures approximately four square miles and has the median income of $87,000. Due to the exponential grow
th of the district, the downtown area has undergone a significant transformation. Renovation of historic buildings and construction of new housing/condos has welcomed the arrival of new businesses and residents alike.
This restaurant space for lease allows for endless inspiration and numerous concepts. A spacious 2,900 square foot floor plan, the site can effortlessly mold to concepts such as a coffee shop, doughnut, fast food franchise, or even a yogurt sho
p. Your options are limitless. Quick-casual concepts have become extremely popular and allow the customers convenience and speed of service. The rise of the "foodies" has also permitted significant growth for fine dining joined with casual dining prices.
Make an offer today on this restaurant space for lease and contact
Certified Restaurant Broker
Eric Gagnon at 404-800-6000.