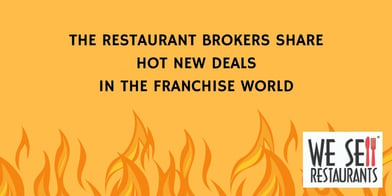 There are big things happening in the franchise world and restaurant franchises continue to announce new units. The Restaurant Brokers have the scoop on the latest deals that have been inked not only across the country, but also internationally. Read on to find out about some of the developments being made around the globe as restaurant franchises grow. .
The Juice and Smoothie World is Blending it Up Across the South and East
Tropical Smoothie Café just announced eight new stores in the pipeline with franchise industry staples Steve Milam and Smit Shah. Milam, a Wingstop franchisee veteran, will be opening three stores, the first being a Frisco location in 2018. Shah has operated Subway and Bahama Bucks stores in the past, and plans to start out with five stores within Dallas County and eventually expand to a total of 10 to 15 locations in the Dallas and Houston markets in the span of the next five years.
Nekter Juice Bar announced that it will be expanding to the East Coast market thanks a deal signed by Dr. Todd Engel. Engel, founder of the Engel Institute Dental Center and Engel Dental Center in Charlotte, North Carolina, will open 17 stores throughout the Carolinas within two years. While this is the biggest multi-unit deal Nekter has inked, they also have almost 70 other locations in the works across the country.
Last in the healthy eating market is news from Muscle Maker Grill, who has just announced that it will be developing 10 new stores in Kuwait. Currently, the fast-casual brand operates upwards of 50 stores across 12 states in the US. Muscle Maker Grill focuses on protein rich healthy menu options along with an extensive smoothie and juice menu.
Fast-Casual is NOT Slowing Down
Moving into the wonderful world of fast food franchises, we will kick it off with Hardee's announcement to continue expanding throughout Indiana. Six new stores are planned to open under the ownership of Farooq Shah. Shah is the owner of Midwest First Star, Inc., which has 26 franchise restaurants being operating in Ohio and Indiana.
Big Sky Country better make way for Hwy 55 Burgers, Shakes and Fries. The brand has just made a deal with Tim and Brenda Jittu to expand into Montana, with five locations slated to open between now and 2027. The first location to open with be early next year in Helena.
Wayback Burgers in continuing to expand through Africa, with the first of eight new locations being their Casablanca, Morocca store that opened in November. This deal was made with business partners Youssef Elmrani and Moutie Benhamza who are moving along with their plans swiftly – they plan to have three more locations open within two years.
Dunkin' Donuts is making waves in the franchise development world again with even more plans to expand! This time around, Sacramento, California will be seeing the addition of nine new stores. Sacramentoians will have to wait at least a year for these delicious new developments to be open - the first is set to be finished sometime in 2019.
Full Service Restaurants are Filling up with Deals
Wings Etc. is continuing to make its way across Michigan. The brand is pushing forward with existing franchisees Robert and Gene Harrison who will be opening up nine more stores throughout the state. Wings Etc. currently operates 50 locations.
Everyone's favorite wing stop - Hooters has opened its first location in Barcelona, Spain and 14 more are in the pipeline to open in the country as well as Portugal within the next three years. Mexico will also see an increase in the wing chains presence as nine new stores are scheduled to open here as well!
Tony Roma's recently announced that they have opened their first restaurant based in Asia. The newest location is in Dhaka, Bangladesh. Tony Roma's is a widely-known steakhouse with more than 150 locations spanning six continents!
Broken Yolk Cafe will open 11 new locations after sealing the deals with some current and new franchisees. Three Broken Yolk Cafe's will open in the Houston area, and fans of this franchise can expect to see the first one open next month! Vegas will see four new locations with the first slated to open this coming summer. Finally, Orange County can expect four new stores! These new openings will bring the total number of Broken Yolk Cafe's across the country to 37.
Everyone Still Loves Pizza and Beer
Blast & Brew serves up piping hot pizzas and also gives guests the convenience of hand-pouring their own refreshing draft beer thanks to the self-pour beer wall! A new deal signed between them and Parish and Sunil Patel will bring three new stores to Phoenix over the next three years.
Thanks to a deal inked by Old Chicago Pizza & Taproom, nine states will be seeing new locations to get get a good old Chicago-style pie and wash it down with an ice cold brew. this deal will bring a whooping 24 new stores to states including Nevada, Georgia and Arizona.
And Now to Finish it Off with Dessert!
The frozen yogurt craze doesn't show any signs of slowing down, especially not after current Sweet Frog franchisee Patrick Beard decided to add to his count of stores! Timonium, Maryland residents can expect to see a brand new store pop up in the near future! Sweet Frog is a frozen yogurt giant with more than 340 location across 27 states as well as Egypt and the Dominican Republic.
That's a lot of new restaurant franchises in the works. These are new stores planned or just opened. Are you interested in an existing franchise for sale? The Restaurant Brokers have the restaurant franchises for sale you are looking for! Click the link below to be taken to our website search all of our franchises for sale, or give us a call at 404-800-6700.